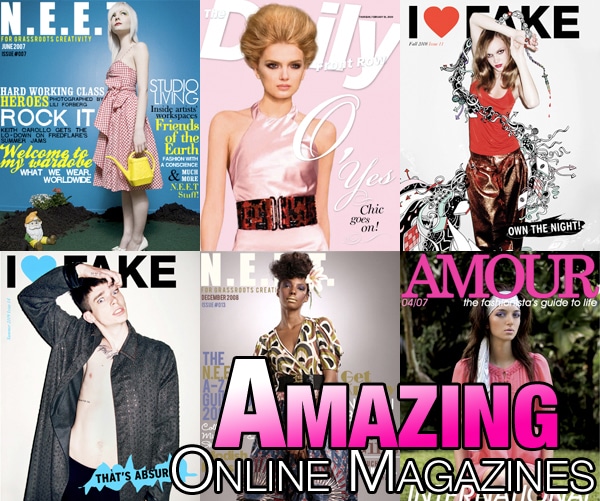 I don't know about you, but I love fashion magazines. The glitz, the glamour- the cataloging of things that I will never be able to afford. They give me an escape from reality, and also keep me up to date with what's going on in the world of fashion. Unfortunately, they also cost money, and I don't know about you, but I'm pretty sure college student's aren't exactly the wealthiest group on the planet.
LUCKILY, there's this great new-fangled invention called the internet, and it's full of awesome ONLINE magazines. And guess what else- they're FREE! In this article, I've compiled a few of my favorite online fashion magazines and also included a small blurb about the some of things you will find as you flip through their virtual pages.
N.E.E.T Magazine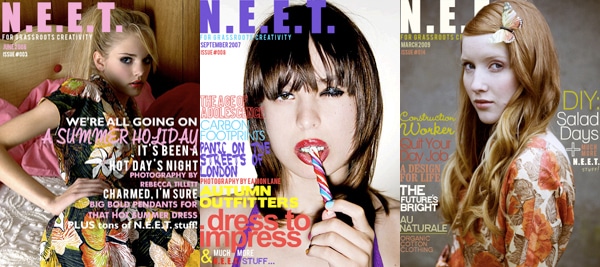 If you love the alternative-style feel of NYLON Magazine, you'll love N.E.E.T!
Like Nylon, N.E.E.T focuses on the "indie" fashion scene. They often feature things like independent designers, styling tips, DIY tutorials, cool websites, and vintage trends. Oftentimes they'll get artists, photographers, and even bloggers to write for them, making things even more interesting because they give people a fresh take on fashion.
Interested? Hop onto their website at neetmagazine.com to read current and past issues.
AMOUR Magazine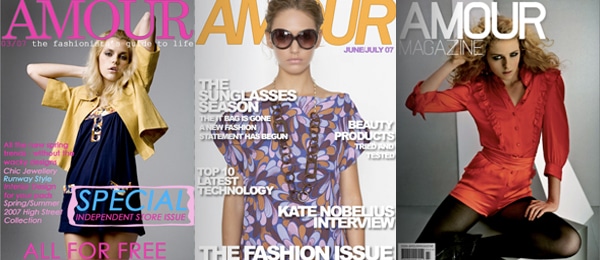 Amour magazine is more mainstream than N.E.E.T., and is similar to magazines such as Cosmopolitan or Lucky. They feature lots of clothes from both designers and online vendors giving their readers a nice mix of high and low. Additionally, they break down the hottest fashion and beauty trends of the moment in a easy to understand manner so you can draw inspiration from them.
To check out AMOUR, visit: http://www.amourmagazine.co.uk
Daily Front Row Magazine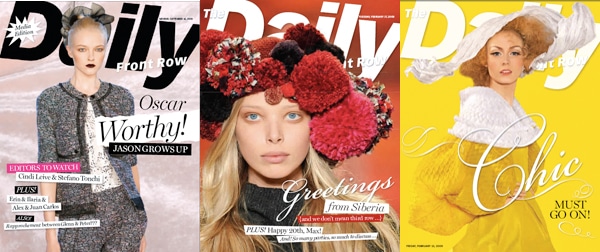 Daily Magazine reminds me of People, except for the fashion world. They have a fun editing style, and focus both on celebrity fashion and runway fashion.
This magazine also includes lots of little blurbs about what's going on in the world of high fashion as well as gossip about both celebrities and designers. It's a really fun read and I definitely recommend checking it out. To read it, visit: http://www.fashionweekdaily.com/inprint/default.sps and download some of their great issues.
I LOVE FAKE Magazine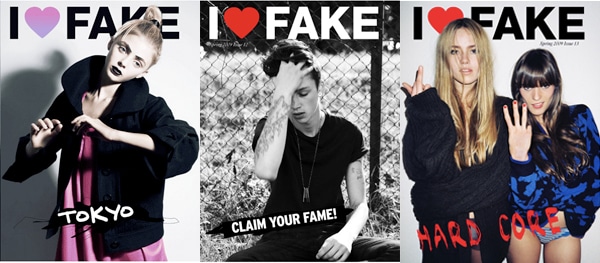 I Love Fake magazine is one of my favorite online publications. Similar to more underground magazines like V or i-D, they focus on the real nitty gritty aspect of fashion.
They describe themselves as "a digital bi-monthly magazine mixing fashion, art & culture", and that's exactly how I'd describe them. They have some of the best models pose for their inspiring editorials, and their styling, while not for everyone, is impeccable and shows off an artistic appreciation for fashion and all its grandeur.
If you want to check it out for yourself, visit: http://ilovefakemagazine.com.
Thoughts?
Like I said, fashion magazines are the best, but sometimes us college students are strapped for cash. That's why online fashion magazines are a great alternative to feed your addiction. They save you money and give you something to read on those days when you're stuck in lecture and don't feel like taking notes (not that you do that…).
Do you have an online publication that you would like to recommend? What do you think of the ones I featured? Will you be checking them out monthly? Which magazine is your favorite? Whatever your opinion, let me know in the comments!