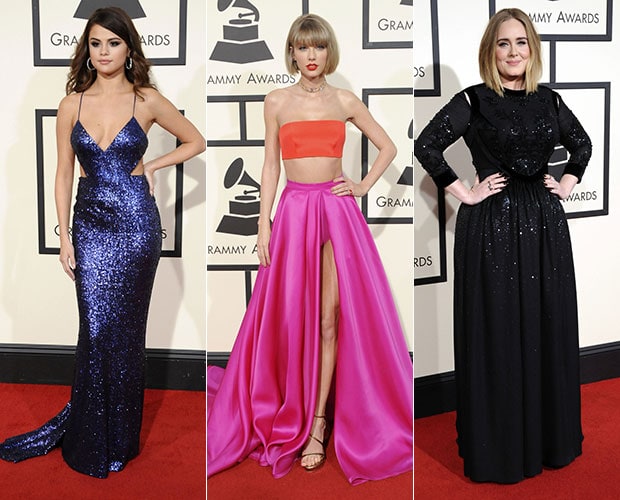 In a rare Monday night awards ceremony, the 58th Annual Grammy Awards were last night in Los Angeles, and we have tons of fashion to discuss today. Let's get to it!
Top 5 Best Dressed
This section posed a tough decision – there were so many fantastic looks last night! In no real order, here are my five favorite ensembles of the evening:
Taylor Swift in Atelier Versace
Album of the Year winner Taylor Swift stunned on the red carpet in a two piece Atelier Versace dress. She paired her gown with strappy metallic Stuart Weitzman shoes, Ofira rings, and a Lorraine Schwartz ring, choker, and earrings. She also rocked a new haircut that was rumored to have been inspired by Anna Wintour.
Taylor made the headlines this morning for her win and subsequent speech calling out Kanye West, but we can't stop talking about her outfit! This was such a fabulous choice for Taylor – the color combo was bold and cool and the entire look was fitted to perfection. She looked fashion-forward and fun. A+, Ms. Swift.
Selena Gomez in Calvin Klein Collection
Attending the ceremony as a presenter and Taylor Swift's date, Selena Gomez looked just as glam as her BFF in a navy sequined Calvin Klein Collection dress, paired with Norman Silverman earrings and a David Webb ring.
Although she changed into another fab ensemble once she got inside the venue, this dress was my favorite of Selena's two looks. She looked so glamorous and beautiful in this combo and her jewelry perfectly complemented the sparkling gown.
Chrissy Teigen in Yousef Al-Jasmi
Chrissy Teigen showed us exactly how pregnancy style should be done in an incredible Yousef Al-Jasmi gown featuring an embellished cape and major side slit. She teamed her gown with Stuart Weitzman shoes and Lorraine Schwartz jewelry.
Chrissy rarely makes a fashion misstep and this look was no exception. I loved the combination of a sleek, fitted sheath gown paired with the dramatic cape. It was an ideal pairing that really flattered Chrissy. (Plus those rings! That clutch! Love it all.)
Ellie Goulding in Stella McCartney
Pop star Ellie Goulding hit the red carpet in a fitted blush pink Stella McCartney dress. Her accessories included Jimmy Choo shoes and Bvlgari jewelry.
While I liked this dress when I saw it from the front, I loved it once I saw the gorgeous chain-embellished back. The back detailing brings this dress to the next level and elevates it beyond basic. I also loved that Ellie paired her look with undone hair and neutral makeup for balance.
Kaley Cuoco in Naeem Khan
Presenter Kaley Cuoco looked absolutely fantastic in a beaded Naeem Khan jumpsuit, accessorized with Stuart Weitzman shoes, a Rauwolf clutch, and H. Stern jewelry.
Although not a musician, Kaley rocked the Grammy red carpet in a big way. (Major props to her stylist, Brad Goreski!) I loved the choice of a glam jumpsuit for a fun event like the Grammys, and Kaley's hair and makeup perfectly complemented the outfit. She has truly never looked better!
Other Noteworthy Looks
Here are some other looks you need to see from last night:
Adele in Givenchy
Adele looked gorgeous last night in a custom Givenchy gown by Riccardo Tisci. Her dress featured shoulder cutouts and glam sequin detailing. She paired it with simple, slightly undone hair and her signature cat eye liner.
While I loved this dress and thought Adele looked gorgeous, I was disappointed to see her in yet another long sleeved black gown on a red carpet. Adele has such a cool, fun personality – I can't understand why she wears basic black to every event! Again, there's nothing bad to say about this gown, I just wish she would switch it up more often.
Lady Gaga in Marc Jacobs
Lady Gaga performed a musical tribute to David Bowie last night, and her Marc Jacobs red carpet look channeled the late performer to great effect.
This was, understandably, a polarizing look for fashion commentators. Personally, I loved seeing the return of "out-there" Gaga. She's been too tame with her outfits lately! Some people didn't like this look, though, saying it was too over-the-top. No matter how you feel about it, I think we can all agree that she did David Bowie proud.
Zendaya in DSquared2
Zendaya also channeled David Bowie with her ensemble choice last night, pairing a double-breasted DSquared2 suit with a mullet hairstyle, about a million rings, and major high heels.
I was on the fence about this one – I absolutely love when women rock suits on the red carpet, but I was not feeling the mullet hairdo. That said, I'm glad Zendaya took a risk and wore something unconventional. The Grammys are the perfect time to go a little fashion-crazy, and Zendaya is one of the best risk-takers out there.
Kacey Musgraves in Armani Prive
Country star Kacey Musgraves turned heads on the red carpet in a textured ombré Armani Prive gown.
This was a definite love-or-hate look – while some people adored the ombré colors and feathered detailing, others made peacock comparisons and were confused by the choice. That said, everyone seemed to love her Kylie Jenner-inspired lip color. What do you think of this look?
Least Favorite Look
This is always a difficult choice at the Grammy's because musicians love their over-the-top costumes. There were quite a few questionable looks last night, but this one was my least favorite of the bunch:
Joy Villa in Andre Soriano
Recording artist Joy Villa went all out in a skeleton-inspired Andre Soriano ensemble. I actually liked her hair and headdress for a fun awards show like the Grammys, but the dress and shoes left me confused. In particular, I didn't understand the gown's seemingly glued-on train. Anyone want to explain this one to me? Or does it defy explanation?
What do you think?
Did you watch the Grammys last night? Which look was your favorite? What about your least fave? Let's discuss in the comments!