This post may contain affiliate links, which means we may receive a commission if you purchase through our links. Please
read our full disclosure here
.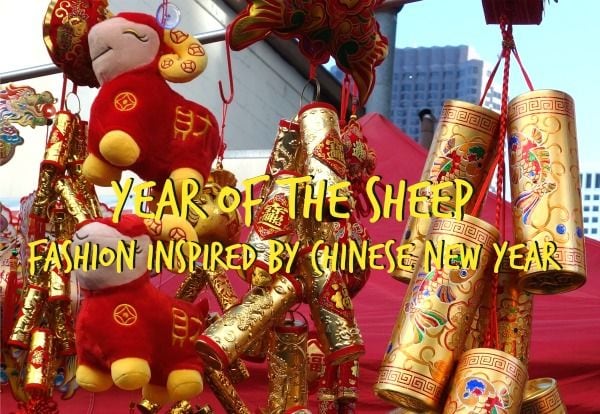 Happy Lunar New Year, everyone! You may have seen this year's Chinese zodiac symbol referred to as a goat or a sheep. And technically, they're both correct, since the Chinese character ("yang") can refer to either animal.
As I was born under this particular zodiac sign, I much prefer "sheep" because they're way fluffier and cuter than goats. Any fellow Sheep out there? I know I can't be the only '91 baby on College Fashion!
Read on to learn more about Chinese New Year, and to see some outfits inspired by the holiday and the Year of the Sheep.
For more Chinese New Year fashion, check out last year's post inspired by the Year of the Horse.
About Chinese New Year
Chinese New Year, also commonly referred to as the Spring Festival, is the celebration of the first day of the Chinese lunar calendar.
The Year of the Sheep was ushered in on February 19th this year. But don't worry, the festivities usually last for the first 15 days of the new year, so you haven't missed out!
It's celebrated in countries with significant Chinese influence, including China, Taiwan, Hong Kong, Singapore, Malaysia, Thailand, Indonesia, Vietnam, and the Philippines, as well as in Chinatowns all over the world.
Some common traditions include: eating a huge meal with your family on New Year's Eve, handing out (or receiving) gifts of red envelopes containing cash and wearing new clothes, especially in the color red, for good luck.
Outfits Inspired by the Year of the Sheep
Celebrate the new year in style with these three looks inspired by both the holiday and this year's zodiac animal!
Family Feast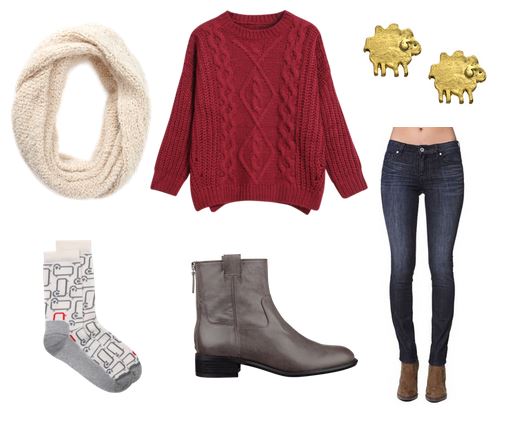 Product Information: Sweater, Jeans, Boots, Earrings, Scarf, Socks
People born in the Year of the Sheep are said to be peace-loving and gentle. For a laid-back look that's perfect for keeping the peace when your entire extended family is gathered in one place, pair a cable-knit red sweater with your favorite pair of stretchy jeans. After all, it's hard to gorge yourself on delicious homestyle cooking if your pants are too tight!
Most Chinese households do not wear shoes indoors, so make sure your feet stay warm even after you've taken off your ankle boots with a pair of cozy woolen socks. Complete the look with a fuzzy scarf and an adorable pair of sheep-shaped (say that ten times fast) earrings.
Little Lamb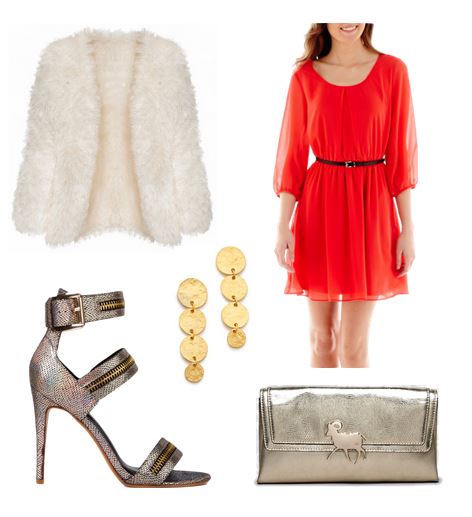 Product Information: Jacket, Dress, Heels, Clutch, Earrings
Need inspiration for your evening attire this weekend? Astrology may say that the Sheep is shy and meek, but this fun, flirty look is perfect for ladies of any zodiac sign!
Slip on your favorite eye-catching red dress and your most glamorous heels, then top it off with a trendy faux fur jacket. To complete the ensemble, add a pair of dangly gold coin earrings to symbolize a prosperous year, then tuck a gleaming metallic clutch under your arm. This pricy, limited-edition DVF bag commemorates the Chinese New Year, but any clutch works. Either way, you'll look baaaaaaa-tiful! (I do not apologize for that terrible dad joke.)
New Year, New Wishes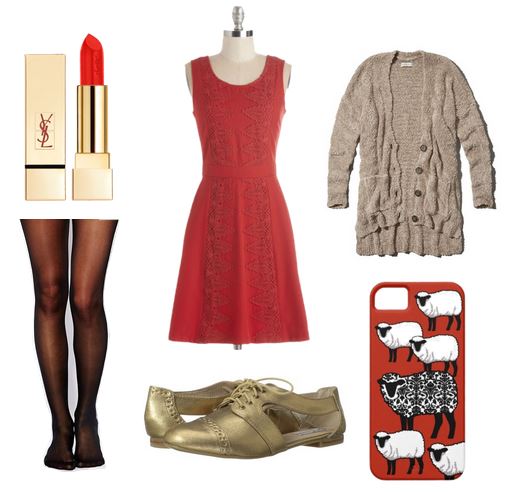 Product Information: Cardigan, Dress,Stockings, Flats, Lipstick, Phone Case
A common saying around this time of year is "xin nian xin xi wang," which translates to "new year, new wishes." The New Year is a chance to start fresh and pursue new aspirations. Whether you want to land your dream job after graduation, dedicate yourself to achieving your fitness goals, get into your top choice of grad schools, or save up to travel the world, I find that it never hurts to look great while you chase your dreams!
Red is such an empowering color, so don't be sheepish about wearing it! (See what I did there? Again, sorry I'm not sorry.) Rock a red dress with matching red lips for class, but keep the rest of the look neutral with a beige cardigan and metallic oxfords to let the red really shine. This is your year, so make it count!
What did you think?
Do you celebrate Chinese/Lunar New Year? Would you wear these outfits? What are some of your favorite New Year traditions? Let us know in the comments!