This post may contain affiliate links, which means we may receive a commission if you purchase through our links. Please
read our full disclosure here
.
Women in Music features female artists who are either up-and-coming in the music world or are already taking over the industry. Not only is their music hype-worthy, but their personal style is something to admire as well. These successful women are definitely worth watching!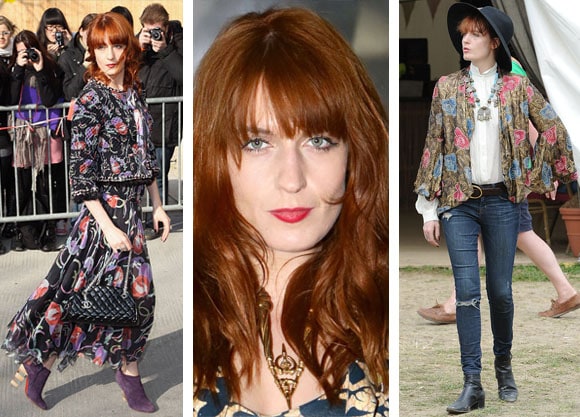 Florence Welch is a British singer-songwriter and musician. You may know her as the lead singer of Florence + The Machine, an indie rock band who has been on the music scene since 2007. Their musical repertoire consists of two studio albums, Lungs and Ceremonials, with a third album currently in the works.
Florence started out in a collaboration with her friend Isabella Summers under the name Florence Robot/Isa Machine. Eventually adding more members, the group became Florence + The Machine and gained overwhelmingly positive responses from critics around the world. Even Beyoncé cited them as one of the influences for her album 4 in 2011.
The band's style blends elements of indie-rock and artful soul, and Florence's vocals are so ethereal and mesmerizing that it's hard not to keep listening. Florence + The Machine's dark and romantic sound features unique instruments, such as the harp, and influences like old-school musicians Stevie Nicks (whom Florence also credits for style inspiration) and Grace Slick.
Want to get into Florence + The Machine's music? A few songs you should check out to get a feel for her sound are "Dog Days Are Over," "You've Got The Love," "Shake It Out," and "Cosmic Love,"
And just like her musical style, Florence has unique fashion sense to match. Below are two outfits inspired by Florence's personal style:
Dog Days Are Over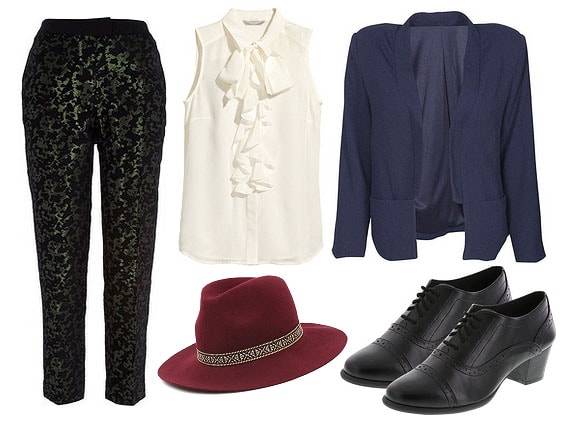 Product Information: Pants, Blouse, Blazer, Hat, Shoes
Not only does Florence incorporate a lot of color and bold patterns into her style, but she also plays with masculine and feminine silhouettes. This outfit takes menswear pieces, like simple trousers, and gives them a fun twist.
Pair a ruffled blouse with printed black-and-dark-green trousers for a modern tailored look. Black heeled oxford shoes and a soft blazer are the perfect mix of girly and tomboy. Throw on a wide-brimmed hat (a Florence street style favorite) to accessorize and add another touch of color.
Cosmic Love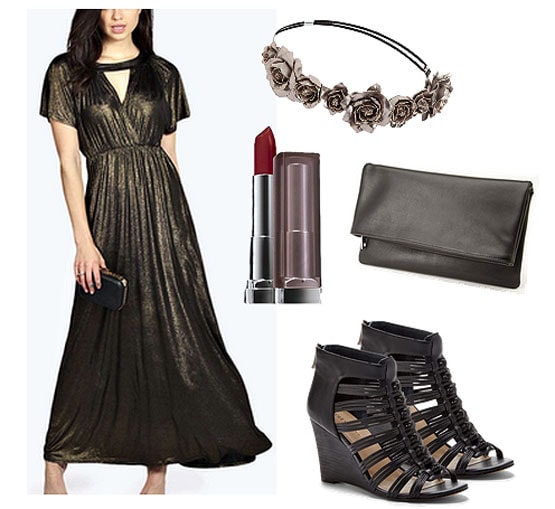 Product Information: Dress, Shoes, Headband, Lipstick, Clutch
One of my favorite things about Florence's style is what she wears while she is performing. She always rocks beautiful, flowing goddess-like dresses, often accompanied by flowers on her head or on her mic stand; a look she describes as "The Lady of Shalott meets Ophelia, mixed with scary gothic bat lady."
This outfit is just as dramatic and gorgeous as Florence is on stage with a dark shimmering floor length dress and a metallic floral headband. Although she is typically barefoot during her performances, black wedge sandals complement the dress perfectly. A nice berry lip and a black clutch finish off the ensemble.
What Do You Think?
Are you a fan of Florence + The Machine? Would you wear any of these looks? Would you like to see more posts like this in the future? Know of any female artists that you think should be featured in this column? Let me know in the comments!