This post may contain affiliate links, which means we may receive a commission if you purchase through our links. Please
read our full disclosure here
.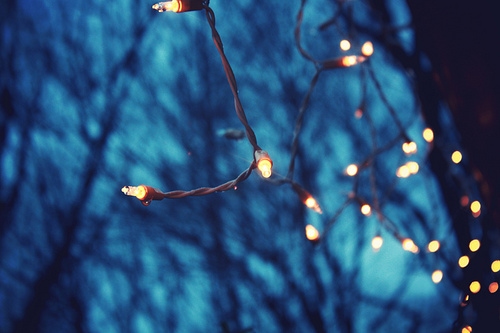 Finals are over, your dorm room is packed, and it's finally time to take a huge sigh of relief and get excited for, well, the most wonderful time of the year — winter break!
Whether you prefer to spend your break reading, Netflix marathon-ing, spending time with family, or even making a few extra bucks on the side, you'll probably also want to get out and enjoy yourself. To help you celebrate, I've created outfits inspired by four fun winter break activities.
Activity #1: Seeing Christmas Lights
As traditional as watching A Christmas Story or procrastinating the treacherous unpacking process, you're bound to go on an excursion to see Christmas lights at least once over the holidays.
When I was a kid, my aunts and uncles would rent one of those giant four-row vans and bring all of the cousins to see the lights. Equally as fun, last year my friend rented a party trolley and threw a sort of hometown "date party" for our high school crew, and we got to enjoy the lights that way. Whether you make a big production of it or just stroll around your neighborhood, seeing Christmas lights is a must-do.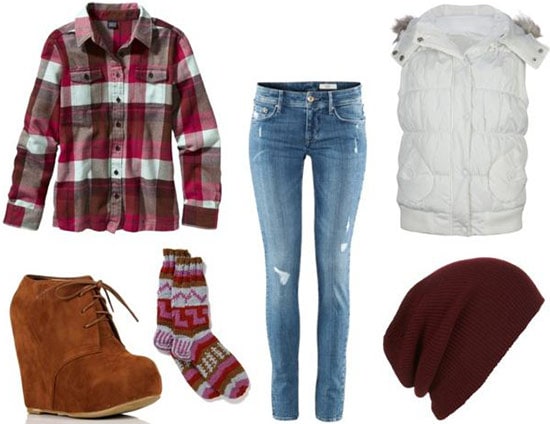 Shirt, Shoes, Socks, Jeans, Vest, Beanie
Many of the best Christmas light displays have trails to walk or good photo opportunities. This means you'll want to stay warm, but also look cute! A puffer vest layered over a flannel shirt with a pair of skinny jeans is a pretty solid way to go. Accessorize with a beanie and fun socks, and finish with lace-up wedge booties.
Activity #2: Reunion with Your High School Friends
I like a lot of things about the holidays, but without a doubt, my favorite part is getting to see all of my friends from high school. It's especially fun the first few years back from college, before you really have to worry about getting internships and jobs, and keeping up with who's gotten engaged to who.
The other great thing about reuniting with your hometown friends is the chance to explore your city in a new way — like checking out the nightlife that you were too young to enjoy just a few years earlier!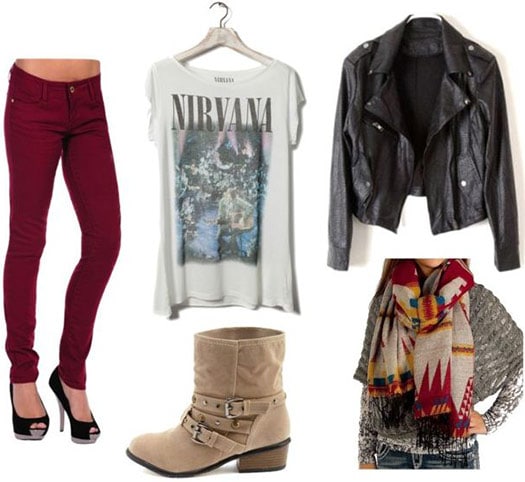 Pants, Shirt, Jacket, Scarf, Boots
Since you don't see these friends regularly, you'll probably want to wear some of your snazziest threads when meeting up with your high school BFFs. Some colored jeans and a sweet graphic tee will look trendy, but not over-the-top. Wear a leather jacket to protect you from harsh elements, and finish with a badass pair of ankle boots and an oversized printed scarf.
Activity #3: Helping Your Grandma in the Kitchen
Whether you take an active role in the kitchen or just hang around for the sole purpose of taste-testing, your mom/dad/grandma/aunt/whoever is doing the grunt work will be thrilled to have some company in the trenches. My mom was less than thrilled to find out that I was too…well, let's just say "exhausted" to contribute much to our Thanksgiving feast, but I know for sure that I kept her entertained with the gossip and funny stories I gathered the night before.
Don't worry about showing off in your tightest jeans or highest heels — the point of this activity is to relax and enjoy a little bit of family time!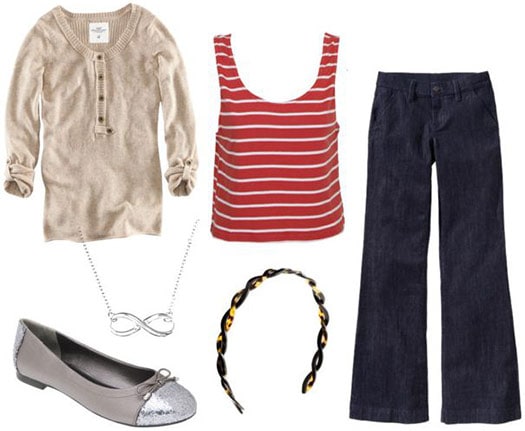 Sweater, Tank, Jeans, Headband, Shoes, Necklace
Today's the perfect day to wear the most comfortable pair of jeans you own — it's up to you whether that means a stretchy pair of jeggings or a classic pair of wide-leg trousers. Keep it simple with a tank, a pull-over sweater, and a pair of ballet flats. Finish with a necklace and headband.
Activity #4: Sleepover with Your Best Girl Friends
Back in high school, after every football game…and birthday party…and, okay, every single Friday night, my five best girlfriends and I would have a sleepover at one of our houses. These were pretty classic slumber parties, complete with prank calls, junk food, and talking about the boys we had crushes on.
Now that we're all twentysomethings, well, not much has changed! Reunite with your best girlfriends by inviting them all over for a pajama party. Watch Clueless, Facebook creep the cute guys you have classes with, and pamper yourselves with fancy big kid beauty products. What's not to love?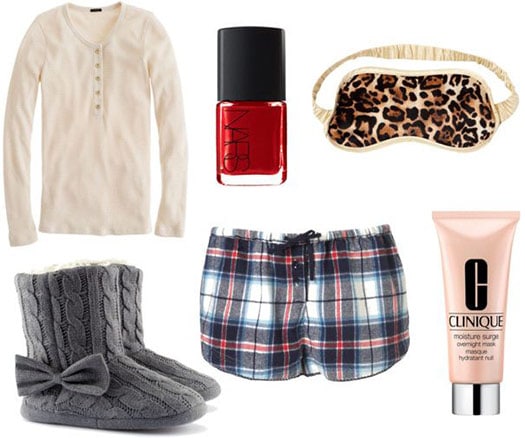 Shirt, House Boots, Shorts, Nail Polish, Face Mask, Eye Shades
Being with your girlfriends is all about being yourself and feeling comfortable, so skip the lacy nighties that you may or may not save for that special someone in your life and go for the coziest henley and most worn-in boxer shorts you own. Stay warm with cute house shoes, and bring over a few of your favorite beauty products for your girlfriends to test out.
What do you think?
What are you looking forward to doing when you get home for winter break? What are some of the things you love to do with your friends from high school? What are some traditions you have with your family? What are you planning on wearing your first big night out in your hometown? Leave a comment and tell us your thoughts!