Now that temperatures are dropping all over the country, it makes getting out of bed for an early class seem like even more of a struggle. The mere thought of braving the cold can be enough to make one shiver, which is why outerwear is such an important aspect of every college girl's wardrobe this time of year.
These days, coats are available in so many different designs, cuts, and colors that it can be a little overwhelming. With so many options, which coat should you choose?
If all the coats in the store look the same to you or you're not sure which cut would blend best with the rest of your wardrobe, then take the quiz below to find out what kind of winter coat would suit your personal style.
Quiz: Which Winter Coat Fits Your Style?
Quiz Results!
Below are the results to the quiz. Don't peek if you haven't taken it yet! I've created an outfit centered on each of the coat results to help give you some inspiration. Enjoy!
Mostly A's: Military-Inspired Peacoat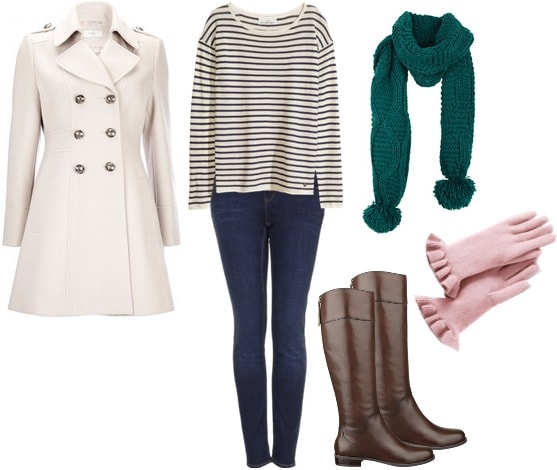 Product Information: Coat- Wallis, Jeans- TOPSHOP, Sweater- H&M, Boots- Nine West, Scarf- Delia's, Gloves- Land's End
Personally, I love this military-inspired peacoat because of its light color and silver buttons, which look ultra-polished. Wearing this coat over jeans and a striped sweater is casual yet fashionable, and when paired with fun and colorful cold weather accessories this outfit is undeniably feminine. To finish off the look, I added some brown riding boots to make sure that your feet stay toasty and chic as you trek across campus to your early morning class.
Mostly B's: Leather Jacket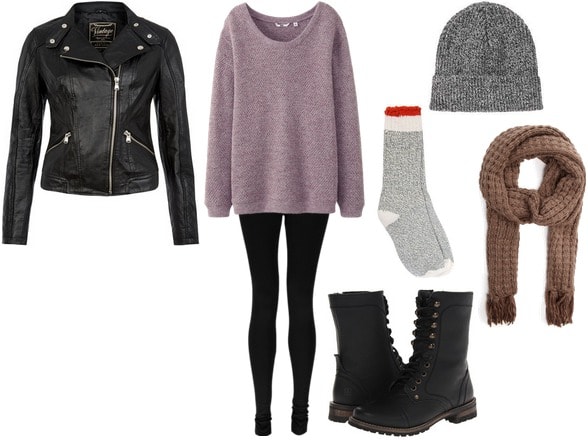 Product Information: Leather Jacket- Newlook, Thermal Leggings- Boohoo, Sweater- UNIQLO, Socks- American Apparel, Scarf- MANGO, Combat Boots- Zappos.com, Beanie- TOPSHOP
Just because it's frigid outside doesn't mean that your edgy style has to suffer. The key to this look is layering up – not only will it keep you warm, but it will create an effortlessly chic outfit. I chose black combat boots to match the leather jacket and thermal leggings, then opted for darker-colored accessories to complement the soft-grunge style.
Mostly C's: Classic Wool Coat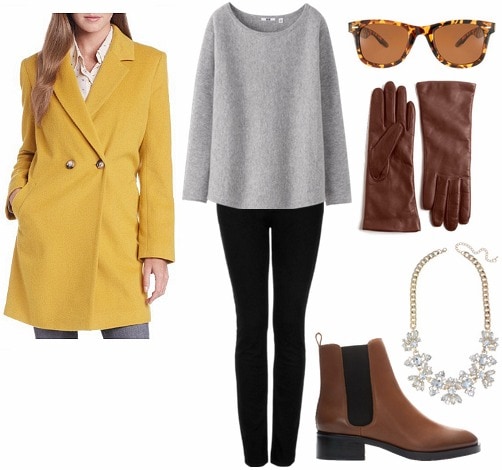 Product Information: Wool Coat- Amazon, Cashmere Sweater- UNIQLO, Black Jeans- TOPSHOP, Statement Necklace- Jeweliq, Sunglasses- ASOS, Gloves- Lord and Taylor, Boots- ZARA
This classic wool coat is both stylish and sophisticated. It can be dressed up or down, and I love the pop of color that the mustard yellow adds to an otherwise neutral outfit. The leather accessories instantly pull the look together, and I drew inspiration from Audrey Hepburn and added some chic tortoiseshell sunglasses. This type of coat would be perfect for any occasion, from class to date night, so it's a great investment piece.
Mostly D's: Sporty Puffer Jacket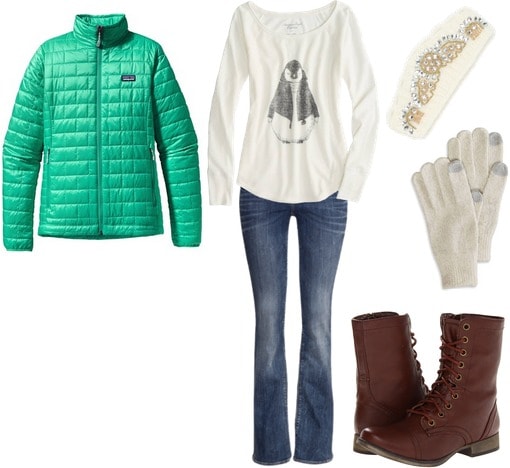 Product Information: Puffer Coat- Patagonia, Thermal Shirt- American Eagle, Jeans-H&M, Embellished Earwarmer- Urban Outfitters, Gloves- American Eagle , Boots- Zappos.com
If you're going to be active and on the move, you need something that can go with you, rain or shine. This puffy coat will get you through class and a snowball fight, no problem. Paired with jeans and a thermal, you'll stay warm and toasty, and the embellished earwarmer adds a little bit of glitz to this sporty look.
What do you think?
What result did you get? Do you think your result fits your style personality? Which of the outfits above would you try? Let us know what you think by leaving a comment below!