Two of my favorite things are Disney and The Hunger Games. So, naturally, for my next Weekly Crossover article, I had to mash them up.
How will the sweet outfits of our favorite Disney princesses mesh with those of the fierce Katniss? Read on to see.
Look #1: Radiant as the Sun
The first look is inspired by (human form) Ariel in her pink dress and Katniss' everyday District 12 look from the first Hunger Games movie.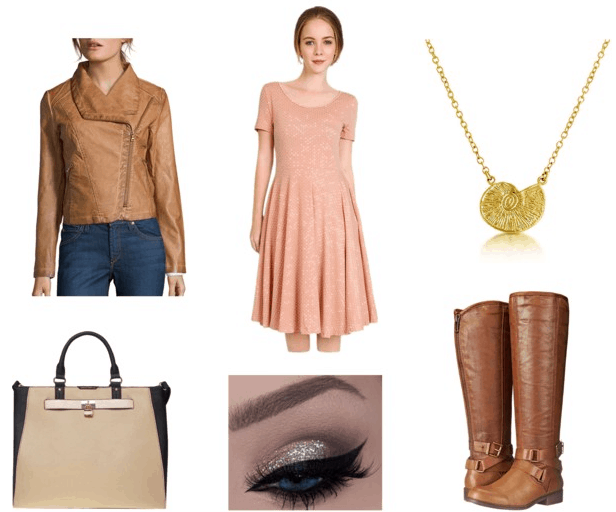 Products: Jacket, Bag, Dress, Glitter Makeup, Boots, Necklace
This outfit gives me an off-to-the races kind of vibe – it's one part down home and one part dressed up. Start with a classy take on Katniss' outfit with a camel leather jacket and some functional riding boots. Next, channel Ariel's pink dress from her first dance with Eric with this cute frock. (Bonus: The pink dress is named Primrose – it's fate!)
Now for the extras. The glitter gives the look a quirky and fun vibe, like Ariel exudes in the scene when she starts brushing her hair with a fork. (Plus it wouldn't be Disney without sparkle.) The necklace is a signature piece from The Little Mermaid – remember? Ariel gets her voice trapped inside one! A polished satchel ties the whole look together.
Look #2: Kiss the Girl
Let's take a look at Katniss's reaping scene and another scene from The Little Mermaid. (Can you tell which Disney Princess is my favorite?)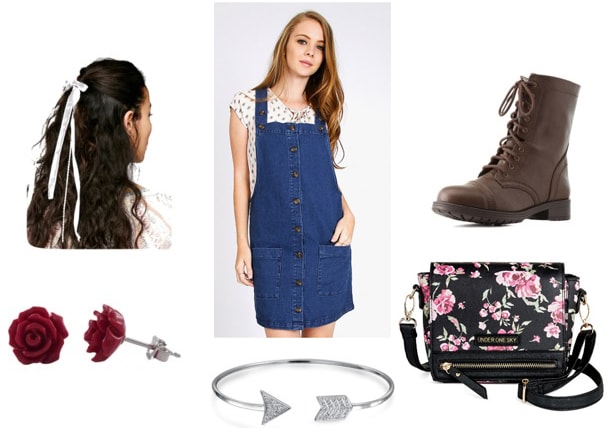 Products: Bow, Earrings, Dress, Bracelet, Shoes, Bag
This look and the next are inspired by Katniss's reaping dress, except I've added some serious princess accents.
I really like the dress-with-a-long-sleeved-shirt-underneath combo on Ariel, and it's actually worn by many Disney princesses in their respective films! Some examples include Ariel during her "Kiss the Girl" scene, Anna while she is looking for her sister, and Aurora when she sings "Once Upon a Dream." Try this out with dresses that may be too low cut or too cold to wear in winter, or anytime you want to update a go-to dress.
Again, we're mixing things up with accessories. Also add a bow to any outfit to make it more Disney-chic. The combat boots and bracelet are all Katniss, though! Finally, the crossbody is functional, which Katniss would appreciate, but has a sweet and girly print that Ariel would love.
Look #3: Safe and Sound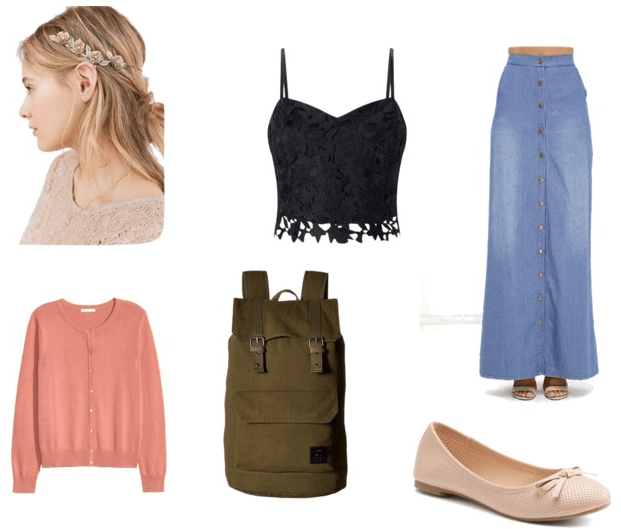 Products: Cardigan, Skirt, Top, Bag, Hairband, Shoes
The skirt in this outfit is again inspired by Katniss's reaping outfit, but also by her sweet sister Primrose, who wears a similar skirt in the film. I love this skirt because you can adjust how many buttons you want open, giving it a more modest or daring vibe depending on your mood.
The Disney princess elements here are clear in the soft colors and girly pieces: The cardigan, floral headpiece, and sweet ballet flats would work for almost all Disney ladies. The backpack, however, is pure Hunger Games: It reminds me of the moment where the tributes run off their platforms and go to grab supplies at the beginning of the Games. Finally, this "Girl on Fire" crop top finishes the look with a hint of edge.
Look #4: Let it Go
Here we have Katniss going against the capitol and Elsa (okay, she's a queen, not a princess) finally Letting It Go! Come to think of it, these two have a lot more in common, at least temperamentally, than one might expect of a Disney girl and a fierce markswoman.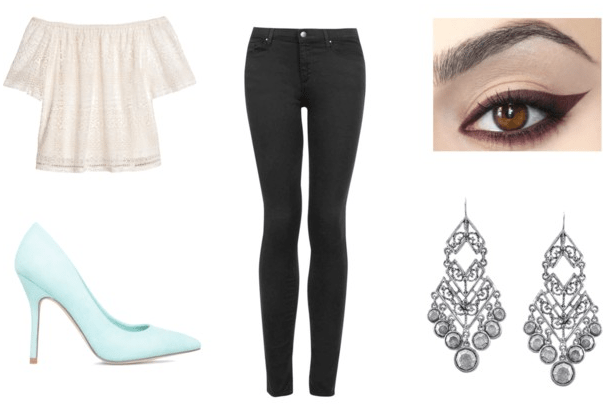 Products: Shoes, Shirt, Pants, Earrings, Makeup
This last set is inspired by Katniss's Mockingjay black outfit and Queen Elsa's icy vibes. The skinny black jeans and winged eyeliner give this an edgy-cool look, while the earrings, shirt, and shoes lend a chilling tone. You could even had some red to the eye makeup if you want to add more color and fire, or keep it toned down to channel both ladies.
A lot of Disney princesses, including Queen Elsa, reveal their shoulders in different tops or dresses, so I added an off-the-shoulder top here. The lacy style is a little bit reminiscent of the simple country clothes worn by citizens in the rural Districts as well.
For this look, I'd recommend rocking a braid, the favored hairstyle of both Katniss and Elsa. Just make sure it isn't too perfect – both ladies are too busy being fierce to be perfectly coiffed.
Which look was your favorite?
Do you think this was a good mashup? Who would you like me to cross over next? Who would win in a fight between Katniss and Queen Elsa? Tell me what you think in the comments!