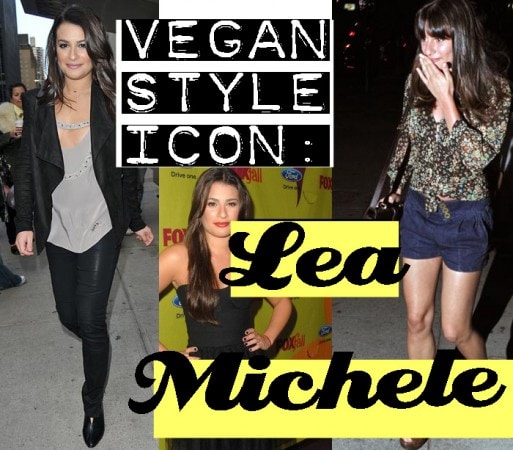 I'll admit it right now: I'm a Gleek. I am absolutely head-over-heels for every part of the show: the soulful singing, dramatic dancing, even the (sometimes awkward) humor sprinkled throughout each episode. But what really keeps me watching is the show's cast of characters. During the past two seasons, I've fallen in love with all of them.
But from the very beginning, it was Rachel Berry, the bouncy brunette known for stealing the spotlight, who stole my heart. She's loud, proud (sometimes bordering on arrogant) and has the most amazing set of pipes I've ever heard. And yes, I even like her knee socks.
Off-screen, Rachel Berry is actually Lea Michele, a Hollywood newcomer with a far more sophisticated style than Rachel's — and she's a vegan, too. Lea has told several media outlets that her secret to staying fit (and bouncy) is a vegan diet. She also modeled for a PETA and starred in a PETA anti-fur video. But just 'cause you'll never see her wrapped up in a fur coat doesn't mean the girl doesn't know chic.
Lea's style is (almost) as impressive as her vocal range. She's quickly ascended the sequin-lined stairs to fashion icon status, catching the eyes of fashion editors and fans alike with her stylish ensembles. (Check out her picture-perfect awards show dresses here and here.) In the past few months, Lea has shot covers for Glamour and UK Marie Claire, and was invited by ELLE Magazine to appear alongside veteran fashionistas in their latest coffee table read, The ELLEments of Personal Style. Quite an honor for someone who has only been on the style scene for two years!
So, because I'm obsessed with both Rachel Berry and the real-life Lea Michele, I've included sample outfits inspired by them both. I know I'm not the only one in love with the knee socks and preppy plaid…right?
Note: I tried to find only vegan items to feature, however, a few of the items below may not be vegan – please do your research before purchasing!
Outfits Inspired by Lea Michele
1. Daytime Lea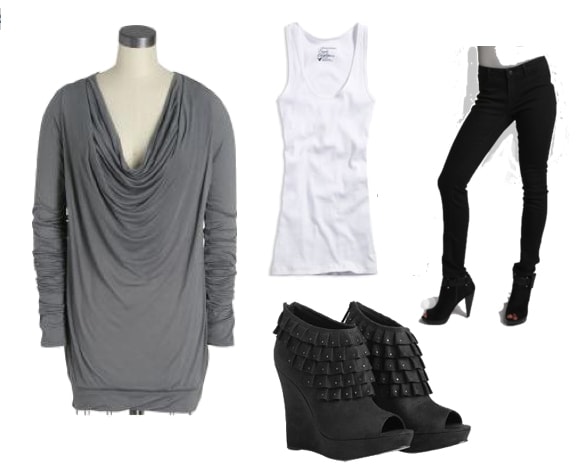 Product Information:Top, Tank, Jeggings, Wedges
Lea is a huge fan of easy-to-wear garb, but she always makes sure to jazz up every outfit with one statement piece.
You can emulate her style with cowl neck sweaters, skinny jeans and/or basic black leggings — all of which have made appearances in Lea's recent street style looks. This outfit's statement piece? The wedges, of course! These wedges are ruffled and studded with an open-toe and not-too-tall wedge heel, so they're perfect for class or just hanging out sipping coffee with your girls between lectures. Wear this, and you'll look put-together, but not overdone.
2. Evening Lea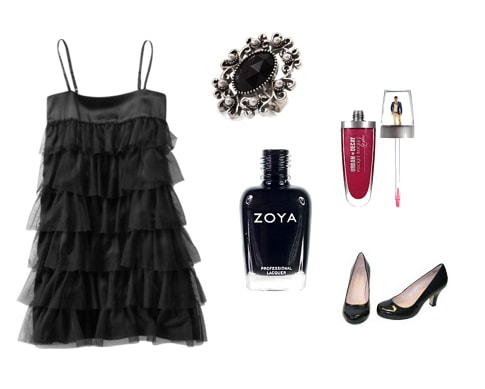 Product Information:Tulle Dress, Cocktail Ring, Eco-Friendly Nail Polish, Lip Gloss, Vegan Pumps,
Lea wore a tulle dress similar to the one above to the FOX Fall Eco Casino Party last year — and the media ate it up. Luckily for us, this look is practically effortless to re-create, even on a college student's budget.
This outfit is one part tulle dress and one part giant cocktail ring, with a splash of shine, thanks to some sleek black pumps. (FYI, vegan pumps are super easy to find – and inexpensive!) If you're in a colder climate, add some colorful tights and cover yourself up with a long cardigan (…at least until you get to the bar).
3. Rachel Berry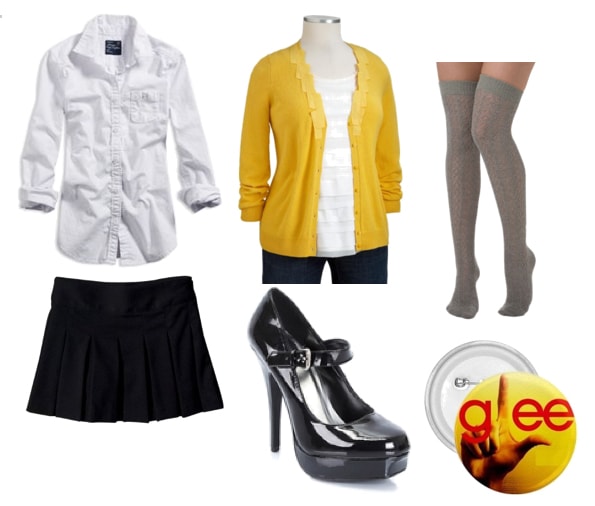 Product Information:Oxford, Ribbon-Trim Cardigan, Pleated Skirt, Socks, Pumps, Pin
Rachel Berry (click that link to read our post on her style) is the unofficial TV queen of nerdy, quirky style. Admittedly, there are times her outfits are less-than-flattering, but some of her wardrobe actually is wearable.
Rachel's character is almost always dressed in bright colors, argyle and, of course, knee socks. You can easily copy her look with an oxford shirt, mustard or other brightly-colored cardigan (bonus points if it has a frilly detail, like the one above), a plaid or pleated skirt and knee socks. You'll look right at home in the classroom, library or coffee shop.
What do you think of Lea Michele's style?
Lea Michele is the star in one of today's hottest TV shows, but her style has created a buzz almost as loud as her character's impressive solos. What do you think about Lea Michele's style? Do you think she deserves all the media attention for her wardrobe? Let us know with a comment!