This post may contain affiliate links, which means we may receive a commission if you purchase through our links. Please
read our full disclosure here
.
"Don't be cruel: Vegan fashion is no longer an oxymoron. You can dress compassionately — and look stylish." — Debbi K. Kickham, The Boston Globe
Hollywood starlets have major clout in the fashion world. If Kate Moss wears skinny jeans, the people wear skinny jeans. If Blake Lively wears over-the-knee boots, the people wear over-the-knee boots. While not all celeb trends are positive (eating disorders and drug addictions included), a handful of eco-conscious celebrities have used their power for good, including bringing vegan fashion and the green lifestyle to the mainstream.
Green gamines including actress-turned-singer Zooey Deschanel and ex-Baywatch star and PETA spokeswoman Pamela Anderson have spoken out publicly about their vegan lifestyles. But perhaps the loudest, proudest and best-dressed contemporary vegan actress is Alicia Silverstone.
Alicia as a Vegan Activist
Alicia began her career by igniting the TV screen when she appeared in three different music videos for Aerosmith within just a few years, earning herself the nickname "the Aerosmith chick." But Alicia wasn't just hot on the TV screen. Silverstone also found work as a print fashion model and eventually, she was chosen to portray rich Beverly Hills teen Cher Horowitz in the 1995 comedy Clueless. The flick was well-received by critics, and Alicia's naive yet endearing character became a sort of voice for a lost generation.
Unfortunately for Alicia, her next few roles, including her supporting role as Batgirl in Batman & Robin, were not so successful. But Alicia didn't shy away from the limelight after critics bashed her performances. Instead, she focused her attention elsewhere: using her celeb status to promote the vegan lifestyle.
Her various efforts to raise awareness about veganism have continued to give Alicia considerable press over the years, including the title of the world's sexiest vegetarian by PETA in 2004. Then, in 2009 Silverstone teamed up with Neal D. Barnard, M.D. to release her first book, The Kind Diet: A Simple Guide to Feeling Great, Losing Weight, and Saving the Planet, an easy read chock full of personal insights about her decision to go meat-free.
Silverstone continues to address vegan lifestyle and culture issues on her blog, The Kind Life. Plus, she rocks some pretty hot vegan outfits at the star-studded events she attends (which, as one would guess, are often animal rights-related).
Alicia's Signature Style
Although her role as thigh-high-socks-wearing Cher quickly rocketed Silverstone to stardom, Alicia's style is far from Cher's super preppy (And digitally-enhanced – I still want that closet!) wardrobe. Her most popular ensembles are best summed up by three words: simple, feminine and vegan.
Alicia actively breaks the stereotype that vegan fashion is 'boring'–she loves to make daring statements by adding an eye-catching accessory like a hot pair of sky-high vegan heels or a studded vegan handbag to every outfit. The starlet also loves solid or neutral-colored dresses that drape easily across her body or soft blouses and flowy, delicate tops paired with eco-friendly jeans. As for jewelry, Alicia loves the statement jewelry trend – she is usually spotted in long, metallic necklaces or big, chunky cocktail rings (or occasionally, none at all).
Vegan Fashion Inspired by Alicia
Vegan Clothing
A light dress with tights or a loose-fitting tank with a cardigan will have you channeling Alicia's breezy style.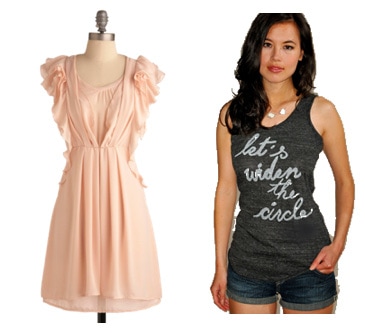 Product Information: Dress – Mod Cloth, Tank – Vaute Couture
Adorable Vegan Heels
Statement shoes are another staple in Alicia's wardrobe – and as Alicia shows us, it's easy to find fashion-forward shoes that aren't made of leather! Try a vegan pair with skinny jeans and an oversized tee for a simple, animal-friendly look. For more options, see our post on our favorite store for vegan shoes.

Product Information: Heels – Chinese Laundry, Purple Pumps – ModCloth, Ankle Boots – Fashion-Conscience
Stylish Vegan Handbags
Vegan bags are quickly cropping up (ha!) in both indie designers' and major retailers' collections. Below, I selected a few choice vegan bags from some of Alicia's favorite designers: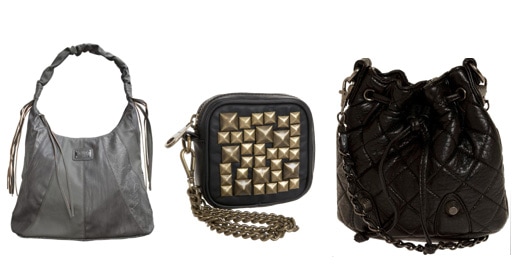 Product Information:Bag – Billabong, Clutch – Matt & Nat, Bag – Mod Cloth
Do you think vegan is chic?
Now that you've seen Alicia Silverstone's take on vegan-friendly style, I want to know how you feel about vegan fashion. Do you like Alicia's style? Do you admire any other vegan or eco-friendly celebrities for their style (& their values)? Let's discuss in the comments!