This post may contain affiliate links, which means we may receive a commission if you purchase through our links. Please
read our full disclosure here
.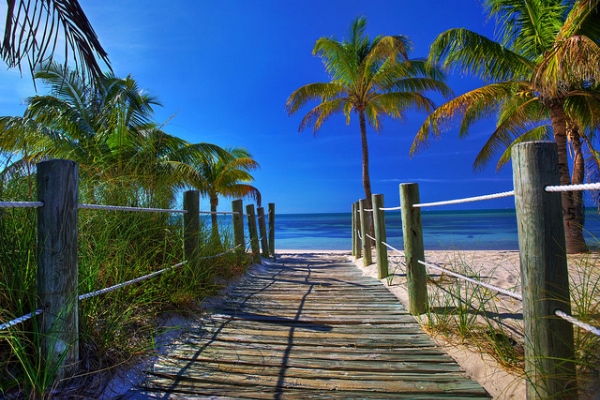 A few weeks ago, I went on a small vacation to Key West, Florida. Although I had visited before, this time I found myself completely inspired by everything around me, from the laid-back, eclectic residents to my gorgeous surroundings.
That's why I decided to share my vacation experience with you: My hope is that you'll also be inspired by this small Florida island and perhaps motivated to find fashion inspiration on your next vacation. In order to get the creative juices flowing, here are 4 outfits inspired by the sights, history and atmosphere of Key West:
1. Sunset Celebration at Mallory Square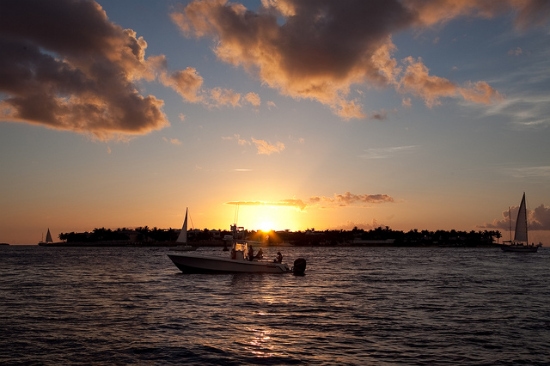 Mallory Square is an area located right on the waterfront of historic downtown Key West. Every night, residents and tourists alike gather to watch the sun sink into the Gulf of Mexico. However, people often arrive two hours before the sun goes down, because every evening Mallory Square turns into a mecca for musicians, street performers and artists, creating a fun and unique atmosphere for watching a beautiful sunset.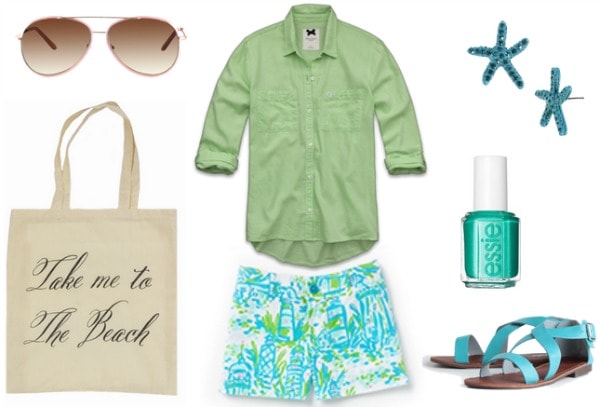 Product Information: Skirt, Top, Bracelet, Bag, Flats
For this first outfit, I wanted to create a look inspired by the colors of a sunset, which are captured in the gradient pattern of this skirt. When paired with a slouchy tee, the two pieces make a cute yet casual outfit for a warm summer night. Comfortable flats in a bright color are perfect for walking around all night long, while the matching woven bracelet adds some interest. Finally, add a simple drawstring bag for a sleek look.
2. Duval Street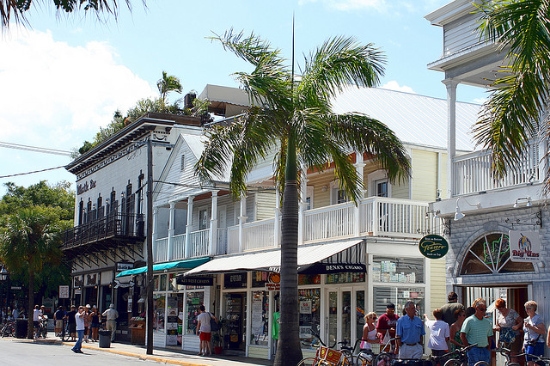 Duval Street is the main drag in Key West and the place for shopping, interesting attractions and amazing restaurants. There's always something going on here, and once it gets dark, this is the place to go for nightlife as well. There's tons of unique bars and dives in Key West, which are definitely worth checking out if you're over 21.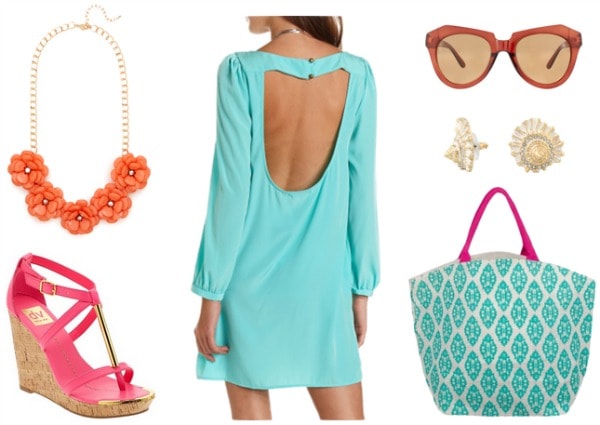 Product Information: Top, Shorts, Necklace, Bag, Sunglasses, Sandals
For the Duval Street-inspired outfit, I created a daytime look that could easily transition for a casual night out. A simple white top and fitted shorts are two basics that can easily be dressed up or down with accessories. A nautical-inspired necklace and fun fringed bag are unique pieces that add interest to the look, while the sunglasses protect your eyes while adding a bright pop of color.
Finally, for footwear, I chose a true Key West favorite– Kino's. You can actually watch as artisans create these sandals by hand in a shop just off Duval Street. They're super comfortable, last forever, and are really inexpensive–perfect for college girls on a budget!
3. The Hemingway House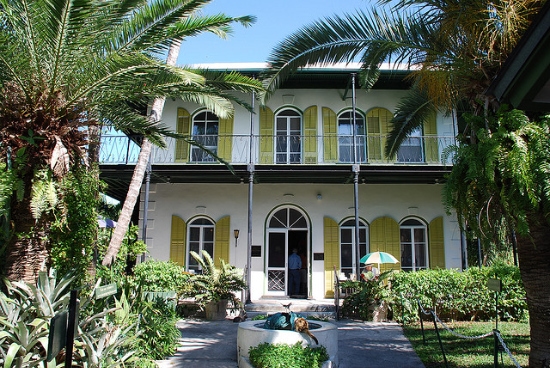 Of course Key West isn't all about beautiful sunsets, interesting bars and great shopping– it's also a town full of rich history. Countless artists, musicians and authors have called Key West home over the years. One of the most well-known residents was author Ernest Hemingway, who lived there for most of the 1930s.
You can visit his gorgeous Key West home (seen above) today, which is on a huge lot filled with gorgeous, winding gardens. Hemingway's house is also home to dozens of cats, (did you spot the one drinking out of the fountain in the photo above?) which are decedents of Hemingway's original 6-toed cat. These are some of the friendliest felines I've ever met, so if you're a cat person, this place is for you!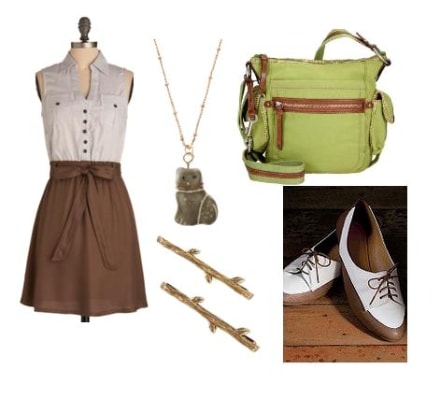 Product Information: Dress, Necklace, Bag, Bobby Pins, Oxfords
The interior of the home is filled with lots of wordly treasures and interesting photos of Hemingway's travels, which is why I chose this dress– it reminds me of something you would wear on a safari, but still speaks to the home's breezy, casual feel. The menswear-inspired oxfords and green messenger bag both have a 1930s feel with a modern touch, while the cat necklace is an adorable nod to all the felines that call the Hemingway House home. Finally, I added some simple bobby pins that mimic the lush foliage that surrounds the house.
4. Hemingway's Writing Studio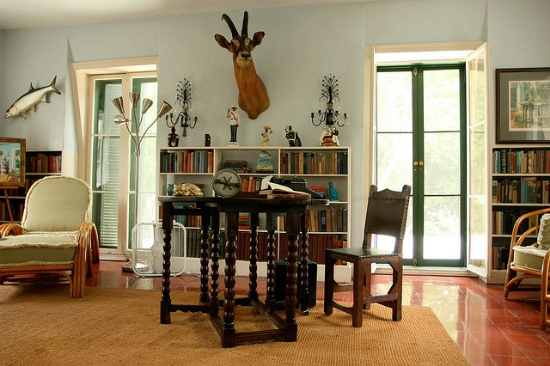 Since I was so inspired by the Hemingway house, I wanted to create one more look, this time using Hemingway's writing studio as inspiration. The room is located above an old carriage house on the property, and Hemingway wrote For Whom the Bell Tolls, as well as three other novels and numerous short stories in this room.
For the last look, I wanted to create an outfit for all the amazing guys that read CF (we know you're out there!), or just for the girls who want to pass a tip along to their boyfriend, guy friend or other fashion-conscious male their lives. For this look, I was inspired by Hemingway himself, as well as the masculine feel of his writing studio.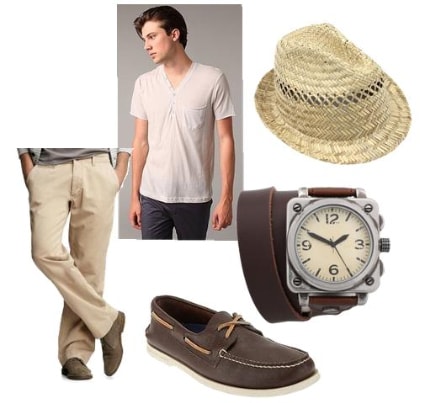 Product Information:Chinos, Henley, Fedora, Watch, Sperry's
At the base of the outfit are some casual chinos and a comfortable henley, which are both lightweight enough to wear on a warm summer day. Some classic Sperry's mimic the rich tones of Hemingway's writing desk, while the wrap-around watch adds a vintage touch. If you're one of those guys that wears a baseball cap 24/7, why not switch it up with a straw fedora? The hat adds an element of cool that looks straight out of the 1930s.
So, what do you think?
Have you ever felt inspired by a vacation? Have you ever visited Key West? What do you think of these outfits? Be sure to leave a comment and let me know your thoughts!