Like Sarah, I was quite naughty last week and binge-watched the new Netflix series, Unbreakable Kimmy Schmidt, instead of working on my graduate thesis. On the plus side, the first season of the hilariously upbeat show only consists of thirteen episodes, so I didn't waste too much time. On the other hand, it's only thirteen episodes! I'm in withdrawal, people. Get me Tina Fey on the phone so I can demand more Kimmy Schmidt!
(Let's be real though, if I were ever actually presented the opportunity to speak to Tina Fey I'd probably just blurt out something smooth like "heh, you're cool and funny and cool and omigaaah I can't even handle this, you're too cool.")
Troll the respawn, Jeremy!
About Unbreakable Kimmy Schmidt
Ellie Kemper plays Kimmy Schmidt, a woman who's just been released from an underground bunker in Indiana after being kidnapped by a doomsday preacher and held prisoner for 15 years. (Doesn't sound like it'd be funny, but it is!)
She moves to New York City to start over, where she meets roommate Titus Andromedon, a broke, wannabe Broadway star. He dreams of making it big on Broadway, but instead he's stuck wearing an "Iron Man"-knockoff suit shilling photo ops to tourists in Times Square.
Despite being thrown into a brave new world of smartphones and emojis, Kimmy maintains her positive outlook and takes things one light-up-Skecher-clad step at a time.
Unbreakable Kimmy Schmidt was created by Tina Fey and Robert Carlock and premiered on Netflix on March 6. It's chock-full of amazing guest stars and hilarious blink-and-you'll-miss-'em references.
Outfits Inspired by Unbreakable Kimmy Schmidt
Lace up your Skechers, tie up that scrunchie, and get inspired by the ladies of Unbreakable Kimmy Schmidt!
Kimmy
Kimmy Schmidt might have spent half of her life stuck in an underground bunker, but her personality and style are undeniably sunny. Think of a cross between Lisa Frank and Glee's Emma Pillsbury and you've pretty much got a good idea of Kimmy's look. She's a perfect source of fashion inspiration for spring! Also, according to the show's costume designer, her clothes are mostly from affordable stores like JCPenney, Topshop, and H&M.
While a bold floral cardigan might seem like a difficult-to-wear statement piece, all you need to do is pick one of the colors from the print as a complement. Take it for a preppy spin with lemon yellow shorts, or go for a girlier vibe with a pink pencil skirt. Mix and match your accessories: a pair of seafoam Keds makes the outfit more casual, while cobalt flats have a more polished look. You can't go wrong with a bright turquoise Jansport backpack; outside of class, try out a fun lavender messenger bag.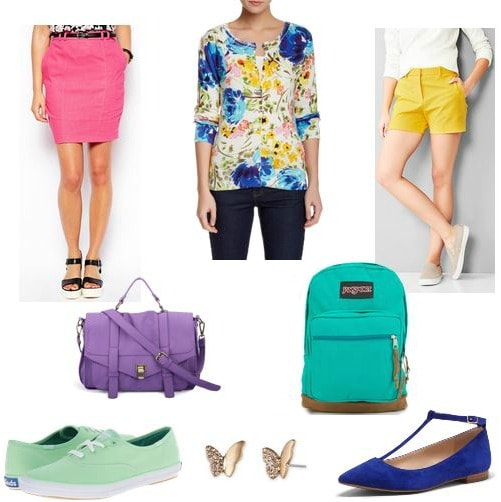 Product Information: Cardigan, Skirt, Shorts, Sneakers, Flats, Messenger Bag, Backpack, Earrings
Jacqueline
Jacqueline Voorhees, played by Jane Krakowski, is a fabulously wealthy but frazzled socialite who hires Kimmy (off the street) as a nanny for her out-of-control son. Despite her lavish lifestyle, Jacqueline feels unfulfilled and lonely, and comes to depend on Kimmy's companionship and quirky yet helpful advice.
Channel this lovable Manhattanite with a classic leopard print blouse and red pencil skirt. Throw on a sleek trench coat and grab a structured satchel, then slip the twins (by twins, I mean your feet) into a pair of gleaming platinum pumps.
If you want a taste of the Louboutin lifestyle, splurge on the brand's luxurious nail polish (or just save the cash and go for a drugstore version; I highly doubt there's a huge difference!) Finally, accessorize with a pair of wolf earrings as an allusion to Jacqueline's mysterious heritage.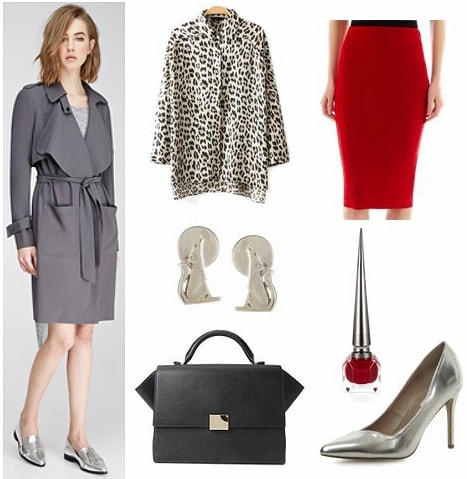 Product Information: Trench, Top, Skirt, Heels, Satchel, Earrings, Nail Polish
Xanthippe
Xanthippe Lannister Voorhees (what a name!), played by Dylan Gelula, is Jacqueline's snarky and spoiled teenaged stepdaughter. She takes an instant dislike to the preternaturally perky and technology-challenged Kimmy and is determined to make her life miserable. As the show goes on, though, we find that Xan might not be quite as bad a b**** as she tries to make herself out to be!
For a playful take on Xanthippe's look, which was based on street style from the likes of Cara Delevingne and the Jenner sisters, pair a graphic tee with some artfully ripped jeans. Throw on an oversized flannel shirt (bonus points if it's vintage!) and tough combat boots. Swipe on a coat of lipstick in a moody burgundy hue, then add a necklace as a reference Xanthippe's secret passion.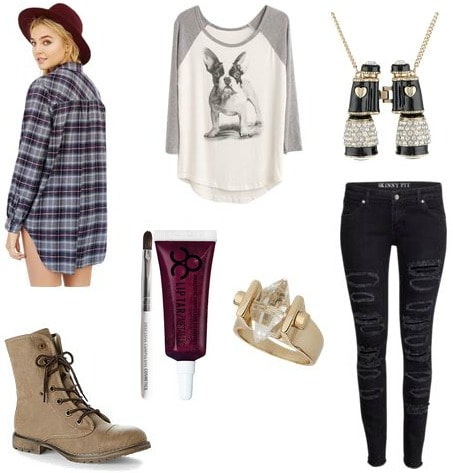 Product Information: Flannel, T-Shirt, Jeans, Necklace, Ring, Lip Tar, Boots
What did you think?
Would you wear these outfits? Have you marathoned Unbreakable Kimmy Schmidt yet? Is the theme song stuck in your head, too? Let us know in the comments!