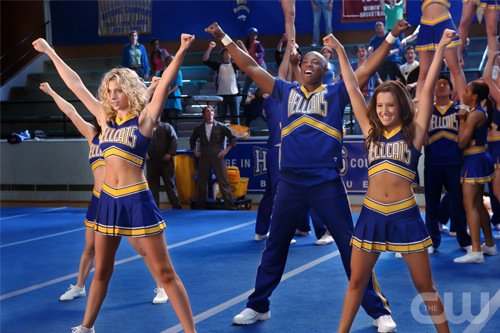 Quickly becoming one of fall's hottest new shows, Hellcats, on the CW, follows the members of an up-and-coming Southern cheerleading team and their journey to a national title. Unlike Bring It On, the series, which stars former Disney beauties Ashley Tisdale (of High School Musical and The Suite Life of Zac & Cody) and Aly Michalka (half of the Aly & AJ duo and of Phil of the Future) is about SO much more than cheerleading and girl drama! Hellcats deals with real-life college issues: relationships, sexism, problems with parents, financial struggles, and Marti's quest to get into law school. All in all, it's smart, it's sassy, and it's on right after Top Model!
When the Hellcats aren't in their tiny blue and yellow cheer uniforms (or other workout attire!) many of the ladies sport enviable outfits around campus. In this three-part series, I'll be breaking down the wardrobes of Hellcat's key players: Savannah, Marti, and Alice! If you want to know how to dress like a Hellcat, stay tuned! This feature is for you.
All About Savannah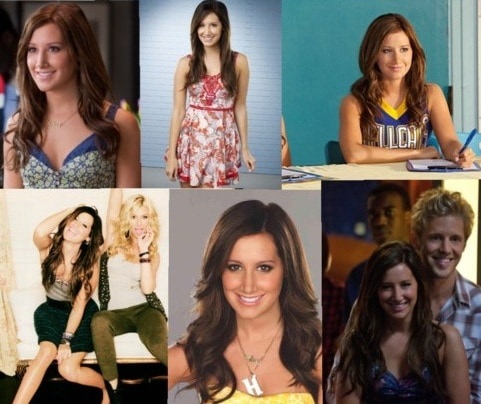 Savannah Monroe is the Hellcats' captain. She's bubbly, optimistic, and incredibly devoted to her cheer fam. A great friend and leader, Savannah is also the most innocent and conservative member of the squad, which is reflected in her clothing. In addition, Savannah obviously knows her fashion — she has wooden and silk hangers. She's a girl after our own hearts!
Savannah's Staples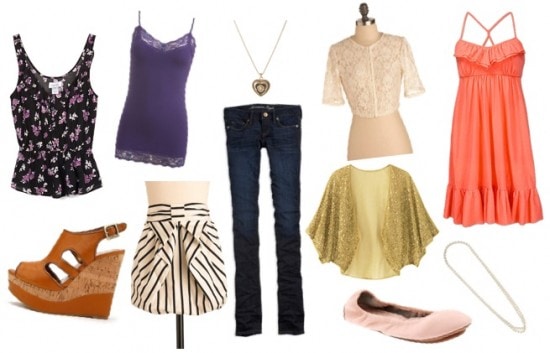 Product Information: Kirra Lailani Ruffle Printed Tank, Pac Sun. Enigma Wedges, Lori's Shoes. Lace-Trim Cami, Wet Seal. Cricket Match Skirt, ModCloth. Lion Cameo Necklace, Asos. Skinny Jeans, American Eagle. Proper Noun Cardigan, ModCloth. Sequined Shrug Cardigan, Newport News. The City Flat, Gap. Daytrip Babydoll Dress, The Buckle. Layered Faux Pearl Necklace, Forever 21.

Sundresses
Since Hellcats is based in the south, Savannah has been able to get away with wearing a cute sundress on just about every episode this season! Sundresses, in fact, are what really define Savannah's style and set her apart from the rest of her squad. If you're a fan of Free People, you'll probably recognize many of the dresses Savannah wears on the show and love her look. Live in a colder climate and want to emulate Savannah's style without waiting until summer? Layer, layer, layer! Leather and denim jackets, tights, leggings, cardigans, scarves, and long-sleeved shirts will help you make a seasonal transition.

Girly details
Savannah is very feminine and classic, two traits that she loves to showcase with her clothing. If it's soft and sweet, Savannah probably owns and loves it! To re-create her look, go for floral prints, ruffles, and lace. Also notice that Savannah favors delicate shapes and cuts — think spaghetti straps and cap sleeves."Oversized" and "chunky" just aren't part of this girl's vocabulary!

Cardigans
Whether she's on campus or in the gym, Savannah is a huge fan of layering. She often tops her outfits off with super cute, colorful cardigans. Follow her lead and grab some sweaters of your own this season! They're wardrobe staples that you'll rock year-round.

Feminine basics
You can tell from her wardrobe that Savannah loves being a girl and showing off her Hellcat body! While she lives in skirts and dresses, you can also find her in short shorts and skintight skinny jeans. Unlike Marti or Alice, however, Savannah always goes for a sweet, feminine look and pairs her jeans with ballet flats, wedges, and the aforementioned cardigans and girly basics. Bonus points for pastels! Savannah's hair and makeup choices are equally feminine — she generally favors loose curls or waves in her hair and a simple, fresh face.
Outfit Inspired by Savannah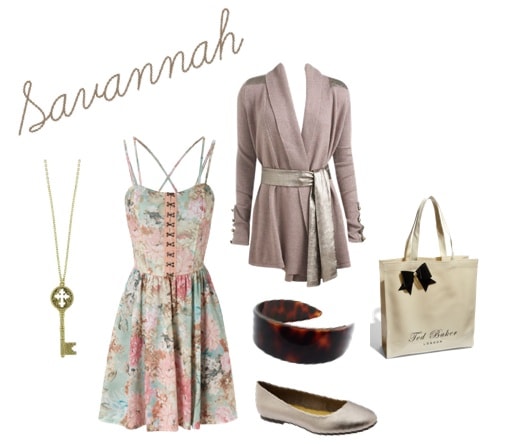 Product Information: Kingdom Gold Cross Key Necklace, 1928. Hook and Eye Floral Skater Dress, Jane Norman. Open-Front Sweater Wrap, Arden B. Camilia Thick Tortoise Headband, Hair Boutique. BC Footwear Limousine Flat, Nordstrom. Ted Baker Bow Ikon Patent Shopper, Nordstrom.
What do you think?
Have you watched Hellcats? Who's your favorite character? What do you think of Savannah's style?! Let us know your thoughts — leave a comment!