The final member of the trio of Hellcats' leading ladies is hot-tempered Alice! Her seductive style and delightfully wicked personality set her apart from the rest of the team. For information about Alice and how to steal her style, read on! Love Savannah's or Marti's look? See Part 1 and Part 2 of the Hellcats series for insight into their wardrobes.
All About Alice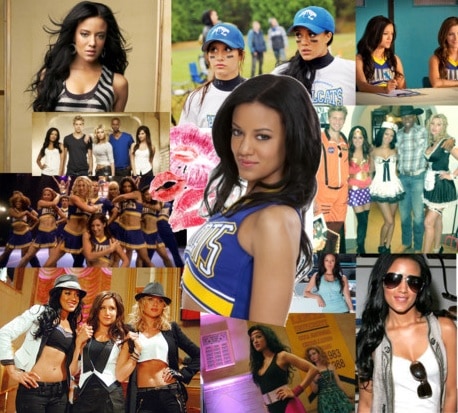 Alice Verdura, played by Heather Hemmens, is the Hellcats' resident bad girl that everyone loves to hate! Extremely competitive and vain, Miss Verdura fits the stereotypical mean-girl role to a tee. And while sure, she may have dabbled in steroid use and may have been involved in a sexting scandal, somehow her strength and tenacity always seem to shine through at just the right moment!
Take, for example, Alice's candid interview with a magazine editor: She refused to be known only as a "football wife," even though doing so was highly controversial. After her discussion with the media, Alice faced sexism head on as the school's obnoxious football coach threatened not only Alice, but the entire squad's future at Lancer. Strong and sexy, Alice refuses to back down, proving she's as serious about her passions in life as she is in the gym.
Alice's Wardrobe Staples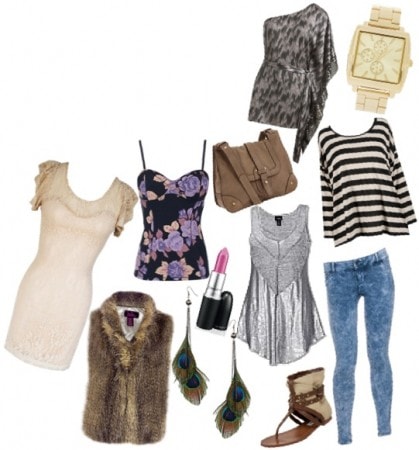 Product Information: Lace Dress, 2 Cute 2 Trendy. Jack B.B. Dakota Faux Fur Vest, The Buckle. Floral Jersey Bustier, Aritzia. MAC Lipstick, Nordstrom. Peacock Feather Drop Earrings, Dorothy Perkins. Equestrian Saddle Bag, Zappos. Daytrip Pieced Glitz Trapeze Tank, The Buckle. Steve Madden Geneva Cuff Sandals, Endless. Sequin One-Shoulder Top, Arden B. Square Boyfriend Watch, Asos. Oversized Stripe Top, Peacocks. Acid Wash Jegging, Metropark.

Trendy pieces. Alice is arguably the most trend-conscious member of the Hellcats. Her outfits are always up to date and usually showcase this season's hottest trends. Whether it's sequined tank tops, cascading earrings, jeggings, or studded accessories, if it's hot and in style, Alice will be the cheerleader to rock it! For trendy college girls on a budget, old standbys like Forever 21 and H&M should meet your fast-fashion needs, but make sure to check out stores like Foreign Exchange, Akira, and Papaya, too, for items that are both budget-friendly and super trendy!

Standout style. Alice's outfits are often more flashy and noticeable than those of her Hellcats teammates and feature brighter colors, eye-catching details, and lots of variety. I think Alice is the most realistic character when it comes to style — she's constantly changing and rocking different looks, so it's impossible to put her into a single style box. Mixing and matching clothing items, like Alice does, creates a look that's eclectic and unexpected. Feeling stuck in a style rut? Want to branch out? Catch up on some of our classic posts about reinventing your style, changing your look, and developing a wardrobe all your own!

Body-con is queen. Since Alice is the team "bad girl," the show's stylist often has her in very body-conscious clothing. Generally, her jeans are tighter, heels are higher, skirts shorter, and outfits are more revealing than those of the other girls on the squad. Alice is definitely a bombshell. She walks a thin line between sexy and trashy, but usually keeps her look classy by avoiding anything too over-the-top or revealing. Uncertain about your place on the line? Balance is your best friend! Try a tight top with looser bottoms or tuck an oversized tank into a tight skirt. Regardless of your shape, excellent tailoring is fashion's best friend. And remember, if you think your outfit is too sexy, it probably is!

Confidence! If you're a devoted CF reader, you already know that confidence is all you need to rock just about any look! College is the perfect time to try new trends; for the most part, we're free from dress codes, don't need to look super professional or work appropriate, and just about everything looks great on us. So take advantage of it, ladies! If you're not sure about a trend, just give it a try. You may be surprised by just how amazing you appear — and feel! Wear what you love and rock your look.
Outfit Inspired by Alice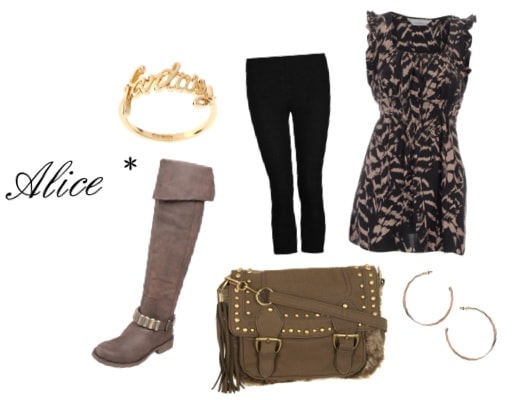 Product Information: Disney Couture 'Fantasy' Ring, Asos. Kenneth Cole REACTION Moto Knee-High Boot, Endless. Khaki Fur Studded Satchel, Miss Selfridge. Basic Ankle Leggings, Tilly's. Petite Print Tunic, Dorothy Perkins. Classic Hoop Earrings, Charlotte Russe.
Thoughts?!
Which Hellcats girl's style do you admire most? Who are you most like? Are there any other TV characters with fabulous personal style that you'd like to see CF break down? Let us know what you're thinking by leaving a comment!