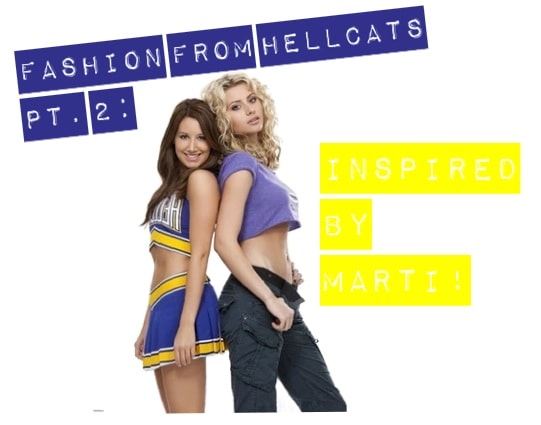 This is the second installment of my on-going series about fashion from the CW's Hellcats. Today, I'm going to break down the style of everyone's favorite edgy cheerleader, Marti, played by Aly Michaela (of 78Violet/Aly & AJ fame).
In case you missed it, check out Part One of this series on Ashley Tisdale's character Savannah. And make sure to check back next week for part three — featuring the style breakdown for Hellcats' resident bad girl, Alice!
All About Marti!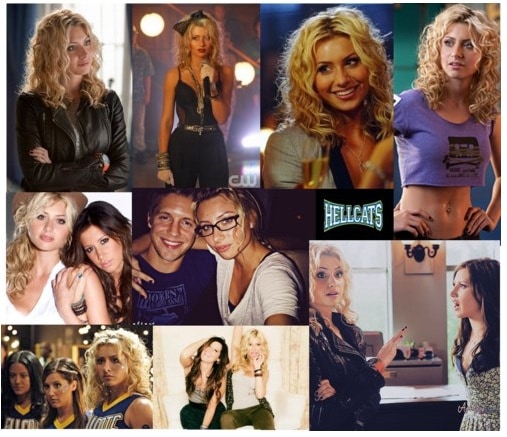 Marti Perkins, played by Aly Michakla, is another one of Hellcats' leading ladies. The show, in fact, really seems to center around her — we get to know a lot about Marti and her history, family, and desire to go to law school in the first few episodes.
After joining the Hellcats in an attempt to gain a last-minute athletic scholarship, Marti, who had no cheer experience whatsoever, injected her own style and moves into the team, even taking over for injured flyer Alice. With a background in gymnastics and dance moves she learned on the street, Marti brings some urban edge to the Hellcats and faces a rocky transition into Cheertown. But through her tenacity and talent, Marti is able to hold her own both in the gym and in the classroom, earning herself a spot on her law professor's research team.
Though not a typical cheerleader by any means, Marti has proven herself and has found her place in the Hellcats family, complete with cheer captain Savannah as her roommate/bff and ex-football-player-turned-cheerleader Lewis as her boyfriend.
Marti's Wardrobe Staples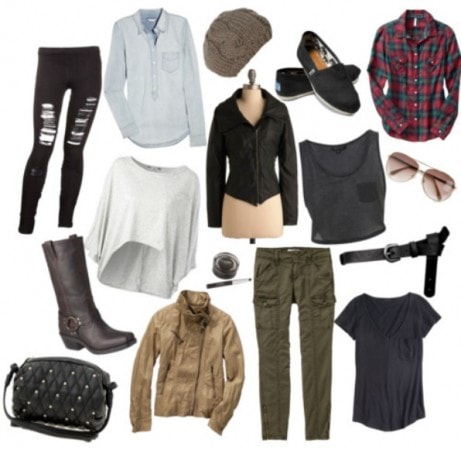 Product Information: Joe's Jeans Destroyed Zip Jeggings, Metropark. Katherine Leather Engineer Boots, Target. Pieces Stud Party Bag, Asos. J.Crew Crosshatch Chambray Shirt, Net-A-Porter. Oversized Cape Top, New Look. Synthetic Leather Bikers Jacket, Uniqlo. Annika Beret, Alloy. Moonlight on the Highway Jacket, ModCloth. Citizen Surplus Ankle-Zip Skinny Cargos, Old Navy. Black Canvas Classics, Toms. Topshop Curved Hem Crop Top, Style Compare. Classic Flannel Shirt, Old Navy. Classic Gold Aviator Sunglasses, Monsoon. Leather Boyfriend Belt, Asos. Penelope V-Neck Pocket Tee, dELiA*s.

Edgy, grungy, rocker style.
Marti's style is anything but girly. Slightly punk-rock, she favors oversized cuts, wild hair and makeup, and studded accessories. Marti also tends to dress primarily in dark, muted neutrals — we often see her in gray, black, olive green, navy, and dark purple. While these colors are great for winter, don't be afraid to mix it up if you're feeling a bit dreary!

Skinny jeans, cargos, and boyfriend-fit pants.
Unlike roomie Savannah, Marti is rarely dressed in skirts or dresses. Instead, you can find her in tight skinny jeans or slouchy hip-slung pants, generally held up by a studded belt. Always a fan of showing off her abs, Marti's loose cargos and boyfriend jeans almost always expose her midriff as they are usually paired with a crop top or fitted v-neck. The look is effortless and casual; though her clothes are cute, Marti doesn't seem overly concerned with fashion or style. She is who she is!

Oversized button-ups layered over crop tops.
The way Marti pairs an oversized shirt with a cropped top is arguably her most recognizable look. Her layers are both practical and convenient: she's able to deal with any switch in temperatures and can easily button up her shirt while in class. The slouchy, oversized button-up emphasizes Marti's edgy-grunge style while the crop top nods to the Hellcats and highlights her toned stomach. But even if you choose to keep your stomach covered, layering is an easy way to make an outfit more conservative.

Signature leather jacket.
Marti often rocks her signature leather jacket — a heavy black motorcycle-style number perfect for catching a ride on her best friend Dan's bike. While Marti likely thrifted hers, a classic leather jacket never goes out of style and many stores stock them as basics year round. (And there are options at every price point!) If you don't own a leather (or faux leather!) jacket yet, what are you waiting for?! A college-girl fashion essential, the leather jacket looks great dressed up or down and flawlessly finishes any outfit. If there's one thing to copy from Marti's look, it's this!
Outfit Inspired by Marti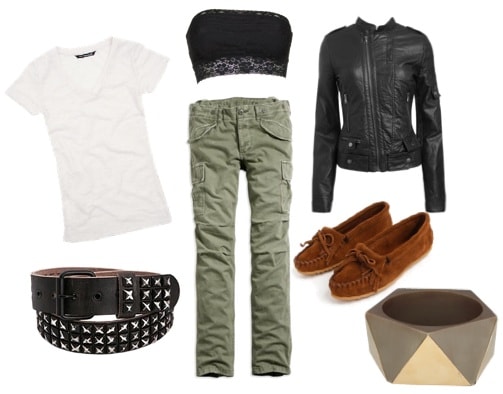 Product Information: V-Neck Burnout Tee, Bluenotes. Distressed Dirty Leather Pyramid Stud Belt, Hot Topic. Free People Black Lace Bandeau, Metropark. Slouch Skinny Military Pants, American Eagle. Crinkle Moto Leatherette Jacket, Arden B. Minnetonka Moccasins, Lori's Shoes. Resin and Metal Faceted Bangle, Asos.
Your thoughts?
How do you feel about Marti's look? Do you like the way she's styled on the show? Are there characters from other television shows who inspire your style? Let us know! Leave a comment!