This post may contain affiliate links, which means we may receive a commission if you purchase through our links. Please
read our full disclosure here
.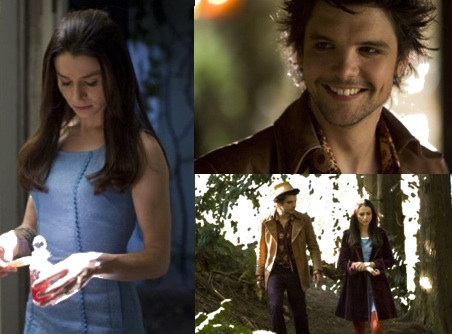 She was a martial arts instructor with commitment issues. He was a quick-witted tea shop owner and con man. She was a queen reigning over a parallel universe called Wonderland from the comfort of her casino castle.
If this doesn't sound quite like your average telling of Alice in Wonderland, you're right. Never known for following tradition, Syfy created its TV miniseries, Alice, as a modern version of this storybook classic, complete with an Alice/Hatter romance, a long-lost father, and a soul-stealing casino.
Along with the plot update, Syfy has also given Alice, Hatter and the Queen of Hearts cool, stylish makeovers. And I have to say, they're pretty inspiring, fashion-wise. Interested to see more? Here are the basics for incorporating a little Wonderland into your wardrobe.
Alice
After her father's disappearance when she was ten, Alice was never able to give her heart to any man. Then, Jack Chase came along. However, he neglected to tell her one little thing: he was from a parallel universe called Wonderland. Now, he's been kidnapped, and it's up to Alice to enter Wonderland to save him. However, things are about to get a whole lot more complicated thanks to dashing fellow by the name of Hatter.
Alice's style is all about modernizing the character's classic look. While she still dons a blue dress, she pairs it with red tights and ankle booties with biker embellishments. To get her look, don all of the above, and top it all off with a suede trench like the one Hatter gave Alice to wear in the miniseries.
Add some fun to your Alice-inspired look with some adorable Wonderland-inspired accessories like a hare ring and potion necklace. Keep them subtle and vintage-looking to prevent them from overwhelming your look.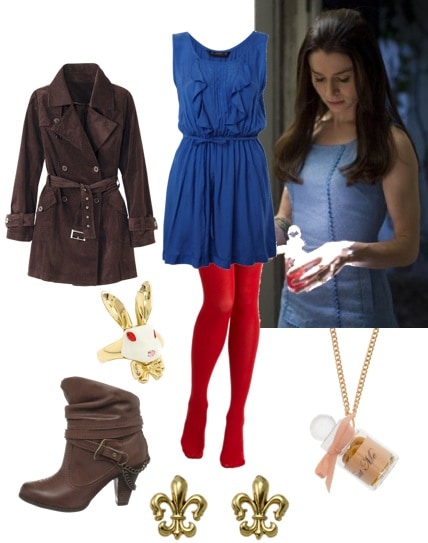 Jacket, Dress, Tights, Ring, Boots, Earrings, Necklace
Hatter
Quick on his feet and never without a scheme, Hatter is far from mad. He knows Wonderland inside and out, and he's not above using some shady tactics to get what he wants. However, he's not all bad. Underneath his tough exterior, he has a heart of gold and proves to be one of the few people Alice can trust.
Hatter is one of the few male TV characters out there whose style can be easily translated into a cool look for females. Pair a patterned dress with a structured blazer and oxford shoes for a posh menswear look.
Of course, you can't fully rock the Hatter look without the perfect hat. Top off your look with a funky fedora, and you'll be ready for some Wonderland action.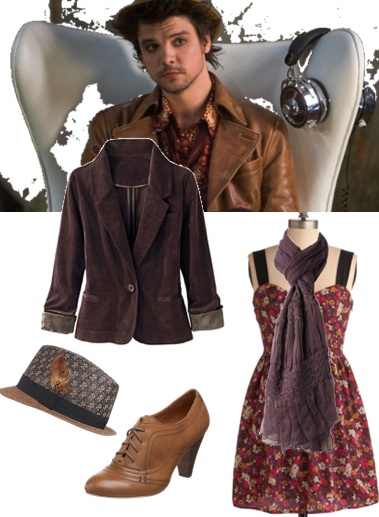 Jacket, Hat, Shoes, Dress, Scarf
Queen of Hearts
From the safety of her casino castle, the Queen of Hearts rules Wonderland with an iron fist. In an effort to keep her subjects under her thumb, she kidnaps humans and steals their emotions, which she bottles and sells to the people of Wonderland. So much for just wanting some red bushes.
When it comes to the Queen's style, it's all about royal reds and opulent accessories. Stay with darker reds like burgundy when choosing the perfect red dress – it will look much more lush and feel much more royal. To mimic the Queen's robes, look for loose, flowing skirts.
Unlike Alice and Hatter, emulating the Queen allows you to go a little bit over-the-top with your jewelry. Rich golds and ruby red stones will give your outfit a royal feel. Honor the Queen's traditional rose bushes by adding floral jewelry.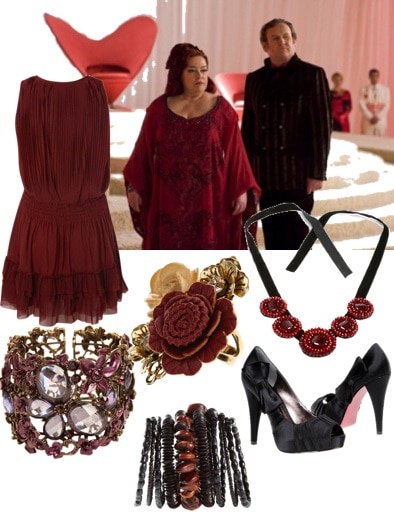 Dress, Necklace, Shoes, Cuff, Bracelet, Ring
Your thoughts?
Are you a fan of Alice? Do you find the characters inspiring in terms of fashion? What did you think of the looks I chose? Let me know your thoughts by leaving a comment below!