This post may contain affiliate links, which means we may receive a commission if you purchase through our links. Please
read our full disclosure here
.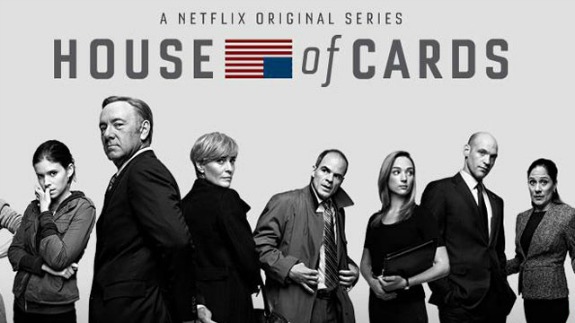 Photo Credit: House Of Cards promo material
It's no secret that I'm an insane fan of great TV shows. While TV-watching may not be the most enriching hobby in the world — compared to say, rescuing animals or reading Russian literature — nonetheless, it's my passion.
I love how great TV shows can give complete strangers something to talk about. I love how they can teach you about a completely different culture within your own country. I love how the best episodes delve into current social issues. I know they usually reserve this term for education, but I'll be bold and say it: to me, TV shows are one of the world's great equalizers.
Given this obsession, you can imagine how I felt when Netflix became commonplace. Unlimited TV show access for $8 a month? What could be better?! Little did I know that Netflix would outdo itself and come up with something even better than every episode of Desperate Housewives and Breaking Bad — original programming.
This year, Netflix debuted its first original program, and it's nothing short of amazing.
House of Cardsdirected by David Finch and starring Kevin Spacey, Robin Wright, Kate Mara, and Corey Stoll has truly shaken up the world of TV programming. The rich plot, film-like cinematography and pacing, and snappy dialog would stand out on any medium, but the fact that all 13 episodes were released at once through a streaming service is beyond cool.
Whether you've seen all thirteen episodes or have never heard of the series, we can all steal some style tips from the two leading ladies of House of Cards. Let's jump right in!
About House of Cards:
After hearing my friends rave about the series, I knew I needed to watch the show. I'll be honest: it took me a couple tries to get through the pilot — but in all fairness, most TV pilots are a little slow because they have to set up so many storylines. Power through, though — once you finish the first episode or two, you'll be hooked. Do NOT start this show during dead week. You won't get any studying done!
House of Cards follows Francis Underwood, the House Majority Whip, who tries to exact revenge on President Walker, who passed over him for Secretary of State although Underwood greatly contributed to his campaign and was promised the position.
To achieve his aims, Underwood manipulates several other politicians into serving as pawns in his plans, even getting Peter Russo (Corey Stoll), a young troubled House Representative, to run for Governor of Pennsylvania. Francis's wife, Claire Underwood, runs a non-profit organization. The organization's standing creates leverage for Francis and his complex schemes. Meanwhile, Francis develops a mutually beneficial relationship with a young reporter trying to make a name for herself, Zoe Barnes. He leaks information and starts rumors through her to help further his causes.
This show is interesting, sexy, and completely addictive. Like I said, don't plan on starting House of Cards unless you have some serious time on your hands. To tide you over, let's take a look at the styles of the show's two main female characters:
Zoe Barnes

Photo 1: House of Cards promo material | Photos 2, 3, 4, and 5: House of Cards show screen caps
Zoe Barnes (played by Kate Mara, sister of Girl With the Dragon Tattoo's Rooney Mara) is young, driven, edgy, and isn't afraid to take risks or do unethical things to get ahead. Her rebellious, cutthroat attitude is exemplified in the way she dresses.
When it comes to her regular outfits, Zoe is allowed to dress casually for writing and research. She sticks to muted colors and solids, which contributes to the overall look and feel the the show. She often wears layers, and almost always has her auburn hair tied back into a ponytail.
True to her edgy attitude, Zoe always adds a sexy flair to her outfits — even in professional settings. She often shows cleavage, wears form-fitting dresses, or lets a bit of her lingerie peek through as a way to manipulate the politicians she deals with. Even her business suits and sheath dresses are short, tight, and sexy. Ooo la la!
Zoe Inspired Outfit #1: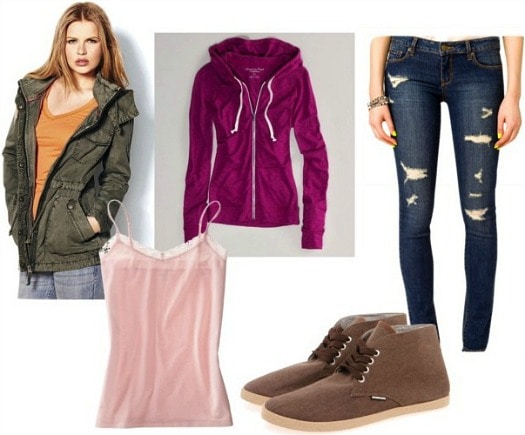 Jacket, Hoodie, Cami, Shoes, Jeans
This is a pretty typical outfit that Zoe would wear on a work day. She often layers an army parka over a hoodie, but pairs these pieces with a deep v-neck or a lacy cami to keep it sexy. Finish with worn denim and sturdy desert sand boots.
Zoe Inspired Outfit #2: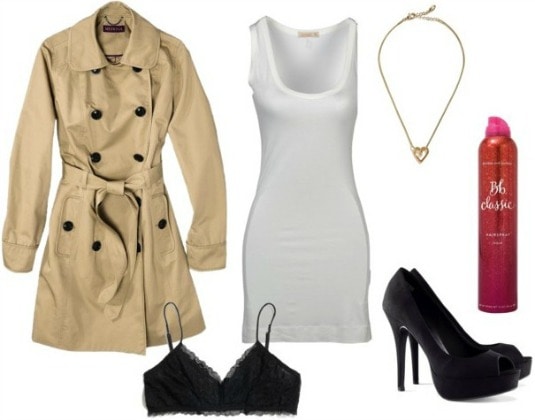 Trench, Dress, Bralette, Shoes, Hairspray, Necklace
Zoe might wear something like this to a fancier occasion. A tight white dress paired with a peek-a-boo bra and a heart necklace pointing at her girls is a very Zoe thing to wear… but I would definitely not recommend that you guys wear this for any sort of remotely professional occasion. It's fun for a night on the town, though! Layer on a trench coat if the weather is icky, and finish with a slick ponytail.
Claire Underwood

Photos 1, 3, 4, 5: House of Cards show screen caps | Photo 2: House of Cards promo material
Years ago, when I first saw Robin Wright in The Princess Bride and Forrest Gump, I knew I'd have a life-long, massive girl crush on her. Turns out, her role as Claire Underwood in House of Cards is just as awesome as Princess Buttercup and Jenny!
Claire Underwood is sharp, powerful, and just as power-hungry as her husband Francis. She know about most of Francis's plans and allows him to do whatever it takes to further their cause. She's a clever businesswoman and knows how to get maximum results from those reporting to her. She's also great at maintaining her perfect "politician's wife" image, and looks impeccable everywhere she goes.
Claire dresses very conservatively and professionally. However, she manages to keep from looking stuffy or old-fashioned by keeping her pieces very girly. French cuffs on her dress shirts, dainty earrings with her power suits, pointy high heels, and that killer haircut all make her look incredibly feminine although she's dressed professionally.
Claire Inspired Outfit #1: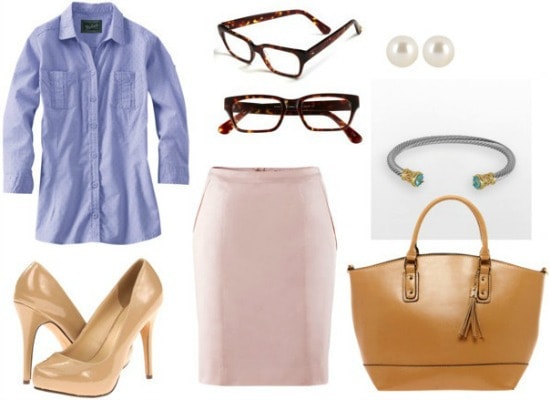 Shirt, Glasses, Shoes, Skirt, Bracelet, Purse, Earrings
This is a typical outfit that Claire might wear to work. Roll the sleeves and unbutton the first few buttons of a dress shirt, and tuck it into a perfect-fitting pencil skirt. Nude pumps and a structured bag will look great with this outfit. Finish with a pair of glasses if you have them, a designer-inspired cuff bracelet, and a pair of pearl stud earrings.
Claire Inspired Outfit #2: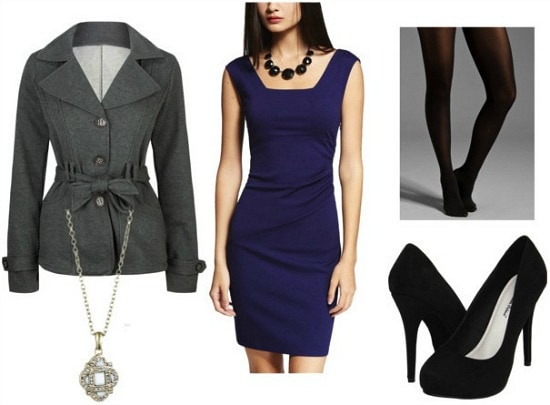 Coat, Dress, Necklace, Tights, Shoes
Claire might wear something like this to a fancy political event with her husband. If you don't own one already, invest in a "Jackie O" sheath dress. You'll be amazed at how many events it's appropriate for, from work, to causal interviews, to meeting a boyfriend's parents! A muted peacoat is just Claire's style as well. Finish with black tights, black pumps, and a necklace.
Have You Watched House of Cards Yet?
Are you planning on it? What did you think of the series? Are your friends into it also? What do you think about the way Claire and Zoe dressed? What were your favorite episodes? What other TV shows inspire your style? Leave a comment and let's discuss!!