TV Fashion Recap is a biweekly column featuring the best of TV fashion. Every other week, we recreate our favorite outfits from the most recent episodes of all of the hottest shows. Stay tuned; we may feature your favorite show next!

Every other week, I break down the best of TV fashion, featuring my favorite looks from the last two weeks. This week, I was inspired byMad Men and Doctor Who. Read on to check out the outfits!
1. Mad Men (Season 6, Episode 1 and 2): Sally's Blue Shirt and Embellished Collar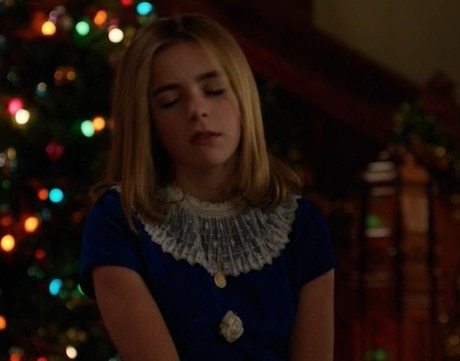 (Photo Credit – Screenshot)
In case you don't know, AMC's Mad Menis a critically-acclaimed drama about advertising agencies on Madison Avenue during the 1960s. Its attention to detail – in terms of fashion, history, and the ideals of the time – is incredible. The show is highly controversial, especially due to its depictions of blatant sexism, which is used to create an accurate depiction of the time period. It's definitely one of the most highly talked-about shows today, and it's a fascinating look into another decade. What do you guys think of the show?
Sally Draper, daughter of the main character Don Draper, is very adventurous. She's reckless, bold, and frequently clashes with her more reserved mother, Betty. Sally also has a phenomenal sense of style! She tends to go for girly pieces in deep colors and loves to pair them with delicate, feminine accessories.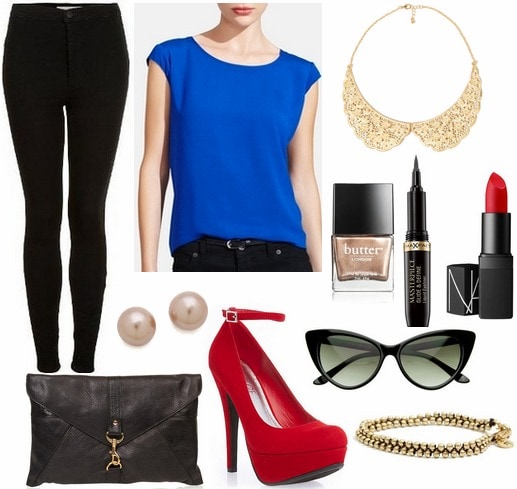 (Product Information: Pants – Topshop, Top – Express, Necklace – Forever 21, Lipstick – Beauty.com, Eyeliner – Amazon, Earrings – Shopbop, Bracelet – Madewell, Shoes – Rainbow, Sunglasses – ZeroUV, Nail Polish – Amazon, Purse – Topshop)
To put a modern, party-worthy twist on Sally's retro-glam outfit, start with a bright blue top. Pair it with black skinny jeans and an intricate collar necklace — this Peter Pan collar has gorgeous detailing that Sally would love. Next, add a pair of pearl earrings and a gold bracelet, which are both wardrobe staples for the female characters on the show.
Have fun with unique extras to polish off this outfit. Bright red heels add an unexpected pop of color, while cat-eye sunglasses lend a glamorous element to the outfit. Grab an oversized black leather clutch for all your night-out essentials, then paint your nails a neutral metallic shade. Lastly, add a signature Mad Men makeup look with a bright red lip or winged eyeliner.
2. Doctor Who (Season 7, Episode 8): Clara's Patterned Dress and Leather Jacket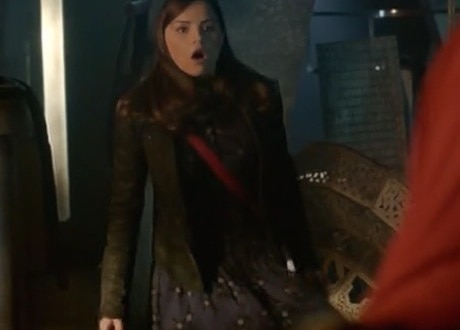 (Photo Credit – Screenshot)
I'm absolutely obsessed with almost every show on BBC, but Doctor Whois without a doubt one of the best shows on television, period. I've featured it before (also see Doctor Who Fashion Part 1, Part 2, and Part 3 for more in-depth inspiration), so I'll try not to squeal too much about it, but I'm definitely a 'Whovian' fangirl. The show boasts a great plot, witty dialogue, and totally adorable characters.
Clara is a relatively new addition to the show, but she's strong, independent, and very caring. (If you haven't seen this episode yet, you should definitely check it out, since we learn a lot more about her.) She looks incredibly cute in this episode, mixing feminine, girly pieces with more masculine ones for a balanced outfit. What do you guys think of Clara?
(Product Information: Jacket – Tilly's, Dress – Forever 21, Nail Polish – Beauty.com, Earrings – Modcloth, Purse – Charlotte Russe, Tights – Tilly's, Boots – Zappos, Lip Gloss – Revlon)
To recreate Clara's spring look, start with a patterned skater dress; this one has gorgeous purple tones and intricate detailing. Add an unzipped, purple-toned leather jacket to bring out the colors of the dress. Next, put on some tights and add black, clunky boots. Slip a brightly-colored cross-body bag over your shoulder – while Clara's bag was cherry red, this mint one pairs well with the dress and is perfect for spring. Add some girly gold earrings, then finish off with a swipe of pink lip gloss and some rose gold nail polish.
Your thoughts?
What do you think of these looks? Did we miss any amazing outfits from the past week of TV? Which shows do you think deserve a spot on the next TV Fashion Recap post? Leave a comment below and tell us what you think!