TV Fashion Recap is a biweekly column featuring the best of TV fashion. Every other week, we recreate our favorite outfits from the most recent episodes of all of the hottest shows. Stay tuned; we may feature your favorite show next!

Every other week, I break down the best of TV fashion, featuring my favorite looks from the last two weeks. This week, I was inspired by Unbreakable Kimmy Schmidt and Broad City. Read on to see both looks:
1. Unbreakable Kimmy Schmidt (Season 1, Episode 5): Kimmy's Bold Accessories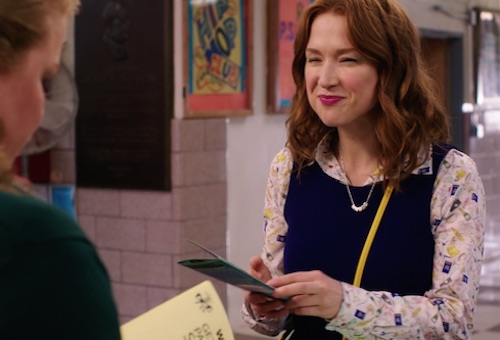 Kimmy is the reason why the phrase "cute as a button" exists | Photo Credit
Confession time: I did a bad, bad thing last week. Instead of working on micro-usability testing homework, I binge-watched Netflix's new comedy, Unbreakable Kimmy Schmidt. I watched the whole first season (13 episodes!) in less than 24 hours. I'm not sure whether I should be proud or concerned. Either way, I don't completely regret it because the show is hilarious.
The series follows Ellie Kemper (aka Erin from The Office) as Kimmy, a woman who was rescued from a bunker years after being tricked into thinking that the apocalypse had come – hey, if Jon Hamm, who plays Reverend Richard Wayne Gary Wayne, told me to get in a bunker that he visited regularly, I'd jump right in, too.
Now she's trying to live a normal life in New York City, despite obstacles in her path, like her lack of education and inability to figure out how to use an iPhone. She also has some seriously fab '90s fashion moments, so look for an in-depth post of Kimmy's amazing style in the coming weeks!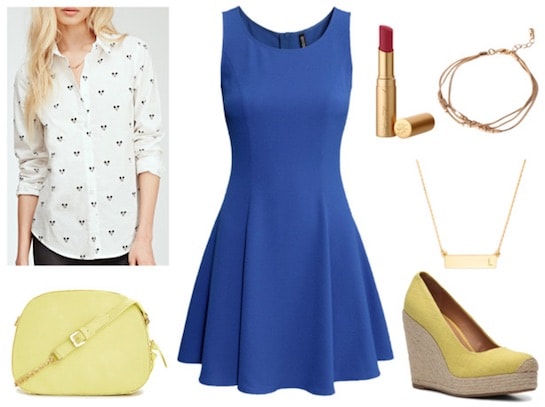 Blouse, Dress, Lipstick, Bracelet, Necklace, Bag, Shoes
The once steadfast rule of matching your bag and shoes has been stripped from fashion's Ten Commandments, but coordinating your accessories can add a fun, youthful vibe to your look, especially if they are in a bold color.
To recreate Kimmy's exuberant ensemble, start with a blue skater dress with a patterned blouse layered underneath (Kimmy would adore this Mickey Mouse top). Next, grab a bright yellow bag and matching lemon-colored shoes to instantly add energy and pizazz to the outfit.
Kimmy accessorized with a personalized alphabet necklace, but a customized initial pendant is a more modern and fashion-forward option. Wear a thin, multi-strand bracelet to mimic the '90s friendship bracelet craze, then finish the look with Kimmy's signature dark pink lipstick.
2. Broad City (Season 2, Episode 9): Abbi's Striped Top and Messenger Bag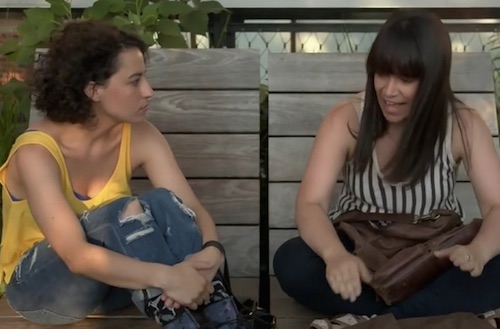 Abbi's bangs are the real star of this photo| Photo Credit
Comedy Central's Broad City started as a web series, but became a funny, fresh comedy produced by Amy Poehler. I've only just started watching it, but I really like how it defies a lot of stereotypes and creates believable, complex characters (which most comedies have trouble with).
Abbi and Illana are two twenty-somethings living in New York City with a lot of sass, feminism, and a bunch of typical post-undergrad problems. It's really relatable, and I'm definitely going to have to watch the whole series!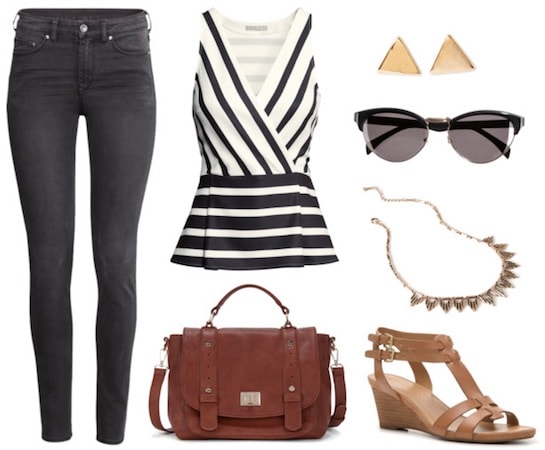 Jeans, Top, Earrings, Sunglasses, Necklace, Bag, Shoes
Abbi's look is casual, but the accessories add sophistication to the outfit. To recreate it, start with dark wash jeans and a black-and-white striped top (I couldn't resist this one's gorgeous peplum, but here's a more laid-back alternative).
Carry a large cognac faux leather messenger bag for a neutral pop of color in the outfit (common sense says that brown can't be a pop of color, but when it's paired with black and white, the reddish tones pack a surprising punch) and slip on a pair of brown wedges.
To jazz up the ensemble, accessorize with a spiky necklace and a pair of gold studs. Lastly, grab a pair of chic black sunglasses for a relaxed yet stylish look.
Your thoughts?
What do you think of these looks? Did we miss any amazing outfits from the past week of TV? Which shows do you think deserve a spot on the next TV Fashion Recap post? Leave a comment below and tell us what you think!