TV Fashion Recap is a biweekly column featuring the best of TV fashion. Every other week, we recreate our favorite outfits from the most recent episodes of all of the hottest shows. Stay tuned; we may feature your favorite show next!

Every other week, I break down the best of TV fashion, featuring my favorite looks from the last two weeks. This week, I was inspired by The Walking Dead and Twisted. Read on to check out the outfits:
1. The Walking Dead (Season 4, Episode 9):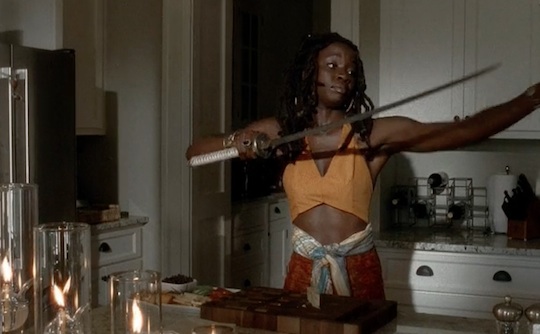 (Photo Credit – Screenshot)
I've talked about The Walking Dead – the post-apocolyptic drama based off of a comic book series of the same name – before, but CF reader Melissa suggested I look at Michonne's outfit in this episode. I'm so glad I did! Her look is fearless — just like she is. This woman fights zombies with a katana, and I think that says it all.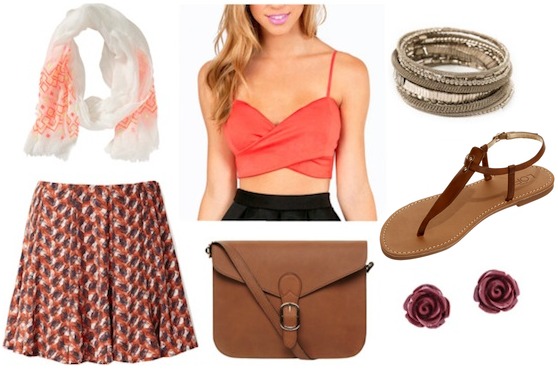 Product Info: Scarf, Crop Top, Bracelet, Skirt, Bag, Shoes, Earrings
This episode made me realize that now's the time to start bringing out tank tops – after all, spring has sprung! Just kidding – I live in Michigan. It's -14 °F, and let me tell you, winter here is nothing like it is in the movie Frozen. There's a lot less singing with cute reindeer and a lot more slipping on the ice.
But looking at Michonne's outfit, I felt really summery, cheerful, and ready to pull out my shorts. And then I went outside. Sigh. I can't wait for summer, and if it ever actually comes, I'll definitely be rocking Michonne's look for picnics, walks in the park, and going to the beach.
To recreate the ensemble (if you live somewhere warm or are heading somewhere warm for spring break), start with a brightly-colored crop top. If you aren't a crop top fan, rock a cute tank instead. Next, add an orange printed skater skirt, then tie a white patterned scarf tied around your waist like a belt (genius idea, by the way!). Because the outfit is so bold, a few bracelets and some stud earrings are all you need jewelry-wise. Put on leather sandals and grab a matching bag to complete Michonne's look – remember, the sword is optional!
2. Twisted (Season 1, Episode 14): Lacey's Blazer and Pleated Skirt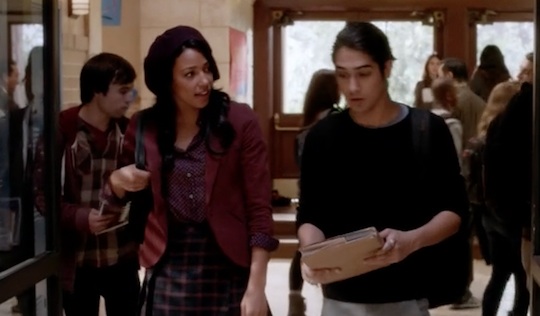 (Photo Credit – Screenshot)
I'm pretty sure I failed my Object-Oriented Programming midterm because I spent every waking minute catching up on ABC Family's suspenseful drama, Twisted. And you know what? It was worth it. Because while I don't know anything about function pointers, I do know all about Danny's secret, which is probably more useful for a potential computer programmer anyway… Whatever, I still say it was still worth it. This show is addicting!
The show follows Danny, a teenager released from prison after killing his aunt when he was eleven, and his friends as they try to solve another murder he's being framed for. I don't want to spoil it, but fans of Pretty Little Liars, suspense, and general awesomeness will love this show.
Lacey, one of Danny's childhood friends, is one of my favorite characters. She doesn't want anything to do with Danny after he's released, but she can't resist being pulled into the mystery. And neither could I.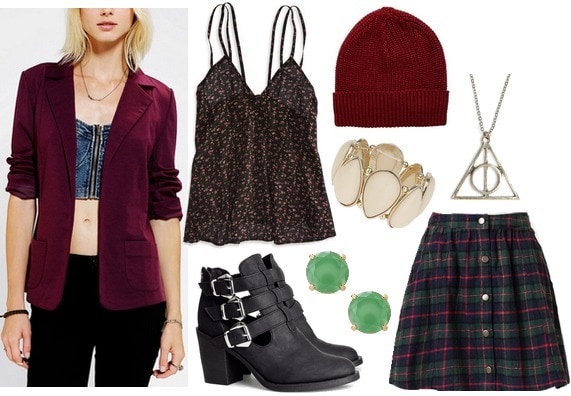 Product Info: Blazer, Tank, Hat, Bracelet, Necklace, Shoes, Earrings, Skirt
Lacey's getup is a great example of how to pull off a monochromatic look without looking like you stepped out of a crayon box (which is something that I have an embarrassing amount of experience with). To recreate the outfit, start with a burgundy floral blouse or tank. Pair it with a similarly-colored plaid skirt and add a solid-colored blazer over top – this helps to tone down the patterns a little but also ties them together. Slip on a pair of black buckled booties and some sheer tights.
Because there's already a lot going on in the same color family, try to keep the accessories light. Throw on a cute oxblood beanie, especially if you are having a bad hair day – which, for me, is every day. I've had twenty years to practice, but I still can't even pull up a ponytail without extra lumps of hair sticking out.
Stud earrings add a fun pop of color to the ensemble. Also, put on a little necklace. I'll admit, this necklace with the Deathly Hallows symbol on it has nothing to do with the show and everything to do with me sneakily incorporating my obsession with Harry Potter into everything I do and wear. Finish off the outfit with a neutral bracelet, and you've got an adorable look for class or hanging out with friends!
Your thoughts?
What do you think of these looks? Did we miss any amazing outfits from the past week of TV? Which shows do you think deserve a spot on the next TV Fashion Recap post? Leave a comment below and tell us what you think!