TV Fashion Recap is a biweekly column featuring the best of TV fashion. Every other week, we recreate our favorite outfits from the most recent episodes of all of the hottest shows. Stay tuned; we may feature your favorite show next!

Every other week, I break down the best of TV fashion, featuring my favorite looks from the last two weeks. This week, I was inspired by The VoiceandThe Tomorrow People. Read on to check out the outfits:
1. The Voice (Season 5, Episode 22): Jacquie Lee's Leather Jacket and Striped Skirt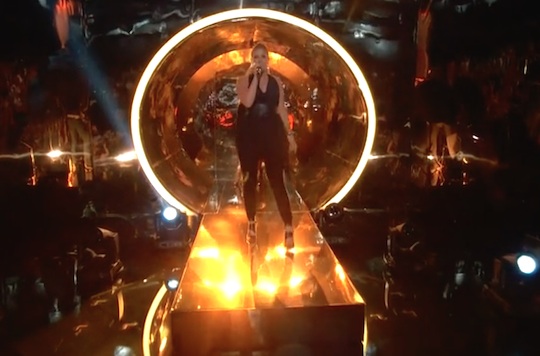 (Photo Credit – Screenshot)
My mom actually convinced me to start watching NBC's The Voice because of "that really cute Adam Levine." Now I'm addicted — and not just because of Adam's goofy smile (though it helps).
The reality singing competition is a little bit complicated, but basically, judges (this season: Adam Levine, Cee Lo Green, Blake Shelton, and Christina Aguilera) pick several aspiring singers and coach them in the hopes that one of their acts wins the competition. It's reminiscent of American Idol, but I think that it's a lot more lively and the interactions between the judges are hilarious. I'd definitely recommend checking this one out!
Jacquie Lee, one of Christina Aguilera's artists, is absolutely adorable. She's so sweet, a great singer, and even dedicated this week's set of songs to Christina for all of her help in the competition thus far. She sang Garnet Mimms and the Enchanters' "Cry Baby" and Christina Aguilera's own song, "The Voice Within." Jacquie received one of the public's votes, and, since she's one of my favorites, I'm so glad she's still on the show!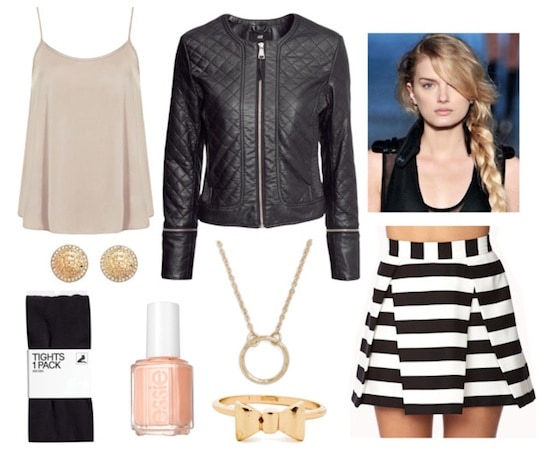 Product Info: Tank, Jacket, Earrings, Tights,Nail Polish, Necklace, Ring, Skirt | Hair Photo: ELLE
To recreate Jacquie's cute and trendy outfit, start with a basic white or beige tank and add a quilted leather jacket. Slip on a black-and-white skirt; this one isn't an exact replica of Jacquie's vertically striped skirt, but it's incredibly cute and budget-friendly. Don't forget a pair of thick tights to keep you warm when you're walking to class, and slip on a pair of leather boots or cute embellished flats.
Jacquie's outfit works because it's chic, yet simple. Small studded earrings, a midi ring or two, and a small pendant necklace would work really well here. Swipe on a few coats of a pale peach nail polish, then put your hair in a chunky side braid to complete the look.
2. The Tomorrow People (Season 1, Episode 7): Astrid's Printed Dress and Jean Jacket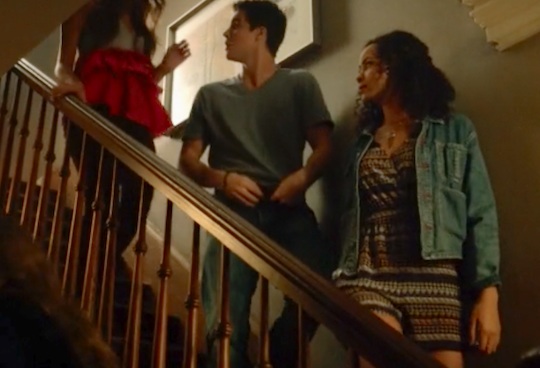 (Photo Credit – Screenshot)
The CW'sThe Tomorrow People is a new sci-fi series about people who have genetically evolved to possess superpowers, like telekinesis, telepathy, and teleportation. These people, dubbed – you guessed it – the Tomorrow People, are being hunted down by an organization called Ultra.
This is a very interesting show so far, and I'm really intrigued to see where it goes. If you liked Smallville (which I was unhealthily obsessed with) you should definitely check this show out!
Astrid Finch is best friends with Stephen, one of the main characters. She's completely in love with him, and I definitely ship them together – they are so cute! She's supportive and caring, but does have a temper. Astrid also has a very cute and laid-back sense of style, which I love.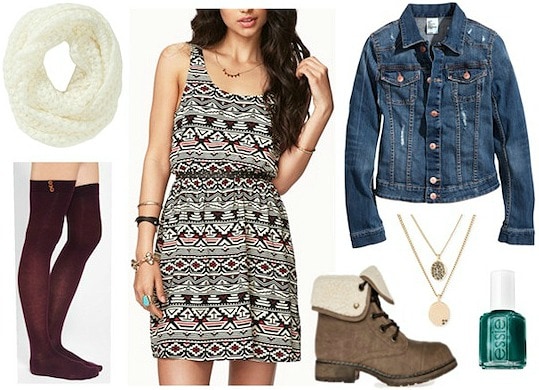 Product Info: Scarf, Dress, Jacket, Socks, Shoes, Necklace, Nail Polish
To get Astrid's casual and chic look, start with a geometric patterned dress and layer a distressed jean jacket on top. As far as jewelry goes, add a gold pendant or two and maybe a pair of cute dangly earrings.
Though her outfit is adorable, it's not very practical for winter, so grab a pair of dark burgundy tights and a cream circle scarf. Pair this with thick winter boots, then add a pop of color with some festive green nail polish.
Your thoughts?
What do you think of these looks? Did we miss any amazing outfits from the past week of TV? Which shows do you think deserve a spot on the next TV Fashion Recap post? Leave a comment below and tell us what you think!