TV Fashion Recap is a biweekly column featuring the best of TV fashion. Every other week, we recreate our favorite outfits from the most recent episodes of all of the hottest shows. Stay tuned; we may feature your favorite show next!

Every other week, I break down the best of TV fashion, featuring my favorite looks from the last two weeks. This week, I was inspired by The Voice and Grimm. Read on to check out the outfits:
1. The Voice (Season 6 Finale): Dani's Black Jumpsuit and Leather Belt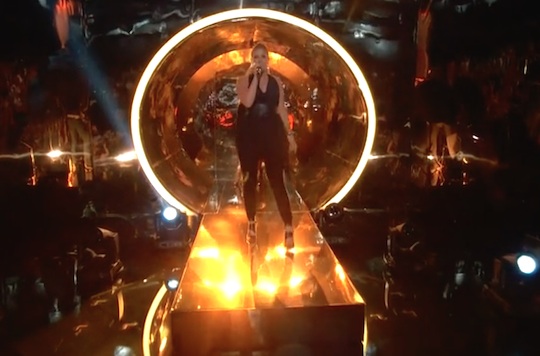 (Photo Credit – Screenshot)
I admit that I don't regularly watch the hit singing competition, TheVoice, but my mom always sends me clips of the show that either make her cry or heavily feature her biggest crush, Adam Levine.
However, I tuned in to the finale to see Ed Sheeran's guest performance and got sucked in. Partially because of the music, but mostly because of the fashion. Dani may not have won the competition, but she definitely gets top marks for her gorgeous, on-trend jumpsuit ensemble.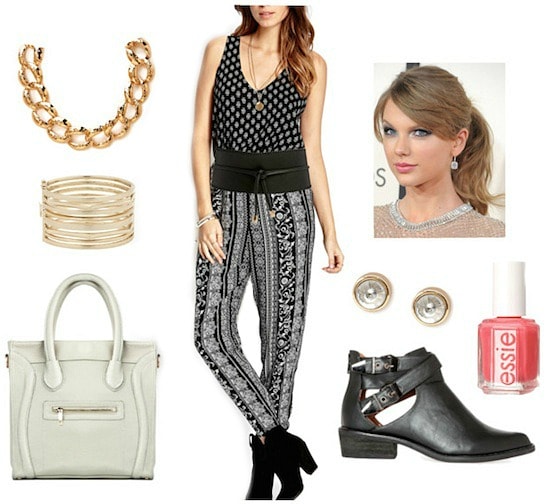 Product Info: Necklace, Bracelet, Jumpsuit, Belt, Purse, Earrings, Booties, Nail Polish | Hair Photo: ELLE
Jumpsuits have always mystified me. I don't understand how something can look so frumpy on the hanger, and so awesome when you put it on (the complete opposite of most of my shopping experiences!).
One little problem: I have no idea what you would do if you had to go to the bathroom – is there some sort of secret bum flap like they have on onesie pajamas or something? I'm going to have to figure this out, because Dani convinced me to finally take the plunge and try one.
To recreate her look, start with a jumpsuit. Dani rocked a solid black one, but I went with a mixed print version for a fashion-forward vibe that's ideal for daytime. Add a leather belt, as well as some trendy cut-out booties. Carry a boxy bag to add some structure to the outfit.
Grab a few pieces of classic gold jewelry, then dress down the look with a messy ponytail. For the finishing touch, swipe on a few coats of a brightly-colored nail polish. This ensemble is very chic, but I've noticed a ton of girls wearing similar outfits while out for lunch or walking around campus. It looks so put-together yet effortless!
2. Grimm (Season 3, Episode 22): Rosalee's Coral Dress and Black Heels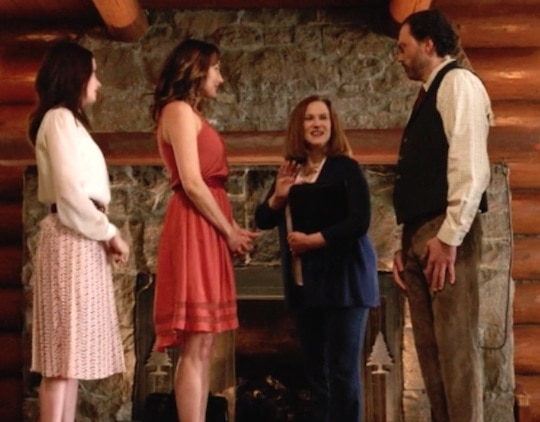 (Photo Credit – Screenshot)
If you haven't started watching Grimm yet, you need to put it on your summer to-do list! It's a supernatural crime show about a cop with special abilities that allow him see monsters posing as humans. The premise sounds kind of hokey, but, trust me, it's amazing.
This show keeps me on the edge of my seat, and the plot lines are very intricate and full of heart-racing twists. I can't tell you anything more because I don't want to spoil the show, but Grimm is a must-watch!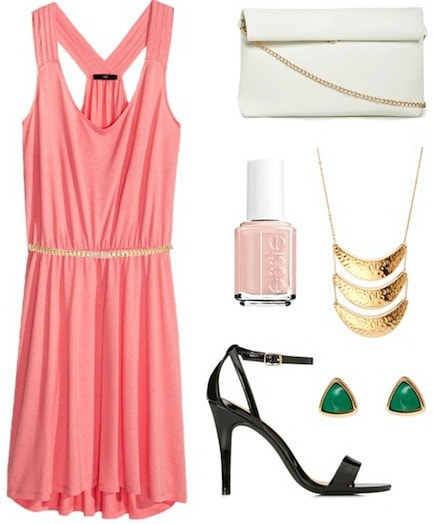 Product Info: Dress, Belt,Purse, Nail Polish, Necklace, Earrings, Heels
When I saw Rosalee's low-key wedding rehearsal outfit, I fell in love – it's classy, summery, and versatile. You could wear this to a bridal shower or just switch out the heels for wedges and wear it out to dinner.
To recreate her ensemble, start with a cinched coral dress. Add a thin gold belt to accentuate your waist, then slip on a pair of black heeled sandals. Rosalee's dress had lace detailing on the front, but I opted for a gold statement necklace instead.
Accessorize with a small clutch, green stud earrings, and a few coats of a neutral-colored nail polish, and you're good to go. This effortless look works because, well, it actually is pretty effortless!
Your thoughts?
What do you think of these looks? Did we miss any amazing outfits from the past week of TV? Which shows do you think deserve a spot on the next TV Fashion Recap post? Leave a comment below and tell us what you think!