TV Fashion Recap is a biweekly column featuring the best of TV fashion. Every other week, we recreate our favorite outfits from the most recent episodes of all of the hottest shows. Stay tuned; we may feature your favorite show next!

Every other week, I break down the best of TV fashion, featuring my favorite looks from the last two weeks. This week, I was inspired by MTV's Video Music Awards and Pretty Little Liars. Read on to see both looks:
1. MTV's 2014 Video Music Awards: Miley's Leather Bandeau and Matching Harem Pants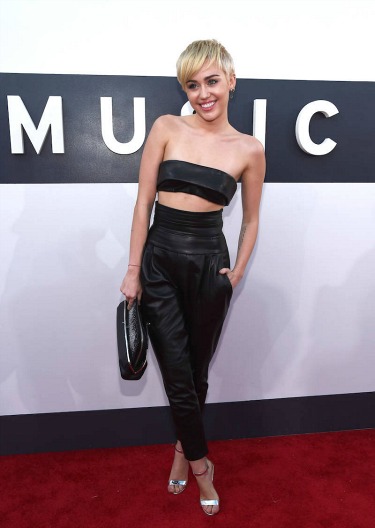 Photo: ELLE
MTV's Video Music Awards are usually very controversial, like Kanye West interrupting Taylor Swift's acceptance speech (speaking of, I'mma let you finish reading this article, but Taylor Swift has the catchiest new single of all time) or Miley Cyrus and Robin Thicke's twerk-tastic duet last year. This year was blessedly drama-free, and America could focus on what really matters – the fashion.
Miley Cyrus may be known for her crazy antics, but she really deserves more credit for her daring yet admittedly love-it-or-hate-it style. While I admit I doubted her fashion sense in the past, I instantly fell in love with the outfit that she wore to this year's VMAs. It was minimalist and edgy, yet still polished and chic.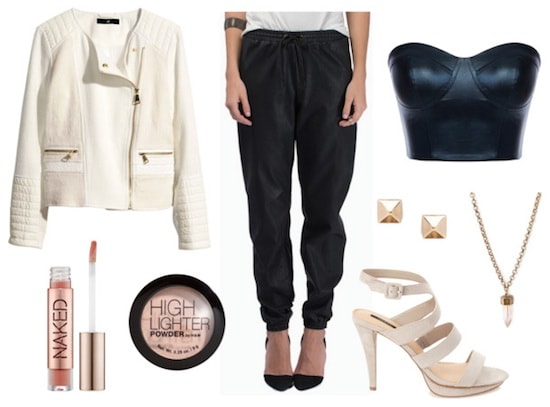 Product Info: Jacket, Pants,Bustier, Lipgloss, Highlighter Powder, Sandals, Earrings, Necklace
To recreate the look, start with a faux leather bandeau or bustier and a pair of faux leather harem pants. To make this a little more fall-friendly, slip on a white cotton moto jacket – mixing black and white pieces is a huge trend this fall. A pair of high heels will emphasize your legs and keep the harem pants from making them look shorter. (The only possible downfall of my beloved, super-comfy harem pants.)
Despite the plethora of leather and bare skin, Miley's outfit doesn't look gaudy or overdone because she keeps the accessories to a minimum. A delicate necklace and a pair of studded earrings are all you really need. Instead of using accessories to jazz up her outfit, Miley lets her glowing skin take center stage. Finish the look by sweeping highlighter powder on the tops of your cheekbones, then swiping on a few coats of a peachy-pink lipgloss.
2. Pretty Little Liars (Season 5, Episode 12): Spencer's Cropped Sweater and Skater Skirt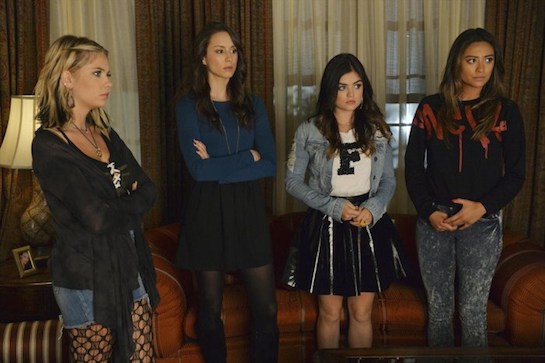 Official Promotional Still
If you've been reading my articles for a while, you know that I love Pretty Little Liars, the most fashionable thriller on TV. I'm also obsessed with Game of Thrones, which is a good thing, because as it turns out, PLL's summer finale took a dramatic, Red Wedding-esque turn. If you're not familiar with GoT, the Red Wedding refers to a scene in which beloved (and, in Robb Stark's case, very attractive) main characters are abruptly killed without any warning or apparent good reason, which is an apt summary of this frustrating yet still amazing episode.
I don't want to spoil anything, but fellow Caleb lovers/creepily obsessed fangirls, don't worry! He's safe… at least for now. Gulp.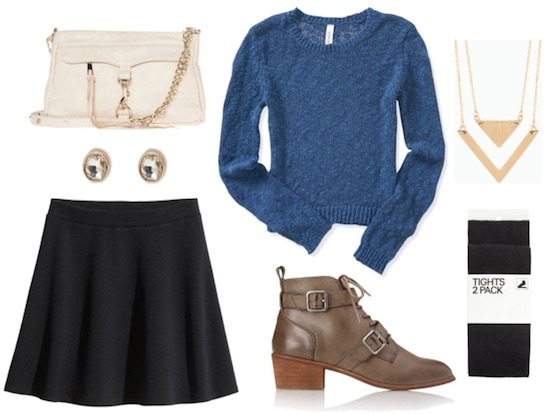 Product Info: Purse, Sweater, Necklace, Earrings, Skirt, Boots, Tights
Spencer's outfit was adorable enough to distract me from the death in this episode (I know, I'm like a cat getting distracted by shiny objects). To recreate this preppy, comfy chic look, start with a blue cropped sweater. A skater skirt adds a little sass to your outfit (for only $6.95!), and slightly sheer black tights with heeled ankle booties create the illusion of longer legs – seriously, it's like witchcraft.
A long pendant necklace breaks up the color blocking and adds visual interest, while a pair of sparkly studded earrings are a glam touch. Finish with a small, cream-colored purse to balance out the dark colors – this one looks exactly like Rebecca Minkoff's drool-worthy Mini M.A.C. handbags, but without the heart attack-inducing price tag!
Your thoughts?
What do you think of these looks? Did we miss any amazing outfits from the past week of TV? Which shows do you think deserve a spot on the next TV Fashion Recap post? Leave a comment below and tell us what you think!