TV Fashion Recap is a biweekly column featuring the best of TV fashion. Every other week, we recreate our favorite outfits from the most recent episodes of all of the hottest shows. Stay tuned; we may feature your favorite show next!

Every other week, I break down the best of TV fashion, featuring my favorite looks from the last two weeks. This week, I was inspired by The Vampire Diaries and The Mindy Project. Read on to check out the outfits!
1. The Vampire Diaries (Season 4, Episode 7): Elena's Lace Dress and Side Braid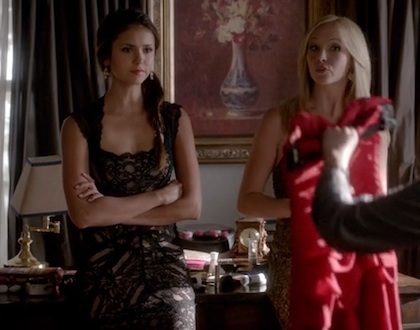 (Photo Credit – Screenshot)
I'm still relatively new to The Vampire Diaries series, but it's safe to say that I'm already obsessed with it.
In case you're not familiar, the show is about two super sexy vampire brothers who are both in love with a girl named Elena. The rest of the plot is a little complicated (click here for an overview), but it's a wildly addictive show. Also, it's surprisingly gruesome – I came into it expecting something a little more Twilight-y, and instead, it's more like The Walking Dead in terms of violent scenes (but with smoking hot vampires instead of zombies).
Although she's a descendant of Katherine, a villain in the series and an all-around awful woman, Elena is sweet and absolutely adorable. Her fashion sense is always spot on – she favors an eclectic mix of girly, edgy, and trendy pieces, but she also likes to play with more traditional, classic looks.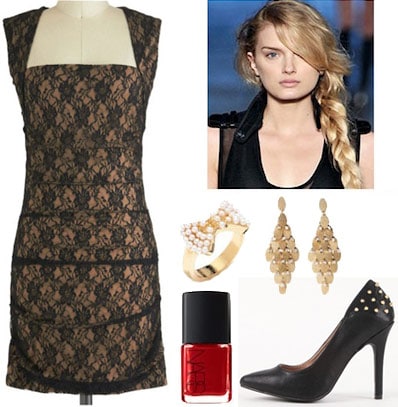 (Product Information: Dress – Modcloth, Hair – Elle, Ring – Kohls, Nail Polish – Beauty.com, Earrings – H&M, Shoes – PacSun)
Elena's gorgeous outfit would be perfect for a holiday or New Year's Eve party. To recreate her glamorous look, start with a black and beige lace dress. Next, slip on a pair of black pumps; these have gorgeous gold detailing that adds dimension to the outfit.
Elena paired her dress with minimal jewelry, so accessorize with a small bow ring and don't forget some gorgeous dangly gold earrings. Red nail polish adds an interesting pop of color, and a chunky side braid finishes the look.
2. The Mindy Project (Season 1, Episode 8): Mindy's Yellow Scarf and Blue Dress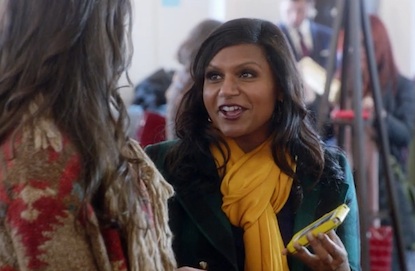 (Photo Credit – Screenshot)
I'm a huge fan of The Mindy Project, and though I've already done a fashion recap on it, CF reader Danielle pointed out that Mindy's outfits have gotten even more college-friendly over the last few weeks! Therefore, I thought it was due for another feature.
Sidenote: Is anyone else feeling a huge dilemma over Mindy's potential love interests? Josh is a jerk, but he's also funny and secretly sweet (and I couldn't stop laughing when he tried on Mindy's jeans). And Danny is super grumpy, but he and Mindy have such great chemistry and he's got a sarcastic wit. Ugh, I can't decide! There are too many great guys on this show!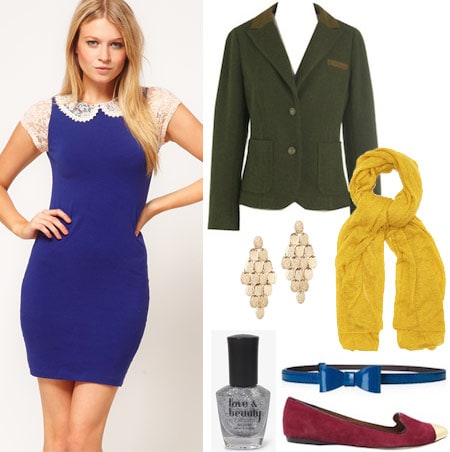 (Product Information: Dress – ASOS, Blazer – Modcloth, Scarf – Monsoon, Earrings – ALDO, Nail Polish – Forever 21, Belt – Yesstyle, Shoes – eLuxe)
To recreate Mindy's fun and classy look, start with a blue dress with a peter pan collar. These collars were huge for fall, and it looks like this trend is going to be around for a while. Slip a blue belt around your waist and add a green blazer; this one is heavy enough to keep you warm during the winter.
Now, it's time to accessorize. Keep it fun with dangly earrings and a bright, mustard yellow scarf. To finish, slip on a pair of oxblood smoking slippers with gold tips, hitting a few major fall/winter trends at once. As a bonus, put on sparkly silver nail polish for a fun, youthful vibe.
Your thoughts?
What do you think of these looks? Did we miss any amazing outfits from the past week of TV? Which shows do you think deserve a spot on the next TV Fashion Recap post? Leave a comment below and tell us what you think!