This post may contain affiliate links, which means we may receive a commission if you purchase through our links. Please
read our full disclosure here
.
TV Fashion Recap is a biweekly column featuring the best of TV fashion. Every other week, we recreate our favorite outfits from the most recent episodes of all of the hottest shows. Stay tuned; we may feature your favorite show next!

Every other week, I break down the best of TV fashion, featuring my favorite looks from the last two weeks. This week, I was inspired by The Vampire Diariesand Once Upon a Time in Wonderland. Read on to check out the outfits!
1. The Vampire Diaries (Season 5, Episode 3): Elena's Navy Blazer and Embellished Top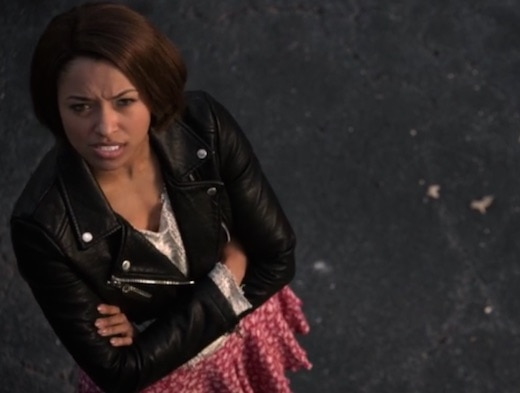 (Photo Credit – Screenshot)
I've covered The Vampire Diaries, a show set in a mysterious supernatural town, before, but if you haven't seen it, all you really need to know is that there are two really, really hot vampires fighting for the love of Elena, the main character. That was definitely enough to get me interested!
I'm still catching up on the series, but I couldn't help but peek ahead and tune in to the latest episode. Luckily, I wasn't disappointed – the fifth season looks great! What do you guys think of the new season?
Elena's survived dangerous supernatural events, the killing of family members, and vampiric power struggles, so she's tough, to say the least. She's also involved in a complicated love triangle with the two vampire brothers, Stefan and Damon. And have I mentioned yet that they are really attractive? If that wasn't enough to make me jealous, Elena also has an amazing wardrobe!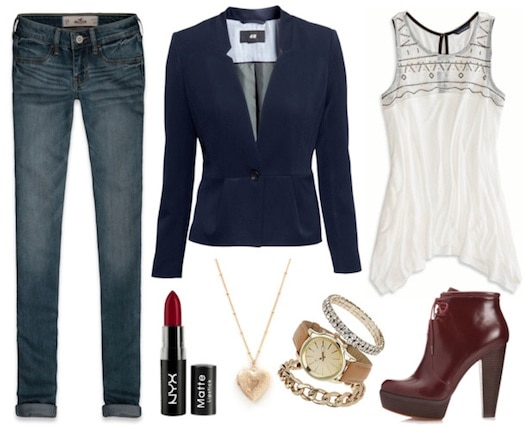 Product Info: Jeans, Blazer, Top, Lipstick, Necklace, Bracelet Set, Shoes
Elena's look from this episode is casual, yet chic and sophisticated. Start with a white, flowing top with small embellishments, then layer on a navy blazer to add structure to the outfit. Add a pair of medium-wash, worn jeans, making sure to roll up the ankles slightly to add to the seemingly-effortless vibe. Next, slip on a pair of faux leather booties — these cute burgundy ones are a great way to add a pop of color to the outfit.
Elena's style is relaxed, but still chic, so keep the accessories minimal. A gold locket and a few neutral bracelets are all you need! To complete the outfit, add a vampy (get it?) dark red lip color.
2. Once Upon a Time in Wonderland (Season 1, Episode 2): Alice's Ruffled Top and Skater Skirt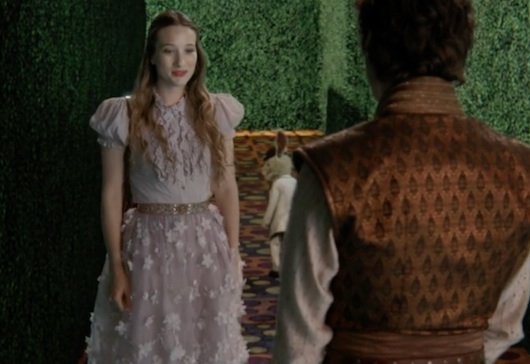 (Photo Credit – Screenshot)
ABC has a new spinoff series called Once Upon a Time in Wonderland. It's set in, you guessed it, Wonderland, and stars Alice and a slew of other fictional storybook characters. I'm a huge fan of the original series and while the spinoff is only on the second episode, I really enjoy it so far.
This series has gorgeous settings, intricate costumes, and, as a bonus, it features characters from my childhood favorite, Aladdin. I'm definitely adding it to my (already very long) weekly must-watch list!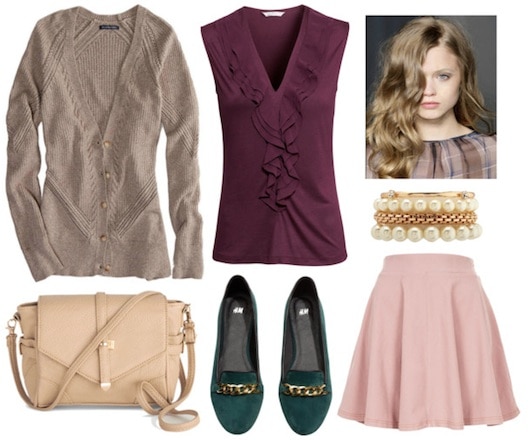 Product Info: Sweater, Top, Bracelet, Purse, Shoes, Skirt | Hair Photo: ELLE
This look is a little more loosely based on Alice's outfit, but she looked so girly and cute that I couldn't resist! To recreate the ensemble, start with a purple ruffled top and a light colored skater skirt. Cinch a belt around your waist if you want to further emphasize the color contrast.
To transition this outfit to fall, add a neutral wool cardigan and some tights. Then slip on a cute pair of feminine flats and grab a tan bag. Add a few cute, classic bracelets and, to really complete the look, curl your hair just like Alice's!
Your thoughts?
What do you think of these looks? Did we miss any amazing outfits from the past week of TV? Which shows do you think deserve a spot on the next TV Fashion Recap post? Leave a comment below and tell us what you think!