TV Fashion Recap is a biweekly column featuring the best of TV fashion. Every other week, we recreate our favorite outfits from the most recent episodes of all of the hottest shows. Stay tuned; we may feature your favorite show next!

Every other week, I break down the best of TV fashion, featuring my favorite looks from the last two weeks. This week, I was inspired by The Mindy Project and The Big Bang Theory. Read on to check out the outfits:
1. The Mindy Project (Season 2, Episode 18): Betsy's Polka Dot Shirt and Pleated Skirt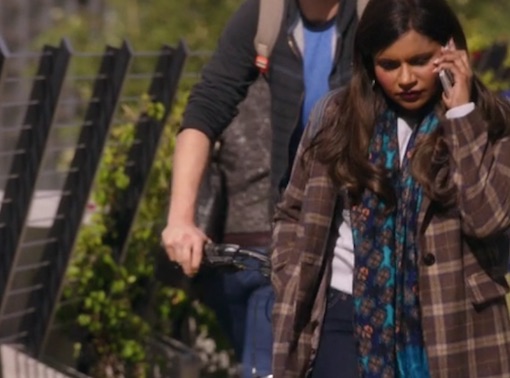 (Photo Credit – Screenshot)
The Mindy Project is one of the funniest shows on television right now, and I'm absolutely obsessed with it (see here and here for more recaps). It's a comedy about a young gynecologist, played by the adorable Mindy Kaling, and her professional and romantic struggles. I've babbled on and on about this show, and I don't want to bore anyone, so I'll just say this: if you haven't watched it yet, do it now! I promise you won't regret it.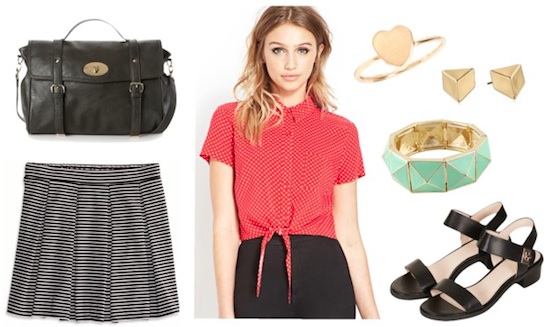 Product Info: Purse, Skirt, Top, Ring, Earrings, Bracelet, Shoes
I'm a little wary of mixing prints because I've had some bad experiences. Picture me in middle school, wearing paisley tights underneath a geometric patterned skirt because I thought I looked "edgy" like Gwen Stefani (spoiler alert: I did not). I still have nightmares about it.
Betsy pulls it off flawlessly though, because she mixed two subtle, small-scale prints together. To recreate her outfit, start with a red polka dot top and a patterned pleated skirt. Betsy went for plaid, but we opted for horizontal stripes, which are huge this spring.
For a polished look, add a pair of dressy black sandals and a roomy faux leather bag. Accessorize with a cute pair of studs and a small ring, then add a fun pop of color with a mint-hued bracelet.
2. The Big Bang Theory (Season 7, Episode 19): Bernadette's Floral Dress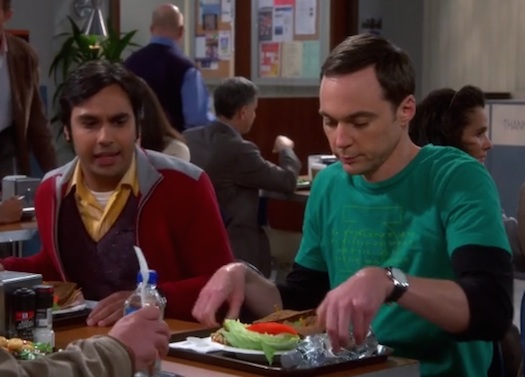 (Photo Credit – Screenshot)
The Big Bang Theory is an incredibly popular comedy – even my grandpa watches it religiously, and now calls himself a "nerd" (despite me still needing to remind him how to use a cell phone!). It's the perfect show to watch on study breaks – I justify marathons to myself by saying that I'm still learning things because of all the math jokes. I've covered TBBT fashion before (see here and here), but I just fell in love with Bernadette's dress from this episode!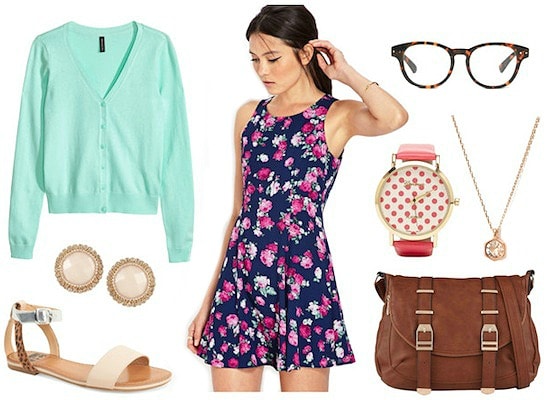 Product Info: Cardigan, Dress, Glasses, Earrings, Shoes, Watch, Necklace, Bag
Bernadette basically wears a uniform – a cardigan, a skater dress, and glasses. I wish I wore this every day, instead of jeans and an old t-shirt from my elementary school, which is what I am currently rocking. (It's finals, guys. I can't help it, though there are so many cuter alternatives for nights when you have to set up a tent in the library.)
Her outfit is girly and fun, but it's also comfy and surprisingly easy to recreate. Start with a bright floral dress paired with a mint cardigan. Slip on a pair of cream-colored sandals, then grab a leather messenger bag to hold all of your notebooks. The floral print is the focus of the outfit, so keep the jewelry low-key with a pair of studs, a pendant necklace, and a cute watch. To truly mimic Bernadette's look, put on a pair of stylish cat-eye glasses.
Your thoughts?
What do you think of these looks? Did we miss any amazing outfits from the past week of TV? Which shows do you think deserve a spot on the next TV Fashion Recap post? Leave a comment below and tell us what you think!