TV Fashion Recap is a biweekly column featuring the best of TV fashion. Every other week, we recreate our favorite outfits from the most recent episodes of all of the hottest shows. Stay tuned; we may feature your favorite show next!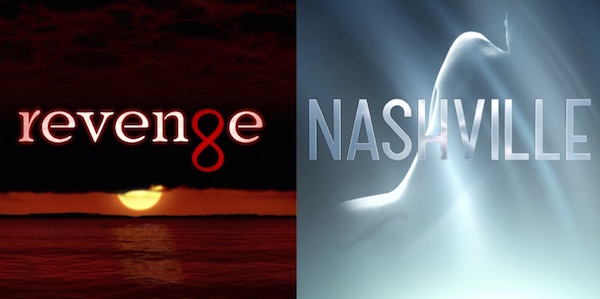 Every other week, I break down the best of TV fashion, featuring my favorite looks from the last two weeks. This week, I was inspired by The Mindy Project and Scandal. Read on to see both looks:
1. The Mindy Project (Season 3, Episode 6): Mindy's Blue Dress and Leather Jacket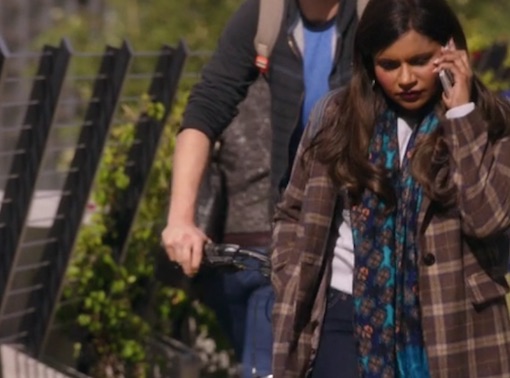 (Photo Credit – Screenshot)
Danny and Mindy from the amazing comedy, The Mindy Project, are sickeningly adorable. I mean, just look at the picture above. Danny's sweaty and gross, while Mindy's pretty and polished, and yet it still looks like they're one step away from literally waltzing around New York City.
I finally understand the social media hashtag #RelationshipGoals, especially when I see how hilarious they are together and how they spend a lot of time watching TV and cuddling, which is my favorite thing in the world. I also understand #FashionGoals, because Mindy looks phenomenal!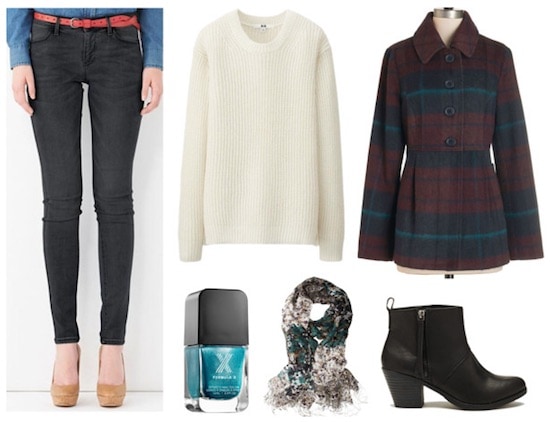 Leather Jacket, Dress, Purse, Earrings, Nail Polish, Heels,Lipstick, Headband
Mindy's outfit is chic, but still somewhat casual. To recreate the look, start with a patterned blue dress. Mindy's short dress is cute, but I suspect that wearing it in the colder weather would give me hypothermia, which is significantly less cute, so I switched it out for a maxi dress. Layer on a faux leather biker jacket to make the outfit a little more casual, then slip on neutral-hued heels or flats.
Mindy's quilted crossbody bag adds structure, while her signature sparkly dangling earrings and headband add more glam to the ensemble. Finish with a light coat of a darker red lipstick and a neutral nail polish to tie the look together.
2. Scandal (Season 4, Episode 6): Olivia's Patterned Jacket and Boxy Purse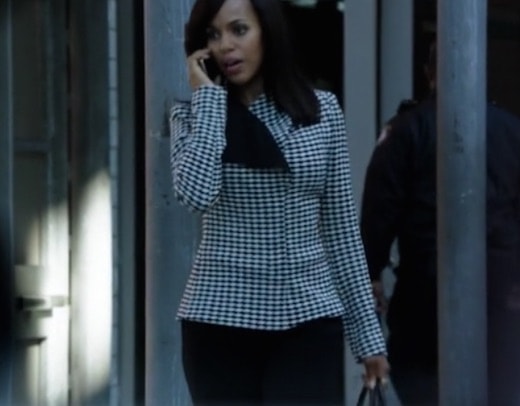 (Photo Credit – Screenshot)
Can I just start by saying that Olivia Pope, the main character from Scandal, is my spirit animal? Well, not really, because my spirit animal has messy hair, wears yoga pants religiously, and watches too much Netflix, but she's who I wish my spirit animal was. Olivia's strong, intelligent, tough, and of course, incredibly well-dressed.
I suspect that Beyoncé's song ***Flawless was actually written about Olivia, because she flawless, ladies tell 'em/she woke up looking like Kerry Washington/who is probably most beautiful woman on the planet/she flawless, ladies, tell 'em. I know, I clearly have a promising career as a lyricist/remixer.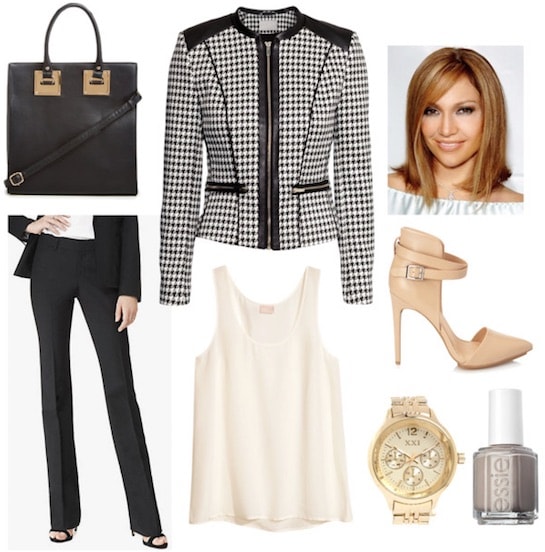 Purse, Blazer, Pants, Top, Heels, Watch, Nail Polish | Hair Photo: ELLE
I'm dreading graduating and getting a job in the "real world" because A) it's terrifying and B) I have to trade in my oversized sweaters for button-up shirts and fitted blazers… well, at least at work. Looking at Olivia's wardrobe makes me feel better because it's both fabulous and inspiring. There's no way you can wear one of her outfits and not feel confident, sexy, and powerful.
To recreate her ensemble, start with a cream-colored silk top and fitted slacks (I may be the only person under 65 who still uses the word "slacks"). Slip on a tailored black-and-white patterned jacket – the leather detailing on Olivia's and the one above add a trendy and subtly badass touch.
Sling a structured black bag over your shoulder (this purse channels Olivia Pope so much that it's actually named after her) and grab some faux leather pumps. Make sure they're not open-toed, though – a lot of businesses don't approve of that, no matter how cute the shoes are.
Olivia wears her confidence like an accessory, so to get the look, just smile, stand up straight, and remind yourself how awesome you are. A muted nail polish and a gold watch add even more sophistication to the outfit. Finish with sleek, straight hair – or whatever hair you feel best in! This look should make you feel powerful, and if you feel best rocking curls or a pixie cut, go for it. I know Olivia would approve.
Your thoughts?
What do you think of these looks? Did we miss any amazing outfits from the past week of TV? Which shows do you think deserve a spot on the next TV Fashion Recap post? Leave a comment below and tell us what you think!