TV Fashion Recap is a biweekly column featuring the best of TV fashion. Every other week, we recreate our favorite outfits from the most recent episodes of all of the hottest shows. Stay tuned; we may feature your favorite show next!

Every other week, I break down the best of TV fashion, featuring my favorite looks from the last two weeks. This week, I was inspired by The Mindy Project and New Girl. Read on to check out the outfits:
1. The Mindy Project (Season 2, Episode 22): Mindy's Floral Print Dress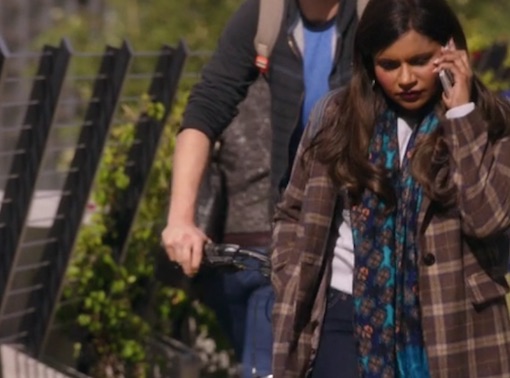 (Photo Credit – Screenshot)
Mindy Kaling, if you're reading this, I love you and I love your show, The Mindy Project. Please take me shopping with you and/or be my best friend. P.S. – I love you.
My slightly creepy obsession with her aside, everyone really needs to watch this show. It's smart, funny, and the fashion is adorable and super-wearable. I've covered The Mindy Projectbefore, but I can't stop talking about it, and I won't stop. Queue Miley Cyrus' aptly-named "We Can't Stop."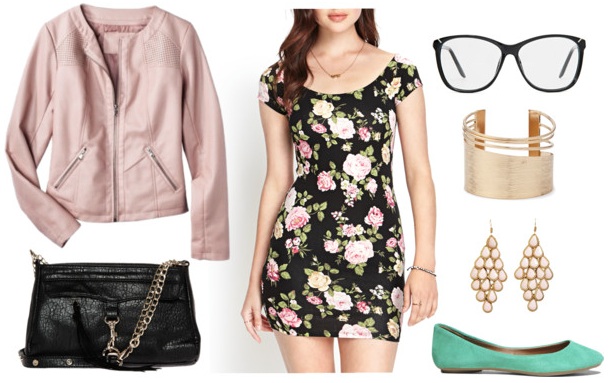 Product Info: Jacket, Dress, Glasses, Purse, Bracelet, Earrings, Flats
Mindy's outfit is perfect for a dinner date or going out with friends, but it's also casual enough for everyday wear, which is my kind of outfit – I'm far too lazy to change into more glamorous evening outfits. To recreate the look, start with a a floral body-con dress. I've always been nervous about wearing these, but Mindy rocks them with inspiring confidence, and I'm ready to give it a try.
Add a cute faux leather jacket and a purse in a hue that matches the floral print. Mindy loves matching accessories, and it's a great way to dress up an outfit without making it look too busy. She also loves bright colors, so grab green flats for a fun pop of color. Put on a cute pair of chandelier earrings and a thick bangle, and to really channel Mindy, add a pair of cute thick-rimmed glasses.
2. New Girl (Season 3, Episode 23): Cece's Printed Tunic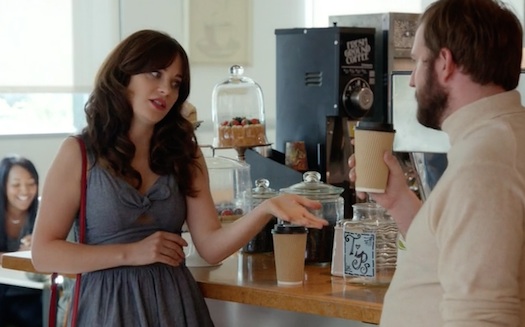 (Photo Credit – Screenshot)
I have waxed poetic about the fun comedy,New Girl, many times (see here and here for more recaps!), so I won't bore you with my typical gushing about Zooey Deschanel and her amazing style/hair/everything. I especially loved this cruise-themed episode, though – mostly because it got me so excited for summer!
The closest I usually get to a beach is walking past a puddle underneath my apartment's broken gutter, but I'm still in total beach bunny mode. I'm obsessed with straw hats and colorful prints for summer, and I'm spending an absurd amount of time looking online at swimsuits that I don't really need.
When I saw Cece's laid-back and adorable cruise-ready look, I fell in love. I can just picture myself wearing this and walking around barefoot by the ocean with a margarita in hand. I'll probably just end up wearing this on a picnic or out to lunch, but a girl can dream, right?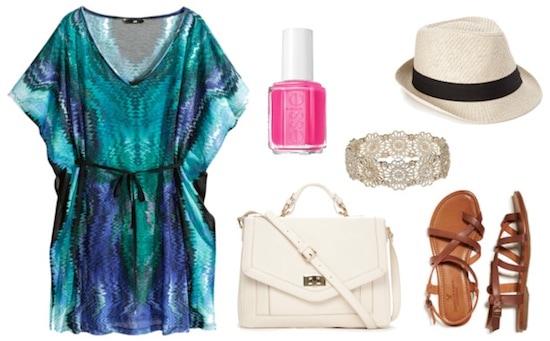 Product Info: Dress, Nail Polish, Purse, Bracelet, Hat, Sandals
To recreate this ensemble, start with a loose-fitting, colorfully printed tunic dress. Add leather sandals and a cute straw hat to channel Cece's effortlessly stylish vibe. Grab a beach tote, or for an everyday look, carry a structured white bag. Accessorize with an ornate bangle, then paint on a few coats of a vibrant neon nail polish. To complete this beach-ready getup, add some sea salt spray to your hair to create beachy waves or put your hair in a side braid like Cece did!
Your thoughts?
What do you think of these looks? Did we miss any amazing outfits from the past week of TV? Which shows do you think deserve a spot on the next TV Fashion Recap post? Leave a comment below and tell us what you think!