TV Fashion Recap is a biweekly column featuring the best of TV fashion. Every other week, we recreate our favorite outfits from the most recent episodes of all of the hottest shows. Stay tuned; we may feature your favorite show next!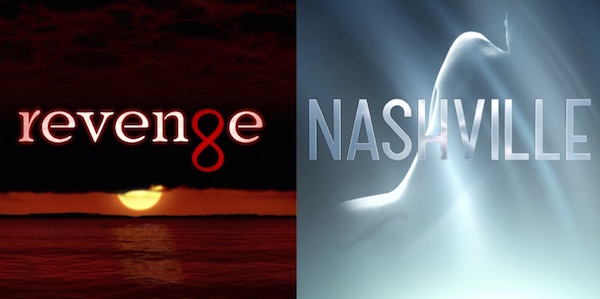 Every other week, I break down the best of TV fashion, featuring my favorite looks from the last two weeks. This week, I was inspired bythe The Mindy Projectand Marvel's Agents of S.H.I.E.L.D. Read on to check out the outfits!
1. The Mindy Project (Season 2, Episode 2): Mindy's Fitted Leather Jacket and Black Tank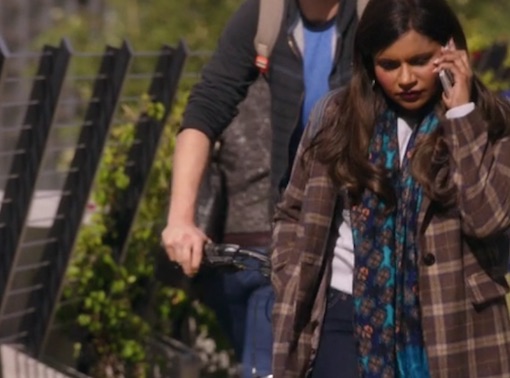 (Photo Credit – Screenshot)
I was ecstatic when I found out that FOX's hit comedy The Mindy Project was renewed for a second season, and now that it's here, I couldn't be more excited. I've covered it before (see here and here for more looks), but it's just so good that I couldn't resist covering it again!
The show stars one of my favorite comedians, Mindy Kaling, who also writes each episode. It's hilarious, cute, and girly – when I watch TMP, I feel like I'm at a sleepover, since it has that same fun, excited, and bubbly vibe. If you haven't seen The Mindy Project yet, I'd definitely recommend giving it a try!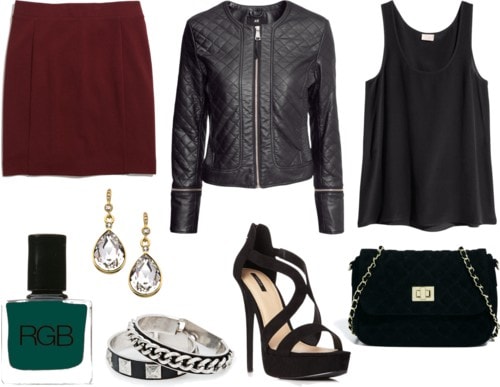 Inspiration: The Mindy Project by collegefashion featuring gold crystal earrings
(Product Information: Skirt, Jacket, Top, Nail Polish, Earrings, Bracelets, Shoes, Purse)
To recreate Mindy's look, which is perfect for going out on the weekend, start with a black silk tank. Layer on a quilted leather jacket and slip on a mini skirt – a staple in Mindy's closet – in a dark, rich color. Add a pair of strappy heels and a small purse with gorgeous chain detailing – this one's reminiscent of Chanel's classic bag, but without the hefty price tag.
Mindy keeps the accessories light and glamorous, so add a pair of silver sparkly earrings and a cute bracelet or two. Finish with a coat of a gorgeous dark green nail polish, which ties together this sophisticated and fun ensemble.
2. Marvel's Agents of S.H.I.E.L.D (Season 1, Episode 1): Skye's Brown Leather Jacket and Patterned Scarf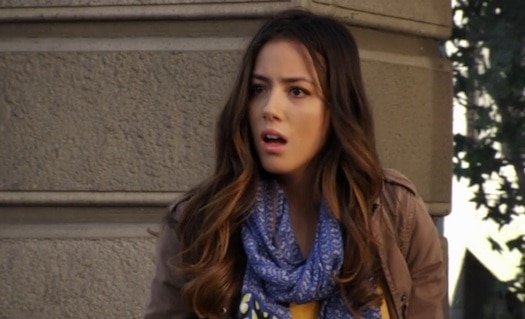 (Photo Credit – Screenshot)
ABC's Marvel's Agents of S.H.I.E.L.D is definitely a show to catch this fall. It follows the S.H.I.E.L.D law-enforcement team from Marvel's blockbuster hit, The Avengers, as they investigate strange, often otherworldly events and protect the planet from mass destruction. It's funny, fast-paced, and action-packed. If the pilot is any indication, this show is going to be like having a short new Marvel movie every single week, which is exactly what I want and need in my life.
Skye, a talented computer hacker, is charming and adorable. She has strong convictions and isn't afraid to think outside of the box to get what she wants. She's still somewhat of a mystery, but I think she'll be one of my favorite characters – partially because her outfits in this episode were so cute!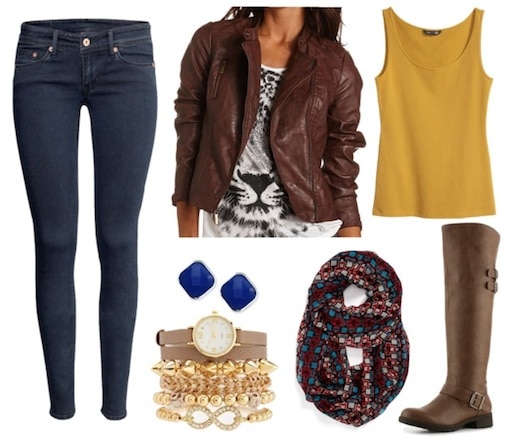 (Product Information: Jeans, Jacket, Tank, Boots, Scarf, Earrings, Bracelets)
To recreate Skye's outfit, which is absolutely perfect for fall, start with a pair of dark-wash jeans and a golden yellow tank top. Layer the blouse with a brown leather jacket and a patterned scarf to add dimension to the ensemble. Add stacked bracelets for a practical yet girly vibe, then grab a pair of cognac colored riding boots that are perfect for walking through campus in autumn.
For the finishing touch, add a pop of contrasting color with nail polish or a pair of earrings – I suggest a dark blue to go with the yellow tank (not just because those are my college colors, I swear!). It really ties the entire look together.
Your thoughts?
What do you think of these looks? Did we miss any amazing outfits from the past week of TV? Which shows do you think deserve a spot on the next TV Fashion Recap post? Leave a comment below and tell us what you think!