TV Fashion Recap is a biweekly column featuring the best of TV fashion. Every other week, we recreate our favorite outfits from the most recent episodes of all of the hottest shows. Stay tuned; we may feature your favorite show next!

Every other week, I break down the best of TV fashion, featuring my favorite looks from the last two weeks. This week, I was inspired by The Mentalist and Once Upon a Time. Read on to check out the outfits:
1. The Mentalist (Season 6, Episode 10): Defiance's Printed Tank and Long Cardigan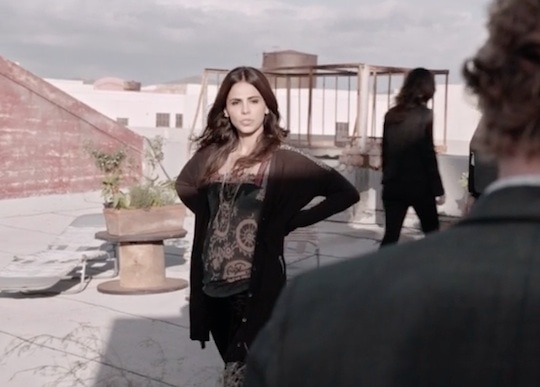 (Photo Credit – Screenshot)
I'll admit that I'm really behind on The Mentalist, but when CF Reader Elodie suggested that I look at Defiance's outfit from this episode, I fell in love with the show all over again. The show follows Patrick Jane, a consultant for the California Bureau of Investigation (CBI), who uses Sherlock Holmes-esque observational skills to solve crimes. The show is funny, action-packed, and filled with amazing characters. I'll definitely have to binge-watch several seasons of the show to catch up over winter break! It's just too good to miss.
Defiance is a minor character (she's the wife of a missing computer programmer), but I really like her. She doesn't really trust the police, and is very adamant about having a psychic on the case to help. Defiance also has a very interesting style – she mixes rich colors and patterns with loose, flowing shapes, then ties everything together with darker, edgier pieces.
Product Info: Pants, Tank, Cardigan, Necklace, Shoes, Earrings, Nail Polish
To recreate Defiance's ensemble – which would be great for a casual day out with friends over break – start with a cool, patterned tank. Throw on a long black cardigan that has cut-outs or other embellishments on the back, since the lace shoulders of Defiance's cardi adds beautiful detailing to the outfit. Next, slip on a pair of black jeans and some matching boots.
Accessorize with a few necklaces to add a little extra glam to the outfit. Channel Defiance's love for deep, rich colors when adding the finishing touches: a pair of oxblood earrings and a few coats of emerald nail polish are a great way to complete the look!
2. Once Upon a Time (Season 3, Episode 11): Belle's Olive Flared Coat and Black Wedge Booties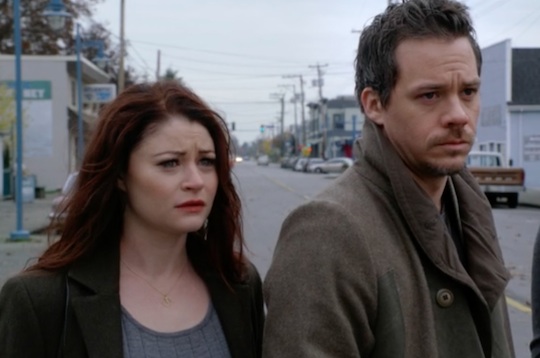 (Photo Credit – Screenshot)
Okay, I'll admit it: I'm obsessed withOnce Upon a Time (see here and here for a few other fashion recaps!). For those of you who haven't heard me gushing about it before, it's about fairy tale characters in our modern world, and I would definitely recommend giving this show a try!
My favorite character is Belle, and not just because she's my favorite Disney princess. She's strong, determined, and has the most amazing wardrobe. She favors skater skirts and very feminine accessories, and her style is very relatable for college-aged women.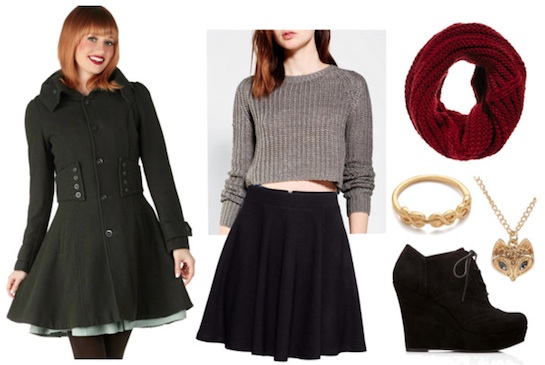 Product Info: Coat, Sweater, Scarf, SkirtRing, Shoes, Necklace
To recreate this look, start with a black skater skirt and a cozy cropped grey sweater. Slip on a green coat with a cinched waist, as well as a full A-line skirt, just like Belle's! It creates a very defined and classic silhouette – plus, who doesn't like twirling around in a flouncy skirt? Next, put on a pair of fleece-lined tights (an essential for me in the Michigan winter!) and some black wedge booties.
Grab a cute burgundy scarf to add a pop of color that still complements the darker neutral palette, then pick a few gold accessories to add an extra feminine touch to the outfit. There you have it – an easy and flattering outfit that's incredibly cute… especially for the holidays!
Your thoughts?
What do you think of these looks? Did we miss any amazing outfits from the past week of TV? Which shows do you think deserve a spot on the next TV Fashion Recap post? Leave a comment below and tell us what you think!