TV Fashion Recap is a biweekly column featuring the best of TV fashion. Every other week, we recreate our favorite outfits from the most recent episodes of all of the hottest shows. Stay tuned; we may feature your favorite show next!

Every other week, I break down the best of TV fashion, featuring my favorite looks from the last two weeks. This week, I was inspired by The Lying Game and Community. Read on to check out the outfits!
1. The Lying Game (Season 2, Episode 6): Laurel's Lace Dress and Neon Accents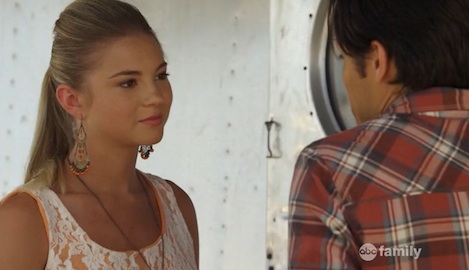 (Photo Credit – Screenshot)
ABC's The Lying Game is based on the book series by Sara Shepard, who also wrote the Pretty Little Liars books. The series follows Emma, a sweet foster kid who meets her twin sister, Sutton, who was adopted by a wealthy family. They decide to switch places for a few days, and Sutton, who has quite a few huge secrets, starts to look for their birth mother. It's a great, super suspenseful show, and it satisfies my cravings for more Pretty Little Liars. Well, almost.
Laurel, Emma and Sutton's half-sister, grew up with Sutton, who largely ignored her. Despite the sibling tension, Laurel is sweet, lovable, and super open-minded. And as if I didn't like her enough already, her flirty, feminine fashion choices are always very on-trend.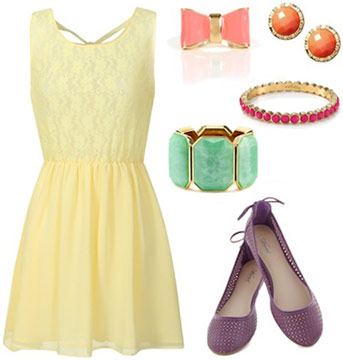 (Product Information: Dress – Glamorous, Ring – Windsor, Earrings – Banana Republic, Pink Bracelet – Bloomingdale's, Mint Bracelet – Charlotte Russe, Shoes – Modcloth)
To recreate Laurel's perfect springtime look, start with a light-colored lace dress; this lemon one has a gorgeous back that Laurel would love. Next, add brightly colored jewelry to reference the bright orange accents on Laurel's dress and add a flirty and unexpected pop of color. Finish by slipping on a pair of colored flats; these purple ballet flats are to die for, and they aren't so bright that they take away from the rest of the outfit.
2. Community (Season 4, Episode 1): Britta's Leather Jacket and Boots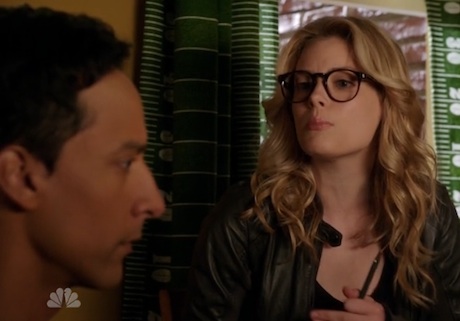 (Photo Credit – Screenshot)
NBC's Community is a cult favorite, especially on Tumblr. (We love it here at CF, too – check out our post on how to dress like Annie and Britta from Community!)
The show centers around a study group at a quirky community college. It's full of hilarious one-liners, absurd situations, self-referential humor, and lovable, goofy characters. It's a great show with a fab sense of humor – I highly recommend it!
Britta, one of the female leads, is tough, opinionated, and stubborn. She refuses to back down, to the frustration of her friends, and she fiercely champions every cause she can find. She has a reputation for being a little bit mean, but she secretly cares about everyone; she just doesn't want to get hurt. Her fashion choices reflect her tough personality, and she wears lots of black and leather.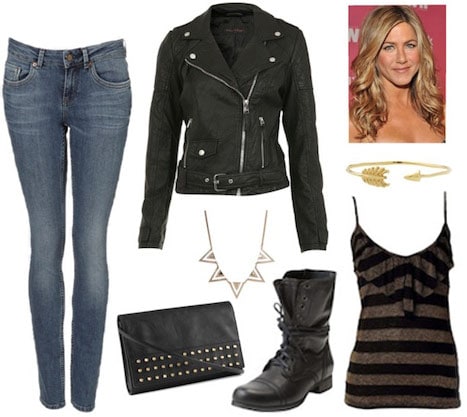 (Product Information: Jeans – Nordstrom, Jacket – Miss Selfridge, Bracelet – Stella & Dot, Necklace – Pretty Little Thing, Bag – H&M, Boots – Swell, Tank – Alloy | Hair Photo – Elle)
To recreate Britta's edgy, casual look, start with a black motorcycle jacket. Layer a black tank top underneath; this one has cute ruffles and stripes for added detail. Slip on a pair of faded jeans and throw a black studded purse over your shoulder. Add some edgy gold jewelry, but keep the pieces small; Britta's accessories are very minimal. Finish off with a pair of black leather boots, and for bonus points, curl your hair into Britta's signature tousled waves.
Your thoughts?
What do you think of these looks? Did we miss any amazing outfits from the past week of TV? Which shows do you think deserve a spot on the next TV Fashion Recap post? Leave a comment below and tell us what you think!