TV Fashion Recap is a biweekly column featuring the best of TV fashion. Every other week, we recreate our favorite outfits from the most recent episodes of all of the hottest shows. Stay tuned; we may feature your favorite show next!

Every other week, I break down the best of TV fashion, featuring my favorite looks from the last two weeks. This week, I was inspired by The Following and Arrow. Read on to check out the outfits!
1. The Following (Season 1, Episode 2): Claire's Girl-Next-Door Look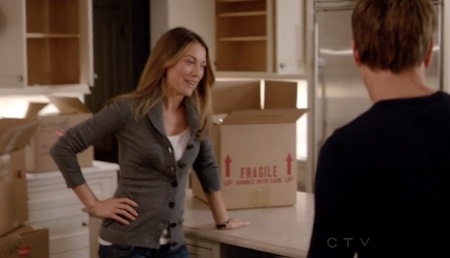 (Photo Credit – Screenshot)
The Following is a great new crime show starring Kevin Bacon as Ryan Hardy, a retired FBI agent who returns to work in order to track down a charismatic serial killer from his past. He follows a trail of bodies and finds the killer, only to discover, to his horror, that the serial killer has constructed a complex web of followers and serial killing apprentices. It's a little gruesome, but it's very suspenseful and unique. (Have you guys seen it? If so, what do youthink?)
Claire, the killer's ex-wife, is extremely intelligent, caring, and just wants to put her ex-husband's horrible double life behind her. Even though her ex manipulates her and tries to hurt her, she refuses to cow to him, and remains brave throughout the ordeal. And she looks fabulous doing it. Seriously, how is it that she can keep her hair and makeup so flawless when she's being held at gunpoint? (Okay, it's probably the magic of TV, but still!)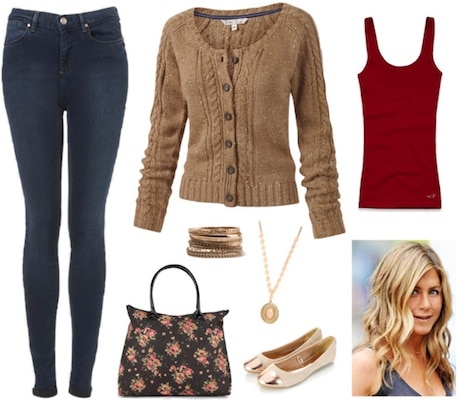 (Product Information: Jeans – Topshop, Sweater – Fat Face, Tank – Hollister, Bracelets – Forever 21, Necklace – Modcloth, Purse – Tilly's, Shoes – Accessorize, Hair – Elle)
To recreate Claire's super comfortable and relaxed look, which would be perfect for studying in the library with friends, start with an oatmeal knit cardigan. Add a red or burgundy tank for a slight pop of color, and pair with some dark wash skinny jeans. Add feminine, simple jewelry and a large tote for all of your textbooks. Finish with a pair of neutral flats; these ballerinas have adorable gold cap toes that Claire would love.
2. Arrow (Season 1, Episode 12): Thea's Embellished Plaid Shirt and Skinny Jeans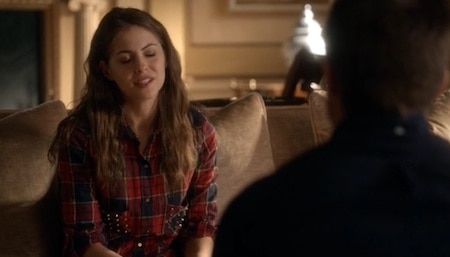 (Photo Credit – Screenshot)
I've already talked about the CW's Arrow, which is about the beginnings of the Green Arrow, but the show just keeps getting better and better. So when CF readers asked for more fashion recaps on Arrow, I couldn't resist! I'm a sucker for superheroes and super hot shirtless guys, so this is obviously one of my favorites. I'd definitely recommend the show, if you haven't yet seen it.
Thea, the Green Arrow's little sister, is rebellious and moody. She's angry at her family for keeping secrets, but she loves them and worries frequently about their safety. She's also a bit of a party girl, and her clothes reflect her edgy personality.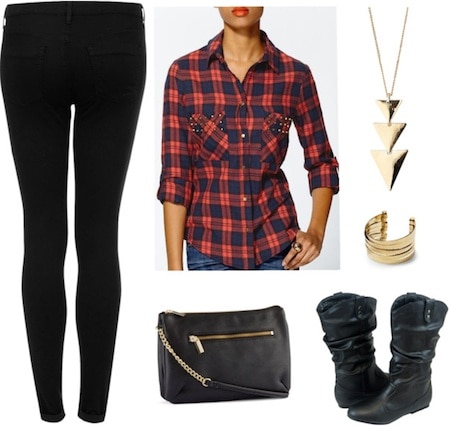 (Product Information: Pants – Topshop, Shirt – Piperlime, Necklace – Miss Selfridge, Bracelet – Piperlime, Boots – Amazon, Purse – H&M)
To recreate Thea's somewhat grungy and edgy look, start with a plaid shirt with embellishments; this one has cute studs on the pockets. Next, slip on a pair of black skinny jeans and a pair of slouchy black leather boots. Add some edgy gold jewelry like this cute Arrow necklace (get it?) and a gold bangle. Finish off with a simple black purse with gold accents.
Your thoughts?
What do you think of these looks? Did we miss any amazing outfits from the past week of TV? Which shows do you think deserve a spot on the next TV Fashion Recap post? Leave a comment below and tell us what you think!