TV Fashion Recap is a biweekly column featuring the best of TV fashion. Every other week, we recreate our favorite outfits from the most recent episodes of all of the hottest shows. Stay tuned; we may feature your favorite show next!

Every other week, I break down the best of TV fashion, featuring my favorite looks from the last two weeks. This week, I was inspired by The Flash and Pretty Little Liars. Read on to see both looks:
1. The Flash (Season 1, Episode 13): Caitlin's Brown Leather Skirt and Printed Scarf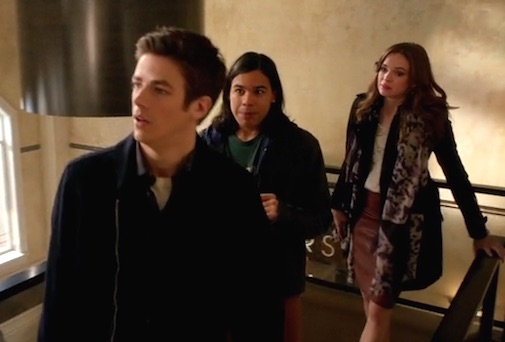 Photo Credit – Screenshot
Crime? Check. Superheroes? Check. Really ridiculously good-looking people? Check, check, check (have you seen Grant Gustin, who plays the main character, holding a puppy? I died a little from the cuteness overload). The CW's hit show, The Flash, which is based on Flash from DC comics, meets all of my requirements for an awesome series.
The series follows Flash, a slightly awkward but adorable crime-scene investigator who develops superhuman speed. He fights crime while dealing with the standard tragic superhero past – his mother was murdered and his father blamed for the crime. Being a parent in a superhero comic guarantees you a grisly death. You've been warned. Anyway, if you like Arrow, Gotham, or Agents of S.H.I.E.L.D, you should definitely check out the series! I promise you won't be disappointed.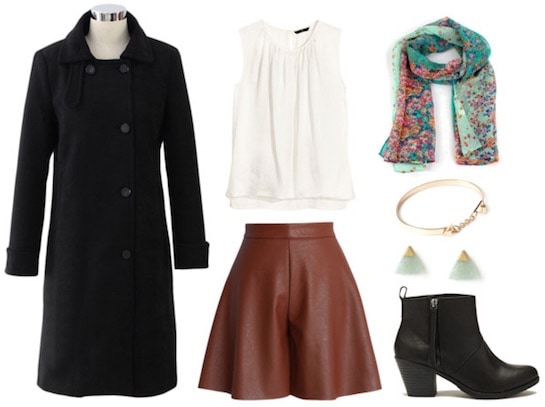 Coat, Blouse, Scarf, Skirt, Bracelet, Earrings, Boots
Caitlin's outfit is classy, sophisticated, and gorgeous. To recreate the look, start with a white blouse and a brown leather skirt (if you want to stay true to the original outfit, here's a lovely, but more expensive pencil skirt). Wear a long black coat for warmth and a sophisticated vibe. There's a fashion rule that you can't mix black and brown, but here at CF, we love pairing these two colors together. Because the brown is lighter and has a red tint, it acts as a pop of color amongst the black.
Next, add a pair of black booties and a brightly patterned scarf, which makes the outfit more casual and cheerful. Finish the look with a small bracelet and a pair of stud earrings.
2. Pretty Little Liars (Season 5, Episode 19): Emily's Sneakers and Red Bag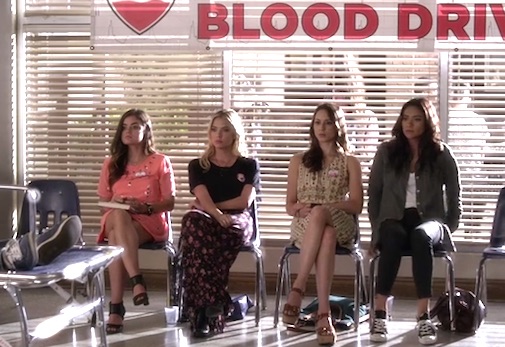 Photo Credit – Screenshot
Pretty Little Liars is one of those shows that I just can't stop watching. I'll tell myself that I can't watch it anymore because I'm terrible with suspense and mysteries. I practically give myself ulcers over plot twists, and need to know the endings before I watch or read anything. I know, it's blasphemy.
A few months will go by, and I'll see a fan theory or PLL article. Three hours later, I've read every article published about the show in the last six months and I'm gearing up Netflix. I don't regret it though. It's such a good show. The dramatic plotlines are addictive – and so is the fashion!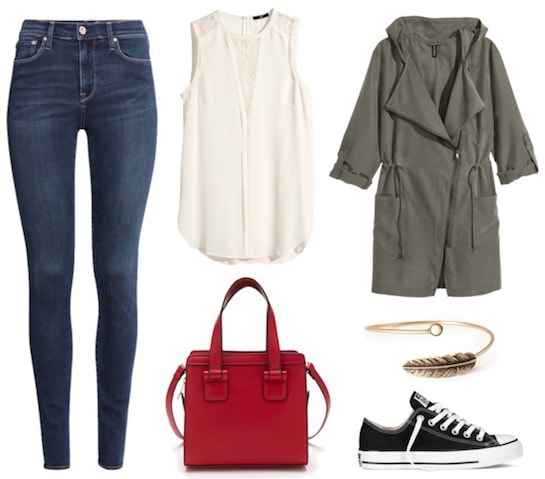 Jeans, Top, Coat, Purse, Bracelet, Shoes
Emily's look, while not the most glamorous, really appealed to me because of how effortless and casual it is. I love the contrasting feminine and masculine touches to the outfit. To recreate her outfit, start with a silky white tank and a pair of dark-wash skinny jeans. Layer on an olive jacket or parka, then slip on a pair of black-and-white sneakers.
While Emily toted around a backpack during the first part of the episode (get it? Toted? Like a tote bag? Sorry – if you read my column regularly, you know that I always have at least one cringe-worthy pun that only I laugh at), she later switched it out for a large, bright red purse. The pop of color adds dimension and a fun, feminine element to the low-key and comfy outfit. Lastly, accessorize with a cute bangle or small necklace. It's so simple, and yet so cute (my favorite kind of outfit)!
Your thoughts?
What do you think of these looks? Did we miss any amazing outfits from the past week of TV? Which shows do you think deserve a spot on the next TV Fashion Recap post? Leave a comment below and tell us what you think!