TV Fashion Recap is a biweekly column featuring the best of TV fashion. Every other week, we recreate our favorite outfits from the most recent episodes of all of the hottest shows. Stay tuned; we may feature your favorite show next!

Every other week, I break down the best of TV fashion, featuring my favorite looks from the last two weeks. This week, I was inspired by The Carrie Diaries and Revenge. Read on to check out the outfits!
1. The Carrie Diaries (Season 1, Episode 9): Carrie's Polka Dot Sweater & Skirt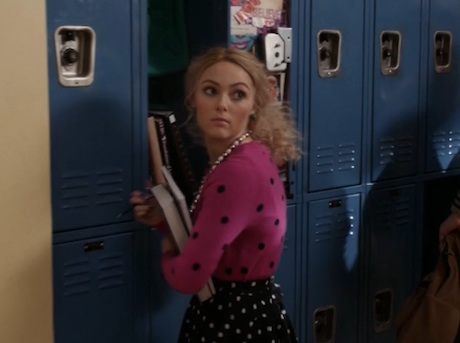 (Photo Credit – Screenshot
When I first started watching The Carrie Diaries, I wasn't crazy about it. But now that I've seen more, I'm absolutely obsessed with it. There's fabulous fashion, fascinating drama, and, of course, the super hot Austin Butler. Basically, it's the perfect show for me.
Carrie'sstyle has evolved to become a little more sophisticated, while still being very trendy. These days, she tends to tone down her crazier pieces with classic, feminine jewelry or pastel accents. Young Miss Bradshaw is fashion-fearless, and definitely one of my new style icons.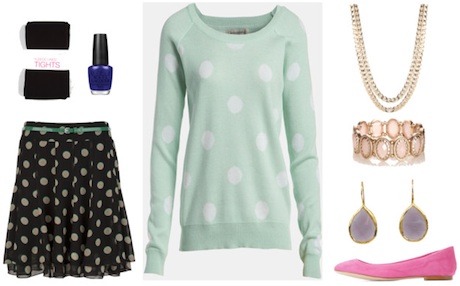 (Product Information: Tights – Tilly's, Nail Polish – Amazon, Skirt – Maurice's, Sweater – Nordstrom, Necklace – Bauble Bar, Bracelet – Accessorize, Earrings – Lori's, Shoes – Splendid)
To recreate Carrie's look, which would be perfect for spring, start with a polka dot sweater; this one isn't bright pink, but the mint shade is very on-trend. Next, add a black polka dot skater skirt and a pair of sheer black tights. Grab a bright pair of flats to add a pop of color and pay homage to Carrie's fun Barbie pink sweater. Don't forget to add girly, classic jewelry to pull the outfit together and prevent polka dot overload. To complete the look, swipe on a coat of a darker, but still vibrant nail polish.
2. Revenge (Season 2, Episode 15): Emily's Sweater and Button-Up Coat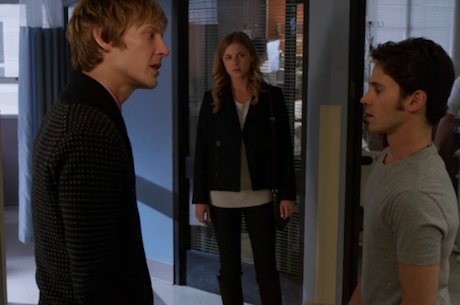 (Photo Credit – Screenshot)
I've covered the fashion on ABC's Revenge before, and this show just keeps getting better and better. How do you guys feel about all the drama? I always feel so overwhelmed that I want to stop watching, but I just can't! It's too good.
Emily's outfit this week might not be the trendiest, but it's a classic and very comfortable look. I saw it and just immediately wanted a comfy sweater like that, and a chai latte to "accessorize" the look!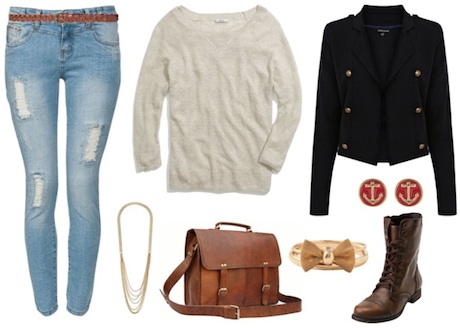 (Product Information: Jeans – Newlook, Belt – Zara, Sweater – Madewell, Jacket – John Lewis , Necklace – Guess, Messenger Bag – Etsy, Rings – American Apparel, Earrings – Tuckernuck, Boots – Swell)
To recreate Emily's outfit, which is a great alternative to sweats on days when you just want to snuggle up and stay warm, start with an oatmeal-colored sweater. Next, slip on a pair of jeans and a military-style button-up coat. Add a pair of worn leather boots and a messenger bag for all your books. Slip on a chain necklace to add an unexpected, feminine touch to the sweater, and add a pretty gold ring. To finish, channel Emily's love for all things nautical with a cute pair of anchor earrings.
Your thoughts?
What do you think of these looks? Did we miss any amazing outfits from the past week of TV? Which shows do you think deserve a spot on the next TV Fashion Recap post? Leave a comment below and tell us what you think!