TV Fashion Recap is a biweekly column featuring the best of TV fashion. Every other week, we recreate our favorite outfits from the most recent episodes of all of the hottest shows. Stay tuned; we may feature your favorite show next!

Every other week, I break down the best of TV fashion, featuring my favorite looks from the last two weeks. This week, I was inspired byThe Big Bang Theory and The Office. Read on to check out the outfits!
1. The Big Bang Theory (Season 6, Episode 24): Bernadette's Mint Cardigan and Dress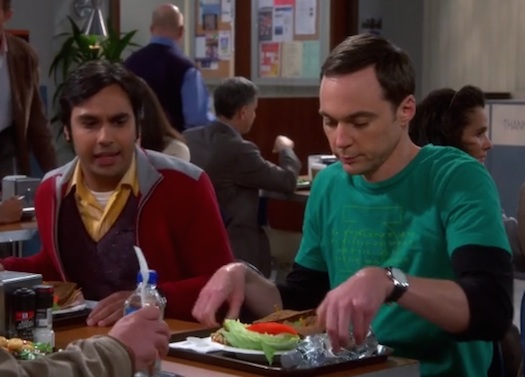 (Photo Credit – Screenshot)
I've coveredThe Big Bang Theory before (also, click here for our Big Bang Theory Geek Chic post!), but I somehow overlooked Bernadette's style… and that's just unacceptable.
Bernadette has a great, super-feminine aesthetic: her signature look is a sundress and cardigan with minimal jewelry. She always looks very put together and sophisticated, which is an adorable contrast to her husband Howard's more laid-back, geeky look. Bernadette is one of my favorite characters because of her witty one-liners, but it's her great use of pastels that really made me love her this week.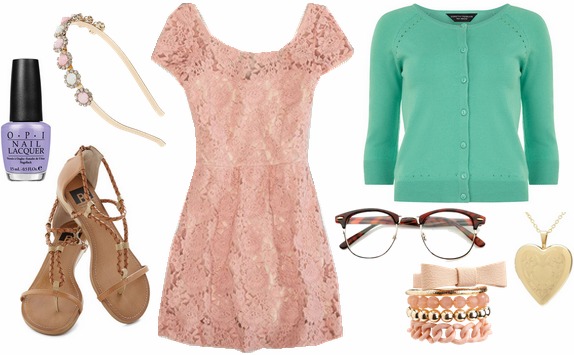 (Product Information: Nail Polish – OPI, Headband – Miss Selfridge, Dress – American Eagle, Cardigan – Dorothy Perkins, Bracelet – Charlotte Russe, Glasses – zeroUV , Shoes – ModCloth, Locket – Target)
To recreate Bernadette's look – which would be perfect for a spring picnic or some sightseeing – start with a knee-length sundress. This one has a gorgeous peach color that would look great on all skin tones, and also boasts a beautiful lace flower detailing. Layer it with a mint cardigan on top, buttoned up partway. Slip on a pair of strappy sandals, which would look especially great with lavender nail polish.
For the accessories, keep it light and feminine. Bernadette likes lighter, gold jewelry, so a cute necklace and delicate layered bracelets would be perfect. Don't forget a girly, floral headband – Bernadette never leaves home without one! As a bonus, you can add a cute pair of horn-rimmed, cat-eye glasses as a fun accessory that pays homage to the nerdy-chic show.
2. The Office (Season 9, Episode 24): Erin's Nude Blazer and White Embellished Top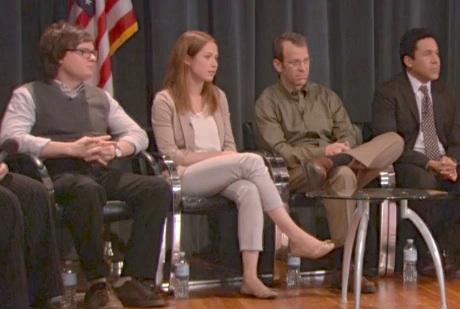 (Photo Credit – Screenshot)
The series finale of NBC's mockumentary The Office aired last week, and I'm already feeling the loss. It was a hilarious show with lovable characters and sweet romances and okay, I have to stop, because I'm tearing up.
The show began to air about eight years ago, and it's crazy to think that I started watching it in seventh grade. I grew up tuning into this show every Thursday, and I'm not sure what I'll do on Thursday nights anymore. (To be honest, I'll probably just watch the series again!) What did you guys think of the series finale? Did it do the show justice?
Erin, the receptionist, is incredibly sweet, though somewhat naive. She's currently dating Pete, a cute mini-Jim that's head-over-heels in love with her. Erin's style tends to be somewhat conservative, and very sophisticated, with lots of neutrals.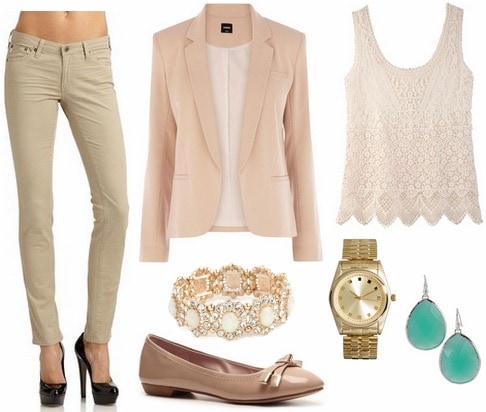 (Product Information: Pants – Saks Fifth Avenue, Blazer – Oasis, Top – Jack Wills, Flats – DSW, Earrings – Stella & Dot, Bracelet – Bauble Bar, Watch – ASOS)
To recreate Erin's look from this episode – which would be great for an internship – start with an unbuttoned blush-colored blazer. Layer it with a white top underneath; this lacy one adds visual interest to the outfit. Slip on a pair of khaki pants in a different neutral tone. Add a pair of simple patent neutral flats; these ones have cute bows that Erin would adore.
Erin's outfit works because of its simplicity, so don't pile on too many accessories. A nice watch and a pretty gold bracelet would look perfect. For an unexpected pop of color that symbolizes Erin's bright, cheery personality, add a pair of teal drop earrings.
Your thoughts?
What do you think of these looks? Did we miss any amazing outfits from the past week of TV? Which shows do you think deserve a spot on the next TV Fashion Recap post? Leave a comment below and tell us what you think!