TV Fashion Recap is a biweekly column featuring the best of TV fashion. Every other week, we recreate our favorite outfits from the most recent episodes of all of the hottest shows. Stay tuned; we may feature your favorite show next!

Every other week, I break down the best of TV fashion, featuring my favorite looks from the last two weeks. This week, I was inspired by The 100 and Pretty Little Liars. Read on to check out the outfits:
1. The 100 (Season 1, Episode 13): Raven's Dark Neutral Outfit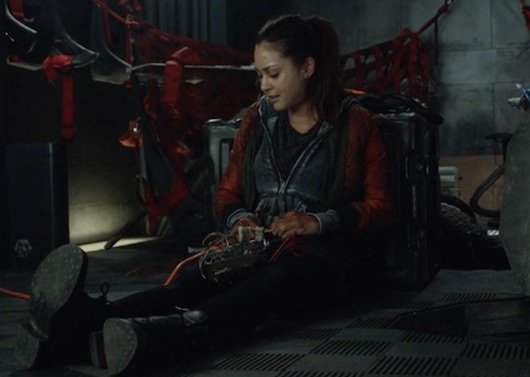 Photo Credit – Screenshot
The CW's dystopian sci-fi, The 100, is quickly becoming one of my all time favorite shows – which says a lot, because I watch more TV than any one person should. When I say that I'm too busy to hang out, 90% of the time it's because I'm actually binge-watching something on Netflix. The show is an amazing cross between Battlestar Galactica and Lord of the Flies, with a little Lost thrown in. Yeah, it's good.
The 100 (based on the book of the same name) is about 100 teenage criminals who are sent to earth to see if it's still inhabitable after a nuclear war. That's all I can say without spoiling anything, but you all need to check it out!
I'm terrified of it getting cancelled (I'm wary and still grieving because of Firefly), because in addition to being just plain awesome, it's also one of the few shows on TV that features strong, sexy female characters who don't become useless lumps as soon as their love lives get complicated – these girls just keep on building bombs and kicking ass, love triangles be damned.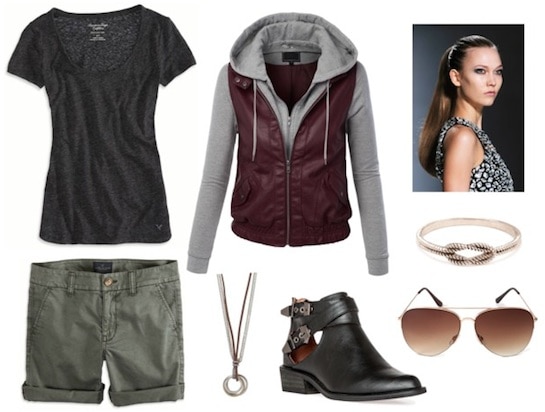 Product Info: Tee, Jacket, Shorts, Necklace, Shoes, Bracelet, Sunglasses | Hair Photo: ELLE
I know summer is the perfect time to break out neon colors and pastels, but after a while, I start to crave black and gray again. Luckily, darker neutrals are totally on-trend this summer.
Raven's look is perfect for a bonfire with friends or a cloudy day. To recreate her ensemble, start with a black tee and a pair of neutral shorts. If you don't have a faux leather vest/jacket combo like this, swap it out for layers of fauxleather and jersey instead; mixing these two fabrics adds texture and an edgy vibe to the outfit. (Bonus: the layers will also keeps you warm in places where the air conditioning is cranked down to below freezing, which is basically everywhere on my campus.)
Raven's outfits are all about utility and comfort, so grab a pair of comfy booties and a cute pair of aviator shades. Add some small silver jewelry and a slick ponytail to complete her casual yet badass look!
2. Pretty Little Liars (Season 5, Episode 2): Hanna's Moto Jacket and Statement Necklace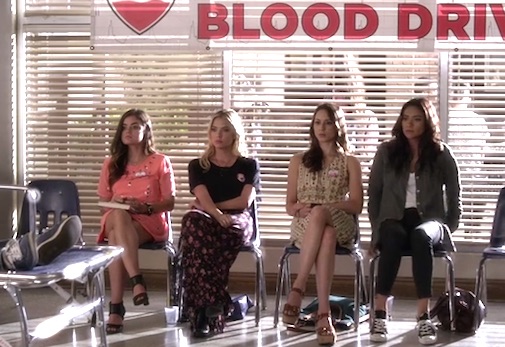 Photo Credit – Screenshot
Pretty Little Liars is back, and I could not be more excited! I regularly Google the plot of movies while I'm watching them because I can't wait 30 minutes to know what happens at the end (yet still I finish the movie), so the ever suspenseful PLL is torture for me – especially because of the nail-biting cliffhanger at the end of the last season. My boyfriend always tells me that I should just stop watching it because it makes me so crazy and stressed, but I can't – it's too good! You can tell I'm addicted because of my frequent TV fashion recaps (see here and here for more!).
I'm so excited to see what's in store for the Liars this season, aside from amazing wardrobes, flawless makeup, and the return of my favorite character, Caleb (his long distance thing with Hanna last season was giving me ulcers).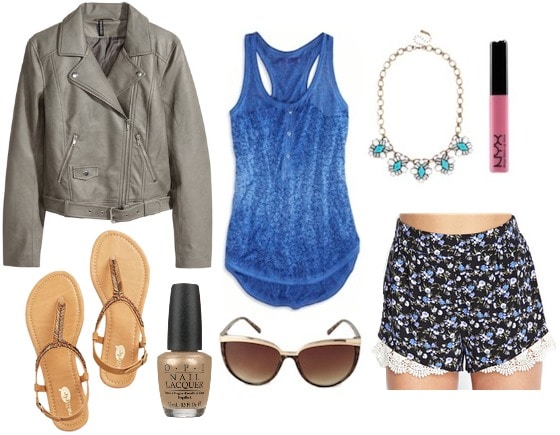 Product Info: Jacket, Tank, Necklace, Lipgloss, Shoes, Nail Polish, Sunglasses, Shorts
To recreate Hanna's outfit, which would be perfect for going to the movies or walking around downtown, start with a royal blue tank and blue floral shorts – incorporating colors that match the print into the rest of your outfit is a great way to make sure the print doesn't take over your entire outfit. Layer on a cute gray moto jacket, then add a simple pair of sandals.
To tie this look together, accessorize with a fun turquoise statement necklace and a pair of metallic-rimmed sunglasses. Throw on a few coats of pink lipgloss and a gold nail polish to complete the look, since Hanna never leaves the house without looking perfect and polished. (See what I did there? No? Okay, I'll just see myself out now.)
Your thoughts?
What do you think of these looks? Did we miss any amazing outfits from the past week of TV? Which shows do you think deserve a spot on the next TV Fashion Recap post? Leave a comment below and tell us what you think!