TV Fashion Recap is a biweekly column featuring the best of TV fashion. Every other week, we recreate our favorite outfits from the most recent episodes of all of the hottest shows. Stay tuned; we may feature your favorite show next!

Every other week, I break down the best of TV fashion, featuring my favorite looks from the last two weeks. This week, I was inspired by Teen Wolf and Beauty and the Beast. Read on to check out the outfits:
1. Teen Wolf (Season 4, Episode 2): Lydia's Jean Jacket and Floral Skater Skirt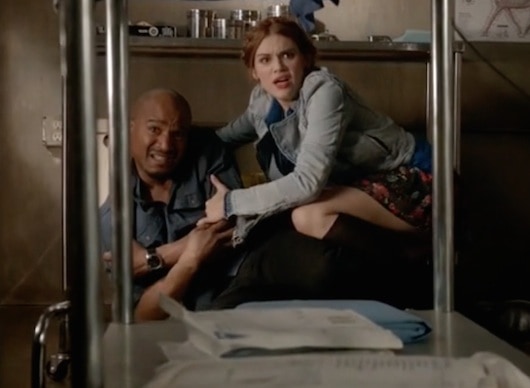 Photo Credit – Screenshot
Teen Wolf is back, and better than ever. I'm a diehard fan (both of the show, and of the Die Hard series… get it? I know, my jokes are terrible), and I've covered the teen werewolf hit several times before, and no doubt, I'll do it again. (See here and here for more recaps!)
Lydia is just so unbelievably fashionable. I swear, that girl could rock a dress made out of a potato sack, and I'd be jumping in line at the farmer's market, trying to get my own burlap sack. Her wardrobe is filled with cool jackets, flouncy skirts, and strappy boots – the perfect combination of girly and edgy.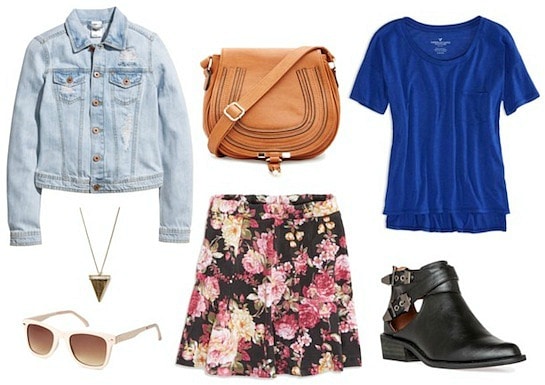 Product Info: Jacket, Purse, T-Shirt, Necklace, Skirt, Sunglasses, Boots
Lydia's cute yet casual look is ideal for walking around on campus. To recreate her outfit, start with a cobalt tee and a light-wash jean jacket. Slip on a floral skirt and a pair of trendy cut-out boots. Sling a saddle bag over your shoulder, then grab a pair of retro-look sunglasses – they're one of Lydia's staple accessories. Put a small pendant around your neck, and you've got a comfy and adorable summer ensemble!
2. Beauty and the Beast (Season 2, Episode 21): Heather's Cobalt Cut-Out Dress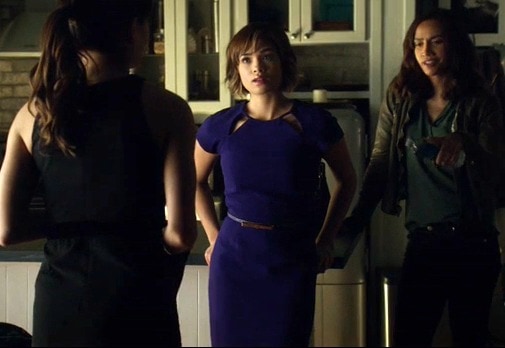 Photo Credit – Screenshot
I've never gotten over my crush on the Beast from Beauty and the Beast. Yeah, he was kind of grouchy and hairy, but one look at his giant library, and I fell in love. I'll admit it, I'm a gold digger, but I'm not digging for diamonds and caviar – I just want a ton of books (and maybe a Burberry coat). Anyway, when I heard that there was going to be a a crime show adaption of "the tale as old as time," I was thrilled. And the show didn't disappoint.
If you loved the Beast before, you'll swoon when you see him as an ex-supersoldier. He's got twice the muscle, twice the sweetness, and the same angst that we know and love from the temperamental cartoon prince. If you love crime shows, kickass heroines, and suspense, then you don't want to miss The CW's adaptation of Beauty and the Beast.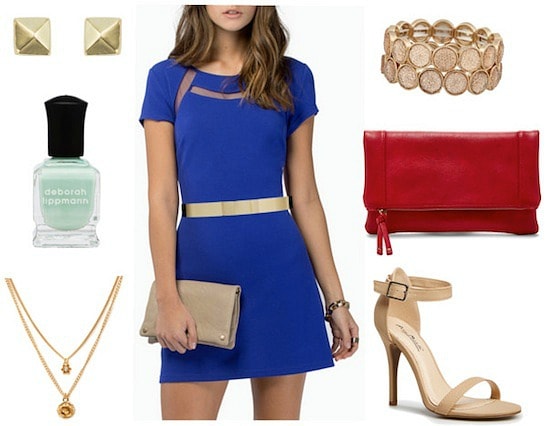 Product Info: Dress, Belt, Earrings, Bracelet, Necklace, Clutch, Nail Polish, Shoes
To recreate this polished and classy look, start with a cobalt blue cut-out dress. (I'm going through a cobalt phase, if you haven't noticed – it's a gorgeous summer color.) Add a belt to emphasize your waist, then slip on a pair of neutral heels – they'll make your legs look even longer! Grab a bright red clutch for a fun pop of color.
Because this curve-hugging dress speaks for itself, a small gold necklace, bracelet, and a cute pair of studs are all you need to accessorize. Less is definitely more with Heather's gorgeous look. For the finishing touch, swipe on a few coats of muted mint nail polish.
Your thoughts?
What do you think of these looks? Did we miss any amazing outfits from the past week of TV? Which shows do you think deserve a spot on the next TV Fashion Recap post? Leave a comment below and tell us what you think!