This post may contain affiliate links, which means we may receive a commission if you purchase through our links. Please
read our full disclosure here
.
TV Fashion Recap is a biweekly column featuring the best of TV fashion. Every other week, we recreate our favorite outfits from the most recent episodes of all of the hottest shows. Stay tuned; we may feature your favorite show next!

Every other week, I break down the best of TV fashion, featuring my favorite looks from the last two weeks. This week, I was inspired byTeen Wolf and Pretty Little Liars. Read on to check out the outfits!
1. Teen Wolf (Season 3, Episode 1): Allison's Chambray Shirt and Floral Skirt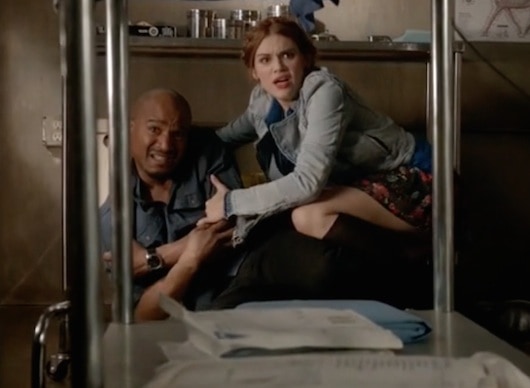 (Photo Credit – Screenshot)
I've covered MTV's Teen Wolf before (see here and here), but this season's premiere was absolutely amazing. It felt funnier and more action-packed than previous seasons – did anyone else feel like Teen Wolf really stepped it up? I was very impressed. In addition, the suspenseful storylines, total hottie werewolves, and hilarious dialogue make this the perfect summer show.
And, as usual, the fashion in this show is on-trend and totally wearable. Lydia always wows me, but Allison's style in this episode was so eye-catching, that I'm definitely going to be doing some shopping and recreating this outfit for myself!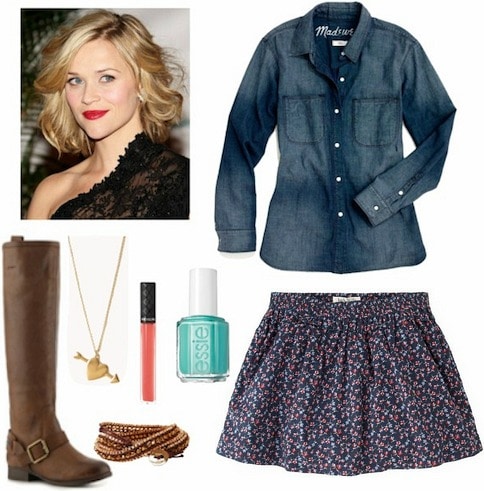 (Product Information: Hairstyle – Elle, Shirt – Madewell, Boots – DSW, Necklace – Forever 21, Lipgloss – Amazon, Nail Polish – Amazon, Bracelet – Humble Chic, Skirt – Jack Wills)
Allison's look is cute and very versatile – you can wear it shopping with friends, on walks through the park, and on casual dates. It's the perfect summer outfit for pretty much any activity, and it's so easy to recreate! First, slip on a chambray shirt and a dark floral skirt. Accessorize with leather knee-length boots to mimic that Southern Chic vibe her outfit exudes. Accessorize with a wrap-around leather bracelet – which Allison wears frequently – and little gold necklace for a little bit of sparkle.
Add some bright nail polish for an unexpected pop of color, and don't forget a few coats of lip gloss, which is one of Allison's beauty staples. For bonus points, curl your hair with the curls facing outward from your face and focus on creating volume to get the gorgeous hairstyle that completes the ensemble.
2. Pretty Little Liars (Season 4, Recap Episode): Hanna's Purple Dress and Large Bag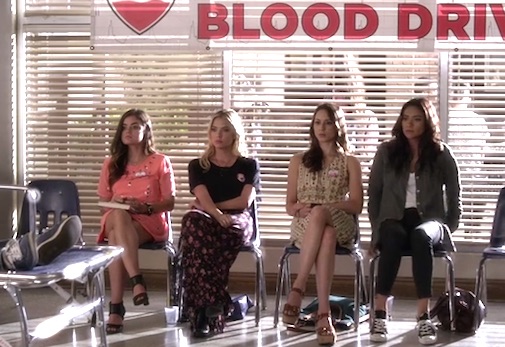 (Photo Credit – Screenshot)
This past week's Pretty Little Liars season premiere was a little bit different – it was a recap of the entire series! So, if you've been interested in finding out what all the hype is about, this is a great way to catch up without spending a week or two obsessively watching Netflix (which actually describes my dream summer perfectly).
I've already seen the whole series (see here and here for a few of the many recaps I've done – I'm a tiny bit obsessed with the Liars), but I watched this recap episode anyway. Why? The fashion, of course! It was great to look back at four of my favorite style icons and see their killer wardrobes. Is anyone else super jealous of these girls' closets?
(Product Information: Dress – Zalando, Necklace – Pixie Market, Sunglasses – M & Co, Nail Polish – Amazon, Earrings – Maurices, Bag – Macy's, Shoes – Pret A Beaute)
Hanna's glamorous outfit would be perfect for a summer date or for going out with friends. To recreate the look, start with a loose-fitting burgundy dress and a large leather purse. Neutral-colored sunglasses lighten the ensemble, while a swipe of colorful nail polish creates a flirty and girly vibe. Dangly earrings and Hanna's signature strappy heels finish off this sophisticated, on-trend look.
Your thoughts?
What do you think of these looks? Did we miss any amazing outfits from the past week of TV? Which shows do you think deserve a spot on the next TV Fashion Recap post? Leave a comment below and tell us what you think!