This post may contain affiliate links, which means we may receive a commission if you purchase through our links. Please
read our full disclosure here
.
TV Fashion Recap is a biweekly column featuring the best of TV fashion. Every other week, we recreate our favorite outfits from the most recent episodes of all of the hottest shows. Stay tuned; we may feature your favorite show next!

Every other week, I break down the best of TV fashion, featuring my favorite looks from the last two weeks. This week, I was inspired bySuitsand Covert Affairs. Read on to check out the outfits!
1. Suits (Season 3, Episode 9): Rachel's Oatmeal Sweater and Skinny Jeans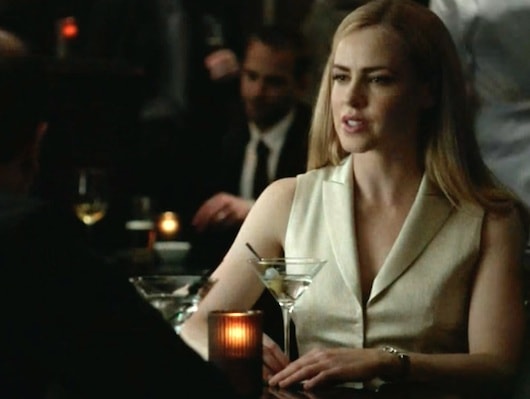 (Photo Credit – Screenshot)
I was flipping through channels one day and came across USA Network's hit show, Suits. I'm only on season two, but I couldn't resist skipping ahead to the latest episode.
Suits follows Mike, a brilliant, witty guy as he begins working with a law firm. The catch? He doesn't have a law degree, but he's so impressive that the lawyer who hired Mike tells him to pretend that he went to Harvard. It's a funny, dramatic, and very interesting show, and I can't wait to watch more. If you haven't seen it yet, you should check it out and let me know what you think!
Rachel, a gorgeous paralegal at Mike's firm, is one of my favorite characters so far. She's smart, funny, and fierce — in every sense of the word. She and Mike have such a cute, albeit complicated, relationship; she's determined not to date guys from the firm anymore, but she just can't resist him. (And really, how could anyone? Look at him.) She also has a great, sophisticated and seemingly effortless style, which I adore.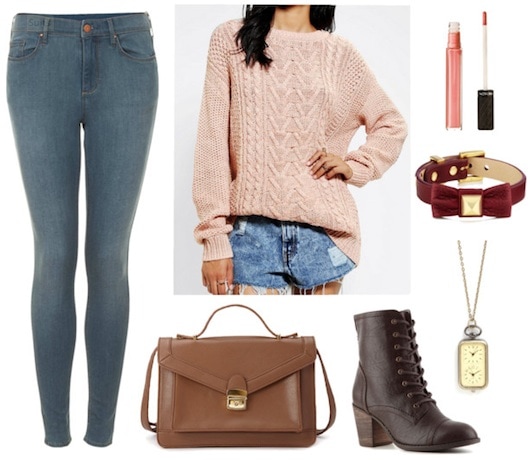 Product Information: Jeans, Sweater, Lipgloss, Bracelet, Purse, Boots, Necklace
To recreate Rachel's perfect fall look, start with a neutral, oversized knit sweater. Slip on a pair of skinny jeans; Rachel's pairing of the sweater with jeans that aren't distressed or acid-washed adds a more stylish, put-together vibe to this casual outfit. She makes her look a little more glamorous with a pair of black pumps, but heeled booties might be a little bit better for walking across campus. To add more shape to the outfit, sling a structured neutral bag over your shoulder.
Keep the accessories light — this look is very relaxed. A small necklace and a fun, colorful bracelet are all you need. Swipe on some pink lipgloss, and you're done! This look is incredibly easy and comfortable enough for an all-nighter in the library, but it's still very cute!
2. Covert Affairs (Season 4, Episode 9): Bianca's Collared Shirt and Sweater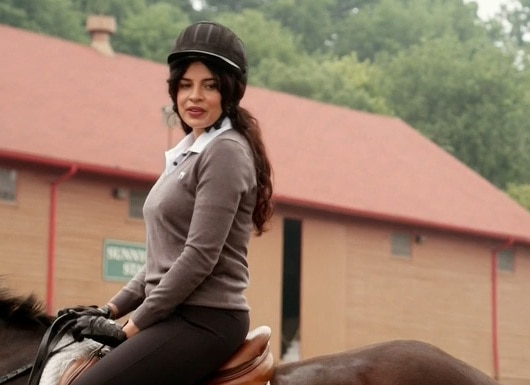 (Photo Credit – Screenshot)
I've been watching USA Network's CovertAffairs on and off for years. It's a great show, and it always gets me through the end-of-summer TV slump when most of the summer shows have ended and the fall ones haven't started (a.k.a one of my least favorite times of the year). The show follows Annie Walker, a CIA field operative, as she works undercover. It's action-packed and dramatic, and Piper Perabo (from Coyote Ugly, a slightly mature classic from my childhood) is absolutely adorable as Annie.
Bianca, one of the best lawyers in D.C., is a new character, but I really hope she becomes a regular. She's tough, driven, and her style thus far is timeless and sophisticated.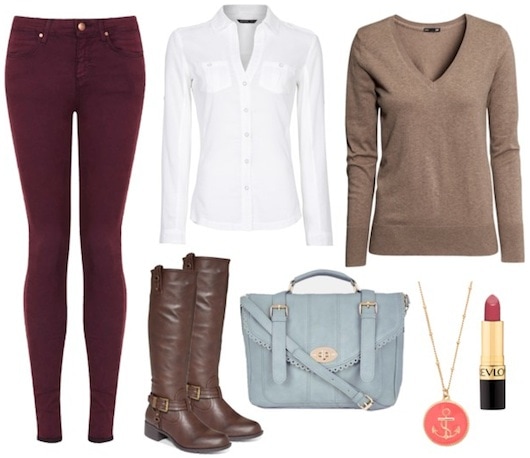 Product Information: Pants, Blouse, Sweater, Boots, Bag, Necklace, Lipstick
Bianca's look is preppy and classic, but the best part is that it incorporates a lot of wardrobe staples that are perfect for fall.
To recreate the look, start with a collared, button-up white shirt and layer a neutral V-neck sweater overtop. Next, slip on a pair of oxblood pants and some brown faux-leather riding boots. Add a small, bright necklace for a fun pop of color, and sling a pastel satchel over your shoulder for for all of your textbooks. Don't forget a pinky-red lipstick; it really pulls Bianca's look together!
Your thoughts?
What do you think of these looks? Did we miss any amazing outfits from the past week of TV? Which shows do you think deserve a spot on the next TV Fashion Recap post? Leave a comment below and tell us what you think!