TV Fashion Recap is a biweekly column featuring the best of TV fashion. Every other week, we recreate our favorite outfits from the most recent episodes of all of the hottest shows. Stay tuned; we may feature your favorite show next!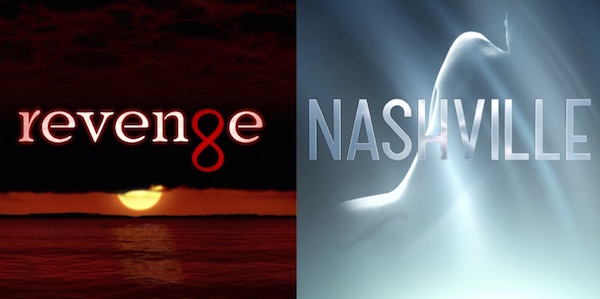 Every other week, I break down the best of TV fashion, featuring my favorite looks from the last two weeks. This week, I was inspired by Sons of Anarchy and Project Runway. Read on to see both looks:
1. Sons of Anarchy ( Season 7, Episode 1): Gemma's Black Bralette and Fitted Jacket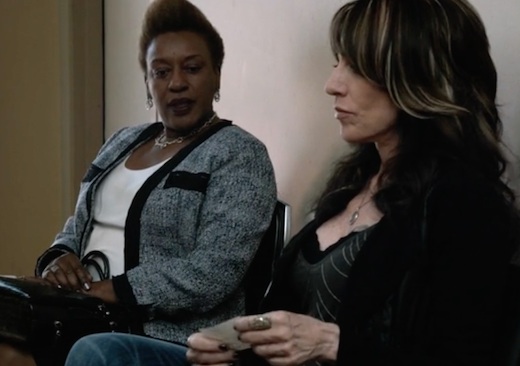 Photo Credit – Screenshot
Sons of Anarchy is a drama that follows the lives of Jax Teller (played by the swoon-worthy Charlie Hunnam – seriously, just look at him! I love him, but I'm insanely jealous of his beautiful blonde locks), his family, and the motorcycle gang they're involved with. It's suspenseful and additive.
I'm an Olympic Level TV binge-watcher, but I've reached a new and very unhealthy level of marathoning SoA. I'm embarrassed to admit this, but I have spent more than a few days glued to the TV, clutching a half-eaten, family-sized bag of white cheddar popcorn and only getting up when I need to put on the next episode. It's even more horrifying than you think, but it's worth it. I highly recommend giving this show a try; just please remember to sleep and occasionally step outside.
Pro Tip: I've discovered that doing yoga while watching the gang conflicts onscreen is oddly soothing and it prevents you from feeling too guilty about watching five episodes in a row.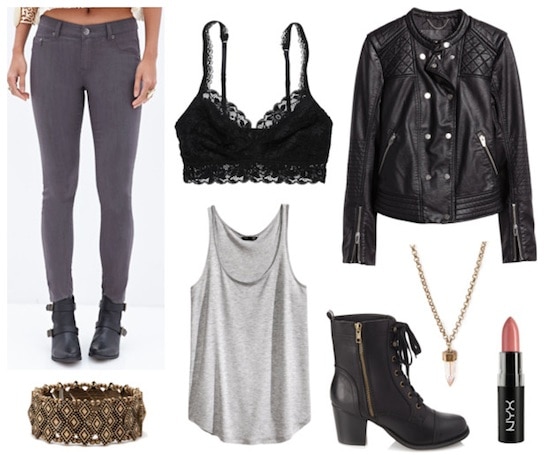 Product Info: Jeans, Bralette, Jacket, Bracelet, Tank Top, Shoes, Necklace, Lipstick
To recreate Gemma's edgy look, wear a gray jersey tank with a lacy bralette peeking out from above the neckline. Layer on a faux leather jacket; the contrasting textures and fabrics add structure to a monochromatic outfit. Slip on a pair of jeans and black faux leather boots. Gemma chose a pair of black, strappy high heels, but she'd definitely approve of these heeled combat boots – they're fierce and a little more fall-friendly.
Accessorize with a gold bracelet and pendant necklace to make the outfit a little more chic. Finish with a neutral-pink lipstick, which adds a girly touch to this rocker/biker/total badass chic outfit.
2. Project Runway (Season 13, Episode 7): Char's Statement Necklace and Leather Skirt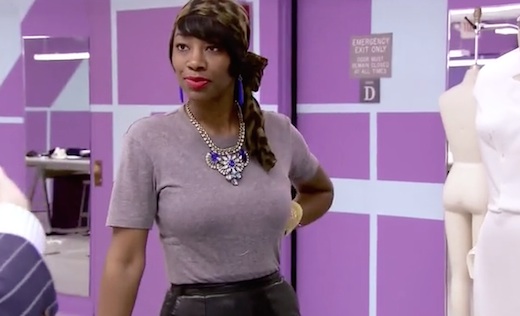 Photo Credit – Screenshot
Confession time: I've always been intimidated by high fashion. As adorable as spike-toed heels are, I have a deathly fear of tripping and impaling myself on shoes that cost more than a month's rent. However, when I started watching Project Runway, a fashion design competition, my attitude changed. I realized that a lot of high fashion can be really wearable (with minor modifications and fewer feathers), especially if you act confident, fierce, and focus on having fun. Basically, you just have to channel your inner Beyoncé.
I was so inspired by the creativity on the show, and that's when I really fell in love with fashion and switched out my hoodies and baggy jeans for peacoats and booties. Okay, my closet is still almost entirely full of hoodies, but I have a trendy midi skirt! That's a huge improvement over my shudder-worthy middle school years.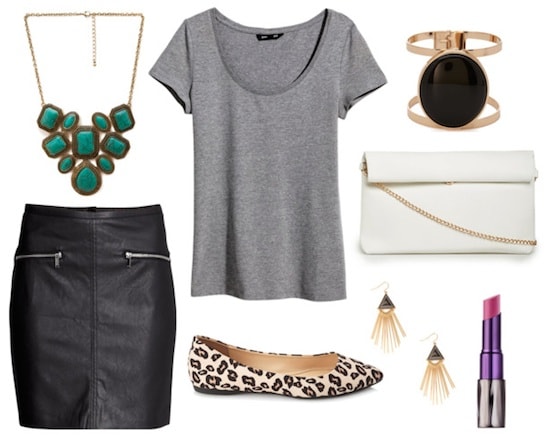 Product Info: Necklace, T-Shirt, Cuff, Skirt, Flats, Purse, Earrings, Lipstick
When I saw Char's outfit, I fell in love with the classy yet edgy ensemble. To recreate the look, start with a simple gray t-shirt and a faux leather skirt. Char knotted her tee on the side to make it more form-fitting, but I'd recommend just tucking the shirt into the skirt – it's easier and you won't have to constantly fiddle with it to keep it looking good.
Accessorize with a statement necklace and a white purse to brighten up the outfit. Char wore her hair in a beautiful leopard print scarf, but since I can't even manage to keep a hair tie in my hair – let alone an intricately tied scarf – I opted for leopard print flats instead. Slip on a cute cuff and a pair of dangly earrings. For a fun pop of color, swipe on some bright pink lipstick like Char did – it's bold, beautiful, and best of all, a simple way to add even more glam to the outfit.
Your thoughts?
What do you think of these looks? Did we miss any amazing outfits from the past week of TV? Which shows do you think deserve a spot on the next TV Fashion Recap post? Leave a comment below and tell us what you think!