TV Fashion Recap is a biweekly column featuring the best of TV fashion. Every other week, we recreate our favorite outfits from the most recent episodes of all of the hottest shows. Stay tuned; we may feature your favorite show next!
Every other week, I break down the best of TV fashion, featuring my favorite looks from the last two weeks. This week, I was inspired by Royal Pains and Community. Read on to check out the outfits!
1. Royal Pains (Season 7, Episode 1): Paige's Yellow Crop Top and White High-Waisted Jeans
Royal Pains is a great summer show, almost entirely because it's set in the gorgeous Hamptons. Since I don't have sandy beaches or ocean views in my immediate future– unless I count the Bahamas paradise desktop background in my cubicle– I'm living vicariously through the HankMed team, who provide medical care to the wealthy while getting involved in tons of drama themselves.
It's not a bad way to spend the summer! The fashion alone makes the show worth watching.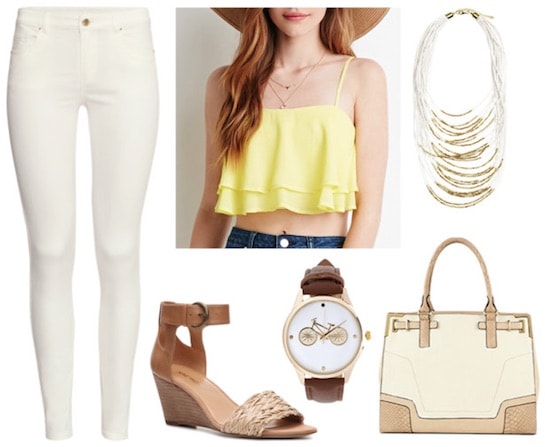 Pants, Top, Necklace, Sandals, Watch, Bag
To recreate Paige's polished summer ensemble, start with a fluttery crop top in a bright color. Keep the rest of the outfit neutral for a more sophisticated look. Slip on a pair of white high-waisted pants (or light wash denim if you're afraid you'll spill strawberry lemonade on them– that's how several pairs of my white jeans died before I realized I should give up on white clothing altogether).
Once you've got the basics, grab a long statement necklace to tie the neon top and white bottoms together. Add a pair of cute, dressy sandals and a neutral-colored bag. A leather watch or gold bangles dress up the look even more while keeping with the chic vibe.
2. Community (Season 6, Episode 13): Annie's Floral Dress and Pink Cardigan
Community just won't die. The show was almost cancelled every season– until it actually was cancelled, and was then picked up by Yahoo!.
Now that the (possible) series finale has aired, there's speculation that a movie or another season is in the works. And I couldn't be happier. It's a great show about adulthood with a lovable cast and a quirky sense of humor. The first few seasons are the best, so I'd recommend binge-watching them this summer.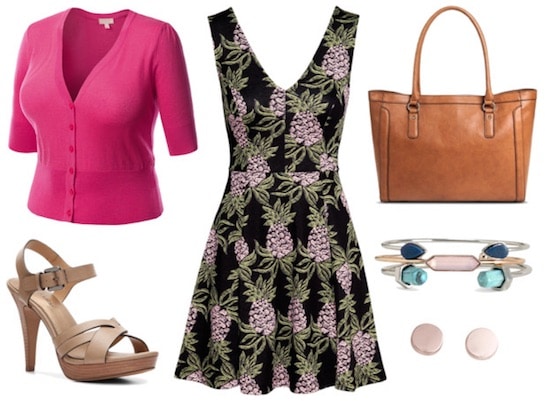 Cardigan, Dress, Purse, Shoes, Bracelets, Earrings
Annie's look is incredibly versatile, which makes it a holy grail outfit. You can wear it out to dinner with friends, to bridal/baby/graduation/cat adoption showers, or even to work (though I'd recommend a cami underneath the dress if it has a lower neckline like this one does). You could even wear it grocery shopping, and I'd see you as I'm picking up Ben & Jerry's for breakfast in sweatpants and a messy bun and wish I had my life as together as you obviously do.
To recreate the outfit, start with a dark printed dress and a vibrant pink cardigan. Grab a cute faux leather tote and slip on a pair of beige sandals. Because the bold print and bright colors take center stage in this look, I'd recommend keeping the accessories minimal– a pair of stud earrings and a few small bangles dress up the outfit without making it look too cluttered.
Your thoughts?
What do you think of these looks? Did we miss any amazing outfits from the past week of TV? Which shows do you think deserve a spot on the next TV Fashion Recap post? Leave a comment below and tell us what you think!