TV Fashion Recap is a biweekly column featuring the best of TV fashion. Every other week, we recreate our favorite outfits from the most recent episodes of all of the hottest shows. Stay tuned; we may feature your favorite show next!

Every other week, I break down the best of TV fashion, featuring my favorite looks from the last two weeks. This week, I was inspired by Revolution, Modern Family, and Revenge.Read on to check out the outfits!
1. Revolution (Season 1, Episode 4): Charlie's Leather Jacket and Olive Tank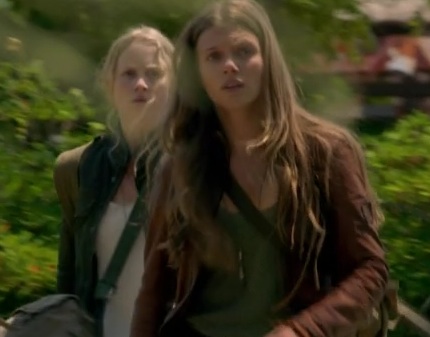 (Photo Credit – Screenshot)
NBC's new sci-fi series, Revolution, is about a mysterious, worldwide power outage that renders all electronics, cars, and pretty much all modern day technology useless. Fifteen years later, the power is still out and anarchy reigns in a future that seems more like 1800s. The show focuses on Charlie, a girl whose recently deceased father knew something about the cause of the power outages. Her brother was taken by a militia, and she's doing everything she can to rescue him, including turning to her uncle, an ex-founder of the militia, for help.
Charlie cares about everyone, and is very protective of those in need. She's quickly become a great fighter, thanks to her archery skills and her innocent appearance, which she uses to trap various militia members, including her cute militia/spy love interest, Nate. Charlie's style is utilitarian, but also super stylish and cool.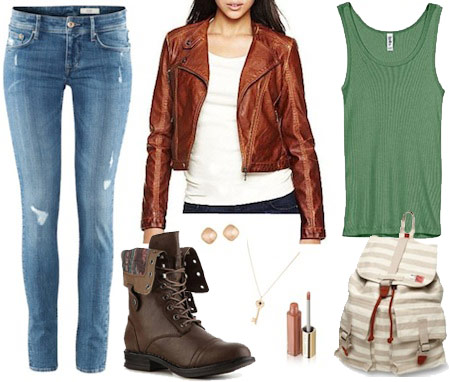 (Product Information: Jeans – H&M, Leather Jacket – JCPenny, Tank – Amazon, Boots – DSW, Earrings – Charlotte Russe, Necklace – ASOS, Lipgloss – Harrods, Backpack – Quiksilver)
Charlie's outfit is perfect for a casual fall day on campus. To recreate it, start with a brown leather jacket worn over an olive green tank top. Add faded jeans and dark leather boots; these combat boots have cute patterned flaps that add detail to the outfit. Next, put on a long gold necklace and some cute pink studs for a nod to Charlie's sweet personality. Grab a canvas backpack with lots of pockets; Charlie fills hers with medical supplies and weapons, but this one would be great for school books. For the finishing touch, swipe on some nude lipgloss — it's quickly becoming Charlie's signature.
2. Modern Family (Season 4, Episode 2): Haley's Cardigan and Patterned Top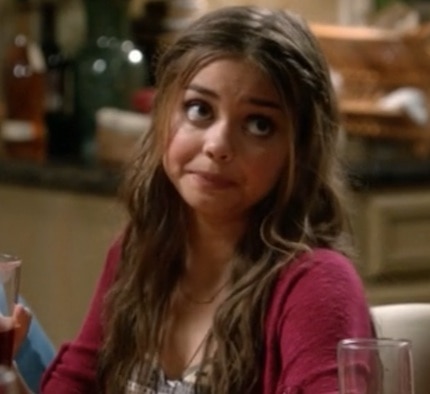 (Photo Credit – Screenshot)
ABC's Modern Family is a comedy mockumentary following Jay Pritchett, his new wife and stepson, and his other two kids and their children. It follows the family members' daily lives and relationships. It's got lots of "awww" moments, but it's also completely hilarious. It's already won quite a few awards, so if you haven't seen this show, you should definitely check it out on your next study break.
Haley is a teenager more concerned with popularity than her future. She's funny, high maintenance, and (deep down) sweet. She's heading off to college this season, despite quite a few jokes from her parents about not graduating high school, and she's worried about fitting in. This episode focused on her move to college, which included – of course – quite a few bags of clothes and beauty supplies, not to mention an adorable ensemble on Haley.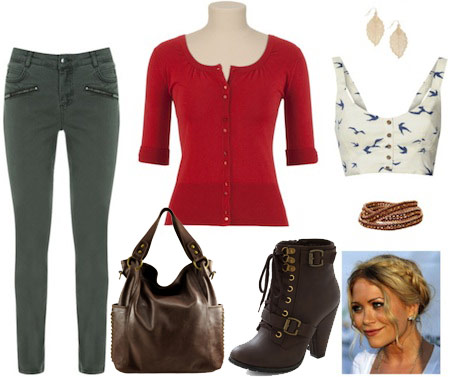 (Product Information: Pants – John Lewis, Cardigan – Maurices, Tank – Bank, Bag – Bakers, Earrings – Modcloth, Shoes – Modcloth, Bracelet – Humble Chic, Hair – ELLE)
To recreate Haley's look, start with a bright red cardigan with cuffs. Wear a patterned blue and white tank underneath; this is a great way to transition your corset tops to fall! Add olive pants with zippers to channel the military inspired clothing trend; the muted green makes the red cardigan pop. Add a leather wrap bracelet and dangly earrings, like Haley did, for a boho-chic vibe. Slip on some cute lace-up booties, and for the finishing touch, style your hair like Haley's. Her braided crown and waves complete this relaxed, slightly bohemian look.
3. Revenge (Season 2, Episode 1): Emily's Detailed Sheer Tank and Coated Jeans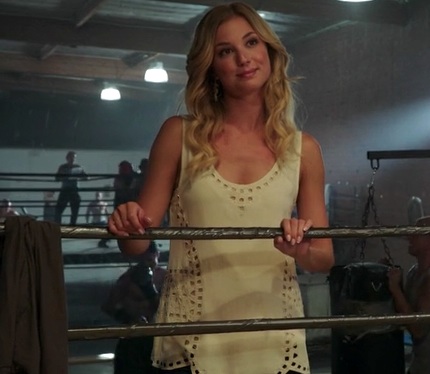 (Photo Credit – Screenshot)
ABC's hit show Revenge is one of the most addictive shows on television. I caught half of an episode one night and three days later had watched the entire season.
Revenge follows the story of Amanda Clarke, a girl whose father was framed for funding a terrorist attack and wrongly imprisoned (and later murdered) by a rich family in the Hamptons. When a friend of her father's tells her the real story of his imprisonment, Amanda sets out for revenge. She visits the Hamptons under the alias Emily Thorne, and proceeds to wreak havoc on the lives of everyone who wronged her father.
Emily tries to be cold and unfeeling, but she is actually very vulnerable and sensitive. Her caring personality often gets in the way of her elaborate revenge plots, but her rage and devastation force her to remain focused on destroying those her father's enemies. Sometimes she can be terrifying, but her sweet personality, obvious grief, and of course, her amazing wardrobe make her one of my favorite characters on TV.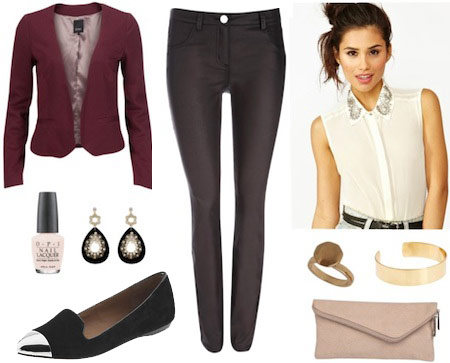 (Product Information: Blazer – Welikefashion.com, Pants – Wallis, Top – Nasty Gal, Nail Polish – OPI on Amazon, Earrings – Oasis, Ring – Topshop, Cuff – ASOS, Shoes – Piperlime, Clutch – River Island)
To recreate Emily's look, start with a sheer detailed tank; this one has studs on the collar, and represents the two aspects of Emily's personality — sweet, with a serious edge. Next, add black coated jeans, which are huge this season. To make the outfit perfect for fall, add a wine colored blazer and slip on some smoking slippers; these steel toed ones put a fierce twist on the fall staple. Finish with simple gold accessories and paint your nails a sheer, pink-tinted nude.
Your thoughts?
What do you think of these looks? Which one is your favorite? Did we miss any amazing outfits from the past week of TV? Which shows do you think deserve a spot on the next TV Fashion Recap post? Leave a comment below and tell us what you think!