TV Fashion Recap is a biweekly column featuring the best of TV fashion. Every other week, we recreate our favorite outfits from the most recent episodes of all of the hottest shows. Stay tuned; we may feature your favorite show next!

Every other week, I break down the best of TV fashion, featuring my favorite looks from the last two weeks. This week, I was inspired by Reign and Psych. Read on to check out the outfits:
1. Reign: Season 1, Episode 15: Lola's Feminine, Floral Outfit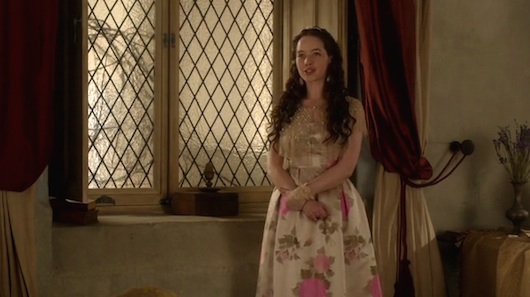 (Photo Credit – Screenshot)
Reign, the CW's hit new series, is a period drama based on the life of Mary, Queen of Scots. I tuned in to the latest episode on the recommendation of fellow CF writer Gloria, and I am so glad I did. It's like Gossip Girlmeets Game of Thrones (though sadly, there aren't any dragons – unless you count Francis II's mother, Catherine), which is a match made in heaven for me.
I'll definitely have to catch up, because despite not knowing any of the characters' names or the past story lines, I was hooked. I kept saying – or yelling, according to my boyfriend, who kept rolling his eyes and sighing in a long-suffering manner – things like, "What? I can't believe the brunette in the cute dress did that! What is wrong with her?"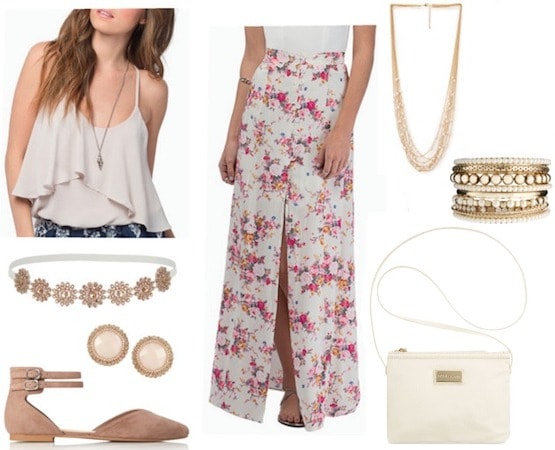 Product Info: Top, Skirt, Necklace, Headband, Earrings, Shoes, Bracelet Stack, Purse
Mary's handmaiden, Lola, is wearing an outfit that you'll either love or hate. To be honest, I wasn't the biggest fan of it at first glance, but then I started to notice all of the little details, and the outfit grew on me. Because I don't think I'm strong enough to run around in that giant, heavy dress, I'd switch it out for a bright floral print maxi skirt and a loose white crop top. Slip on a cute pair of neutral flats and sling a white faux leather cross-body bag over your shoulder.
Lola's ensemble is all about the delicate, neutral-toned jewelry. Start with an intricate headband and a pair of small earrings as well as a long chain necklace and a few bangles. This feminine, sophisticated look has a boho flair that would be perfect for a springtime date or a casual outing with friends.
2. Psych (Season 8, Episode 10): Juliet's White Slip and Gold Pendant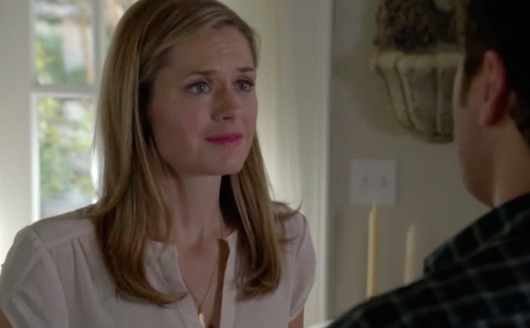 (Photo Credit – Screenshot)
Psych is one of my favorite shows on television. Well, it was. Sob. The series finale just aired, and I'll be honest, I haven't cried so much since Dumbledore died. It was the perfect ending to a hilarious, heartwarming, and highly entertaining crime show. To quote almost every high schooler I know, "It hit me right in the feels."
I've discussed the show, which follows a fake psychic detective, before (see here and here for more recaps), but I'll say it again – I highly recommend watching this cult hit. (FYI: seasons 1-6 are streaming on Netflix.) It's really fun, and it's the kind of show you'll be quoting years later with your friends. In fact, my go-to conversation starter/pickup-line is still "Did you hear about Pluto? That's messed up."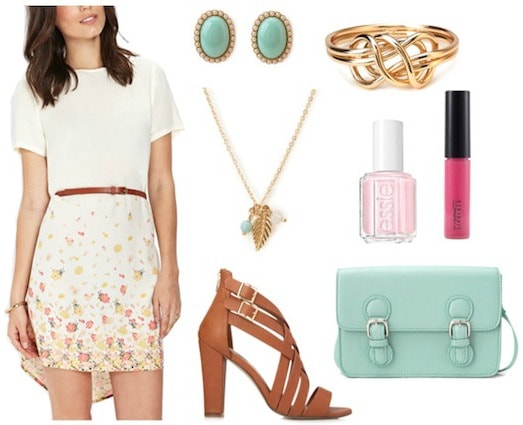 Product Info: Dress, Earrings, Necklace, Shoes, Bracelet, Nail Polish, Lip Gloss, Purse
Juliet's outfit is one of those magical outfits that works for both fancy lunches and just walking around campus in the spring. (For those of you, who, like me, are living in Michigan, where there's still snow on the ground, just pretend that spring might actually come and we will once again be able to wear cute outfits like this.) The key to this versatile look is the on-trend white slip. Juliet wore a slip tunic and nice slacks, but since you (hopefully) won't be chasing down criminals, you can switch that out for a cute white slip dress that we know Juliet would love for the springtime. Add a cute pair of strappy sandals and a mint faux leather bag to give the outfit a little more color.
Put on a gold leaf pendant necklace, a pair of pastel studs, and a fun bracelet to accessorize this simple yet chic outfit. Paint your nails with a few coats of a sheer pink polish, then grab some bright pink lip gloss for a fun and flirty pop of color.
Your thoughts?
What do you think of these looks? Did we miss any amazing outfits from the past week of TV? Which shows do you think deserve a spot on the next TV Fashion Recap post? Leave a comment below and tell us what you think!