TV Fashion Recap is a biweekly column featuring the best of TV fashion. Every other week, we recreate our favorite outfits from the most recent episodes of all of the hottest shows. Stay tuned; we may feature your favorite show next!

Every other week, I break down the best of TV fashion, featuring my favorite looks from the last two weeks. This week, I was inspired by Red Band Society and Dick Clark's New Year's Rockin' Eve 2015 with Ryan Seacrest (say that five times fast!). Read on to see both looks:
1. Red Band Society (Season 1, Episode 10): Kara's Matching Crop Top and Skirt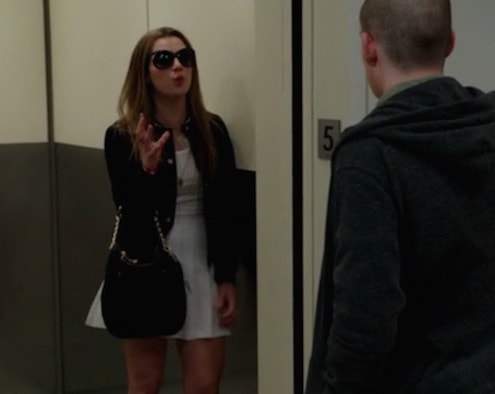 Photo Credit – Screenshot
I'm a little bit distraught that Red Band Societygot cancelled. First Firefly, then Veronica Mars, and now this? It's an outrage! I hate when series that I love get cancelled, especially when they end on a cliffhanger, like the Red Band Society did. There are three unaired episodes left, so I may get closure, but I'm not holding my breath.
CF reader Sms2014 requested another post on this amazing show, so despite the fact that my heart is a little broken because this Glee/The Fault in Our Stars hybrid is cancelled, I sucked it up and focused on what really matters: the fashion.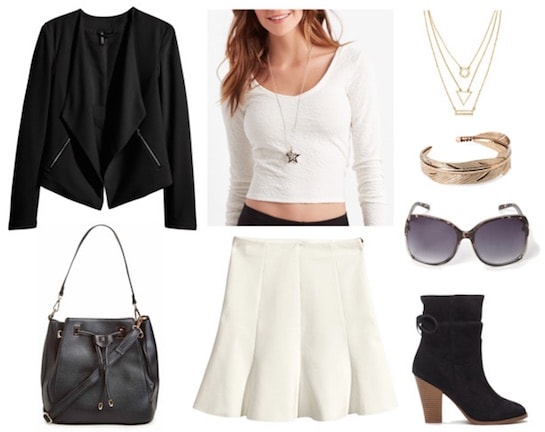 Jacket, Crop Top, Necklace, Bracelet, Sunglasses, Purse, Skirt, Shoes
I was not a huge fan of Kara's fashion when this show first started, but she really stepped it up in recent episodes! I love her matching separates – it's a cute trend that's still going strong as we head into 2015. To recreate the look, start with a white crop top and a white flared skirt. To make it more modern, contrast the separates with a black jacket and a black vegan leather bag. Kara wore wedges, but to make this outfit a little more cold weather-friendly, I'd suggest fleece tights and heeled boots.
Because the black and white contrast is somewhat simple, you can really have fun playing up the accessories. I'd suggest following Kara's lead and adding gold layered necklaces and oversized black sunglasses, but a fun pop of color would also look fab.
2. Dick Clark's New Year's Rockin' Eve 2015 with Ryan Seacrest: Taylor Swift's Sequin Bralet and High-Waisted Pants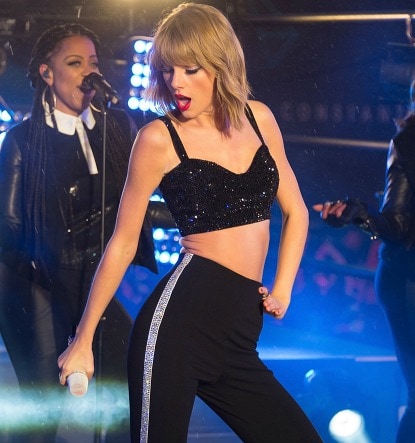 Photo Credit – ELLE
Taylor Swift, if you're reading this, I love you and we should be best friends. You like cats, I like cats; you can bake, I can eat; you can sing amazingly catchy tunes and I can dance awkwardly to them – basically, we are meant to be BFFs.
Anyway, my admittedly somewhat obsessive love for T. Swift aside, Taylor rocked my socks off during her New Year's performance, not just with her energetic songs, but also with her bold fashion choices. She chose high-waisted pants with sequin tuxedo stripes down the sides, as well as a sequin bralet.
This was daring because A) it's a sequin bralet and B) it was the middle of winter. I would have been huddled in a corner, trying to shake off the cold instead of the haters (I'm so sorry for how cheesy my jokes are).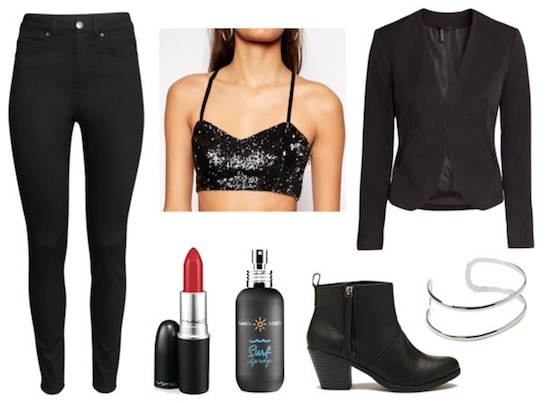 Pants, Bralet, Blazer, Lipstick, Surf Spray, Booties, Bracelet
I don't know about you, but I don't have any New Year's concerts viewed by millions to perform in my calendar just yet (and if my singing in the shower is any indication, I never will), so I toned down the look to make it a little more wearable for parties and going out.
To recreate her ensemble, start with a black sequin bralet and high-waisted black jeans. Layer on a black or gray fitted blazer – for maximum oomph, keep it unbuttoned, but if you, like me and Taylor Swift, prefer to keep your belly-button hidden, it will still look great buttoned up with the bralet peeking through.
Taylor managed to dance around in giant sparkly wedge booties, but I know that I'd put them on, stand up, and immediately sprain an ankle, so I swapped them for simple black heeled booties.
Don't overdo it with the accessories – a silver cuff bracelet or a pair of small earrings is all you really need. Add sea salt spray to your hair for a messier, more casual 'do that's a cool contrast to the glam outfit. Also, don't forget Taylor's signature beauty look: bright red lipstick.
Your thoughts?
What do you think of these looks? Did we miss any amazing outfits from the past week of TV? Which shows do you think deserve a spot on the next TV Fashion Recap post? Leave a comment below and tell us what you think!