TV Fashion Recap is a new biweekly column featuring the best of TV fashion. Every other week, we recreate our three favorite outfits from the most recent episodes of all of the hottest shows. Stay tuned; we may feature your favorite show next!

Every other week, I break down the best of TV fashion , featuring my three favorite looks from the last two weeks. This week, I was inspired by Pretty Little Liars, Chelsea Lately, and Royal Pains. Read on to check out the outfits!
1. Pretty Little Liars (Season 3, Episode 6): Hanna's Yellow Dress & Bold Heels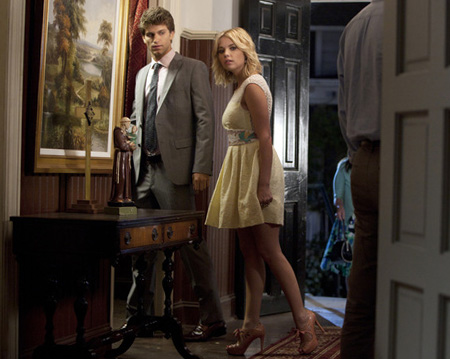 ABC Family's smash hit Pretty Little Liars is easily one of my favorite shows on television. It follows four high school besties — Aria, Emily, Spencer, and Hanna–as they try to solve the murder of their former best friend and Queen Bee, Alison. A mysterious person or group of people collectively known as 'A' is also harassing the girls by framing them for crimes they didn't commit, blackmailing them, and oh, yeah — occasionally trying to kill them.
This episode focuses on the girls' search for the truth. Who's helping former police officer and current suspect Garrett? If Mona's locked away in a mental hospital, who's the new 'A'? Why does Aria's boyfriend and former teacher Ezra suddenly have giant wads of cash lying around after just losing his job? As always, this episode only raised new questions and left me wanting to know so much more!
Hanna, played by Ashley Benson, pretends to be shallow, but she is very sensitive and intelligent. She may be the It Girl on campus, but she always protects her less popular friends and worries about the safety of everyone else. She's such a fun, bubbly sweetheart, and to top it off, she's absolutely gorgeous and has the cutest style.
Outfit Inspiration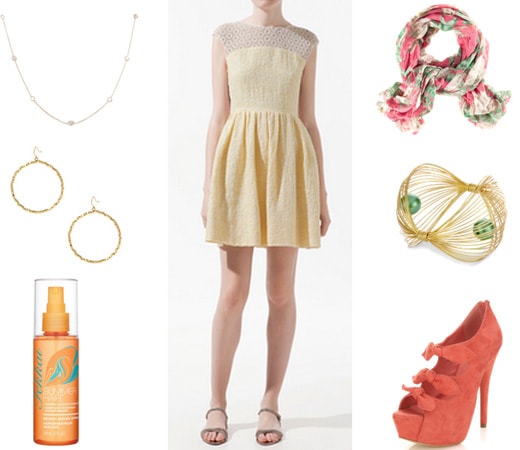 (Product Information: Necklace – Humble Chic, Dress – Zara, Scarf – H&M, Earrings – Otte, Bracelet – Endless, Fekkai Beach Waves Spray – Nordstrom, Shoes – Miss Selfridge)
When I saw Hanna step into the party in this gorgeous crocheted Zara dress and cute bow heels, I was immediately overwhelmed by how adorable and summery she looked. The crocheted details on the neckline added visual interest and texture to the outfit. The short hemline of the dress emphasized her long legs, and when paired with the tiered bow heels, added a definite sexy vibe. Hanna paired her dress with a wide, silky floral belt to cinch her waist and added subtle, delicate accessories.
To recreate this look, start with the exact gorgeous dress Hanna is wearing in the show – it's from Zara and linked above. Slip on a pair of coral platform heels –these shoes are girly and fun and add a great pop of color to the look. Tie a floral scarf around your waist to recreate Hanna's silky floral belt. Keep the accessories delicate: Gold hoop earrings, a simple bracelet, and a small necklace add a bit of glam. Don't forget the final touch — Hanna's signature waves. You can achieve this look by using a sea salt spray, and, for more polished waves, a curling iron.
2. Chelsea Lately (Season 6, Interview with Russell Brand): Chelsea's Hot Pink Button-Up Shirt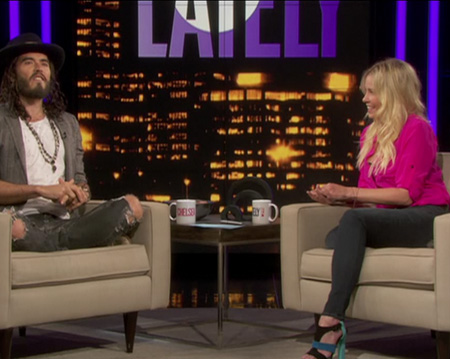 Chelsea Lately, the talk show hosted by comedian Chelsea Handler, is my favorite source for celebrity gossip and odd news. Chelsea and three guest comedians provide funny, sarcastic commentary on the most popular news stories of the day. After putting in her hilarious two cents on topics such as the rumors that Miley Cyrus is ready to start a family with her new fiance, she turns to the interview portion of the show.
In this episode, she interviewed Russell Brand about his new show, Brand X, his distrust of newspapers, and the trials of mothering their television staff… and looked fabulous while doing so.
Outfit Inspiration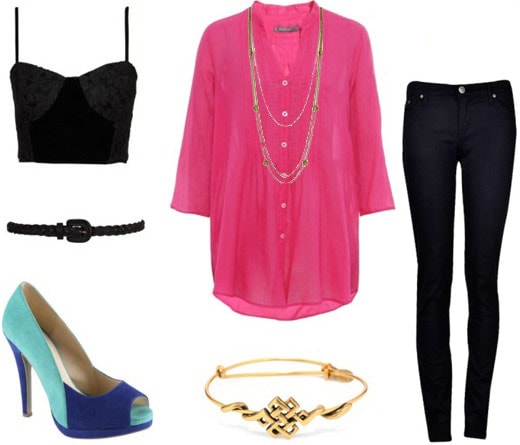 (Product Information: Corset – General Pants Co., Shirt – Jules B, Necklace – Fantasy Jewelry Box, Belt – Fashion Union, Jeans – Ally Fashion, Shoes – Spring, Bracelet – Alex and Ani)
In this episode, Chelsea paired a bright pink button-up shirt with color blocked heels for an effortlessly fabulous look. To keep the focus on the bright pink color of her shirt, she added black skinny jeans and a black tank top. Next, she added bold blue color blocked heels to contrast with the pink. She finished with delicate gold accessories.
This look centers around the button-up shirt: this one, from Jules B, has beautiful paneled details and a perfectly slouchy shape. Cinch it at the waist with a skinny belt to avoid being overwhelmed by fabric. Unbutton the shirt just enough so that the top of a nice black tank top can show through for extra interest — this lacy bustier is perfect and you can wear it under the shirt for a toned-down daytime look. For the shoes, don't shy away from vibrant colors. The light and dark blue blocks on these high heels are gorgeous and fun, and the peep toe style is perfect for summer. Don't forget delicate jewelry to finish the ensemble.
3. Royal Pains (Season 4, Episode 5): Divya's White Body-Conscious Dress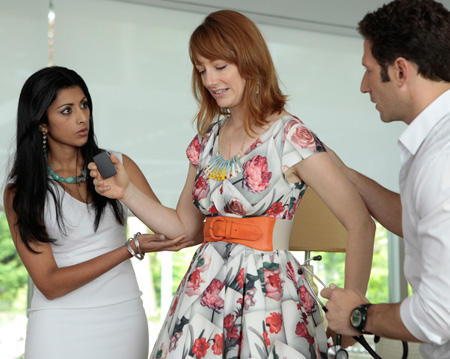 USA Network's Royal Pains follows wrongly disgraced doctor Hank Lawson as he rebuilds his life in the Hamptons as an on-call "concierge" doctor for the rich, famous, and secretive. His brother comes along for the ride as his business manager and comedic relief, and the driven Divya Katdare offers to be his Physician's Assistant.
In this episode, Hank and Divya treat a matchmaker intent on making them her next project, while Hank's brother tries to figure out some serious issues on the business end of Hank's practice.
Divya Katdare, this week's fashion focus, is wildly intelligent and has a sharp wit that is often directed at Hank's brother, Evan. She has struggled with the amount of control her parents have on her life choices, and led them to believe that she got a degree in business rather than medicine. She also broke off an engagement with a man her parents pushed her toward, causing significant friction and leading them to cut her off financially. Though she is having trouble getting back on her feet, she still looks fantastic. Her clothing is sophisticated, sexy, and perfect for summer.
Outfit Inspiration
(Product Information: Necklace – Pree Brulee, Dress – Wallis, Bracelets – Debenhams, Earrings – Republic, Ring – Bijou Brigitte, Shoes – My Hot Shoes, Bag – Debenhams)
Divya's white body conscious dress, paired with a turquoise necklace was striking: the bold statement necklace contrasted beautifully with the white dress. She accessorized the look with a black patent leather bag, acting as a fashion-forward medicine supply kit. She accessorized with high heels, and ornate bracelets and earrings. Her outfit was classy, simple, and elegant, but the pops of color added a fun, perfectly summery vibe.
To recreate this look, start with a little white dress: This bandage dress, from Wallis, is perfect. Add a bold turquoise necklace to give it that Divya vibe. Next, grab a structured bag to carry all the essentials — even if your essentials are less likely to include a stethoscope and more likely to include the latest issue of Allure. Slip on a nice cocktail ring: this large nude ring is gorgeous but doesn't compete with the necklace. Don't forget to put on a few bracelets and a nice pair of dangling earrings. Finally, add a pair of high heels: these hot pink peep toe platforms have a beautiful vibrant color that complements the turquoise necklace.
Your thoughts?
What do you think of these looks? Which one is your favorite? Did we miss any amazing outfits from the past week of TV? Which shows do you think deserve a spot on the next TV Fashion Recap post? Leave a comment below and tell us what you think!