TV Fashion Recap is a biweekly column featuring the best of TV fashion. Every other week, we recreate our favorite outfits from the most recent episodes of all of the hottest shows. Stay tuned; we may feature your favorite show next!

Every other week, I break down the best of TV fashion, featuring my favorite looks from the last two weeks. This week, I was inspired by ABC Family's Pretty Little Liars summer finale and Fox's new comedy, The Mindy Project.Read on to check out the outfits!
1. Pretty Little Liars (Season 3, Episode 12): Spencer's Polished Purple Ensemble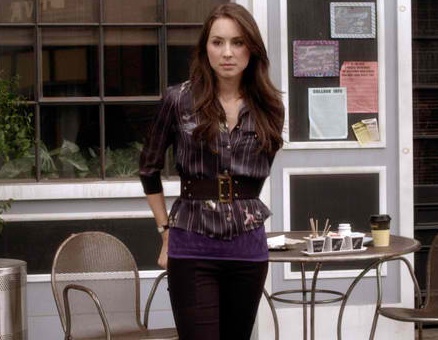 Though Pretty Little Liars has already been featured on TV Fashion Recap, the summer finale was absolutely mind-blowing. Who else was stunned when another member of "The A Team" was revealed? I won't spoil anything for those of you who haven't seen it yet, but wow — I was not expecting that! The betrayals, complicated secrets, and life-threatening situations make this show dangerously addictive, but as always, it was the fashion that stood out the most.
Spencer Hastings, the overachieving, headstrong leader of the Liars, is smart, stubborn, and dedicated. She is very protective of those closest to her, especially her love interest, Toby Cavanaugh. She never backs down and always wants to dig deeper into the death of the twisted – yet very fashionable – Alison DiLaurentis, and learn the identities of the mysterious A-Team. Her style is very preppy and she gravitates towards tailored shirts, muted colors, and interesting prints.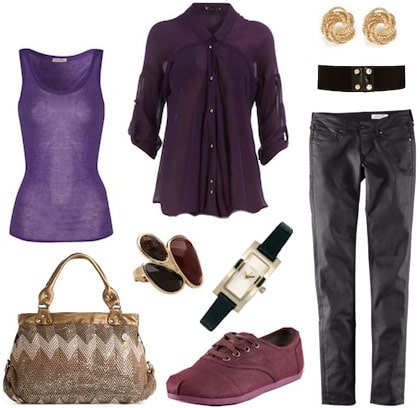 (Product Information: Tank Top – The Dressing Room, Blouse – Dorothy Perkins, Earrings – Windsor , Ring – Witchery, Belt – ASOS, Watch – ASOS, Jeans – H&M, Purse – DSW, Shoes – Neiman Marcus)
In this episode, Spencer shined in a monochromatic purple ensemble with a trendy peplum silhouette.
To recreate this perfect fall look, start with a fitted purple button-up shirt and a matching purple tank, then add a black studded belt to emphasize your waist. Pull on some trendy coated jeans and a pair of purple flats. Add a neutral bag like this sequined one from Big Buddha — the color helps break up the purple and prevent the outfit from being too matchy-matchy. Don't forget a classic black watch and some small earrings to capture Spencer's preppy style! A brown gem ring finishes the look, emphasizing the rich colors of the ensemble.
2. The Mindy Project (Season 1, Episode 1): Mindy's Sequin Dress and Coral Nails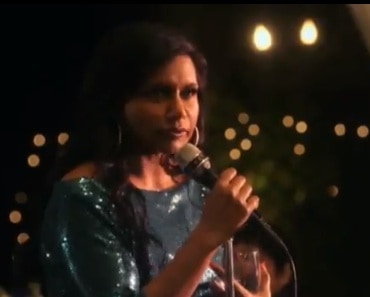 (Photo Credit – Screenshot)
Though it does not officially air until September 25, The Mindy Project's pilot was released online a month early, to my extreme joy.
In case you haven't heard of it, The Mindy Project is the brainchild of comedian and actress Mindy Kaling (Kelly from The Office). It follows Mindy (played by Kaling), a single doctor trying to get her personal and professional life on track. She's a hilarious Bridget Jones-esque hot mess who wishes she was the star of a romantic comedy, though as one of her friends points out, her life is more like "a documentary about a criminally-insane spinster."
In the pilot episode, Mindy makes a cringe-worthy speech at an ex's wedding and then deals with the aftermath of getting so drunk that she falls into a pool, has a hallucination where she is taunted by a Barbie doll for not having a boyfriend, and then gets arrested for drunken disorderliness. She then decides that she is going to turn her life around and sets a new course that leads her to a first date with a Dennis, played by the charming Ed Helms (Andy from The Office) and sets new professional goals, which include getting fabulously wealthy and not sleeping with fellow English doctor/resident stud Jeremy, played by Ed Weeks.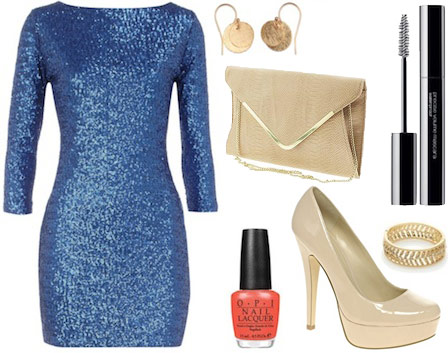 (Product Information: Dress – Dorothy Perkins, Earrings – Simply Soles, Bracelet – Kohl's, Clutch – Piperlime, Mascara – Shu Uemura, Nail Polish – Are We There Yet? by OPI, Heels – ASOS)
Mindy wows at her ex's wedding, both because of her speech about her breakup with the groom and because of her gorgeous blue sequined dress.
To recreate her look, start with a sparkly cobalt minidress, preferably with long sleeves. To keep the dress as the focus, choose simple accessories: Delicate gold earrings, a neutral envelope clutch and a small textured bracelet are perfect complements. Beige heels keep the look classic and are formal enough for a wedding. For the final touch, rock coral nail polish to add a fun pop of color.
Your thoughts?
What do you think of these looks? Which one is your favorite? Did we miss any amazing outfits from the past week of TV? Which shows do you think deserve a spot on the next TV Fashion Recap post? Leave a comment below and tell us what you think!