TV Fashion Recap is a biweekly column featuring the best of TV fashion. Every other week, we recreate our favorite outfits from the most recent episodes of all of the hottest shows. Stay tuned; we may feature your favorite show next!

Every other week, I break down the best of TV fashion, featuring my favorite looks from the last two weeks. This week, I was inspired by Pretty Little Liars and Shark Week. Read on to see both looks:
1. Pretty Little Liars (Season 5, Episode 10): Emily's Plaid Shirt and Skinny Jeans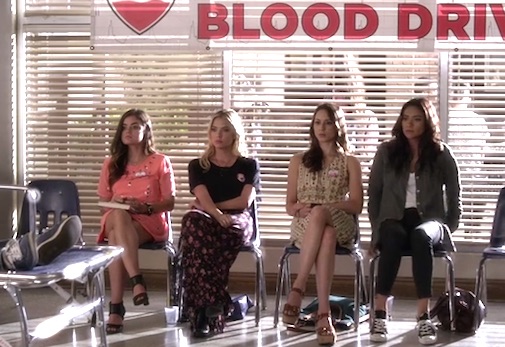 (Photo Credit – Screenshot)
Pretty Little Liarsis one of those shows that I can't even talk about – my words just come out as high pitched squeaks and I have to supplement it with wild hand motions and crazy eyes. Do I look like a rabid squirrel? Maybe, but I can't help it – this show just brings out my inner fangirl.
Every plot twist blows my mind, every wardrobe change has me salivating, and every time Hanna and Caleb have a moment, I die from the cuteness. If you don't watch it, grab some popcorn and start marathoning it today. You won't be sorry! (Unless your addiction takes over your life, like it has overtaken mine.)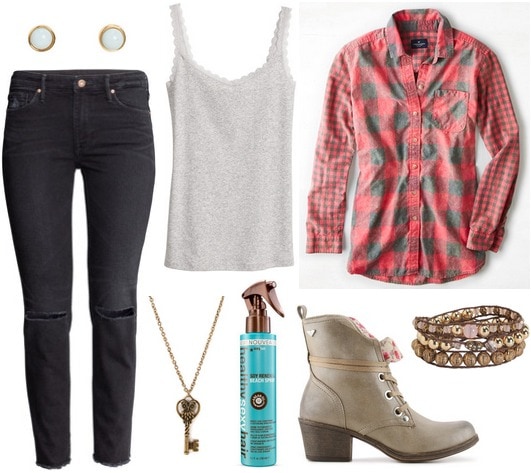 Product Info: Jeans, Tank, Flannel, Necklace, Texturizing Beach Spray, Bracelet, Earrings
When school gets crazy busy, my fashion game starts going downhill fast, and as exams approach, I give up completely. I'm not kidding – the day before my Calculus exam, I accidentally wore two different shoes in two different sizes, and one of them wasn't even mine! It's bad.
One of my fashion goals this year is to make my comfortable, low-effort outfits significantly cuter/socially acceptable, so I immediately fell in love with Emily's laid-back look. To recreate this outfit, start with a neutral tank, a button-down plaid shirt, and black jeans. Give the outfit a little more polish with comfy-chic taupe booties, a cute pendant necklace, and a beaded bracelet.
I'm the type of person that can barely manage a basic braid, so when I don't have time to straighten my hair (which is almost every day, in case you were wondering), I like to put some texturizing salt spray in my hair to get Emily's casual, beachy waves.
And that's it! It's so easy that I don't have any excuses to dress haphazardly this year (with the exception of 8AM classes – I'm not superhuman).
2. Shark Week 2014: Shark Tank and Burgundy Skater Skirt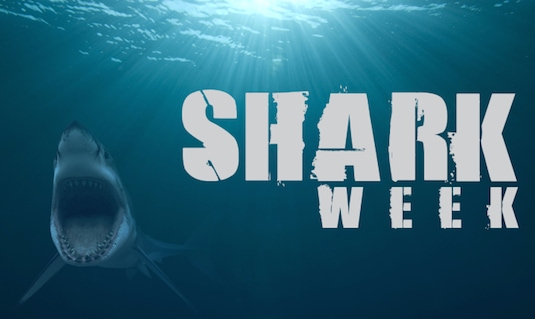 It's my favorite time of the year! Not because school is starting (ugh) or Starbucks' Pumpkin Spice Lattes are coming back soon (okay, I'm counting down the days for that), but because of Shark Week, the Discovery Channel's 7 day shark bonanza.
Did you know that some scientists want to use shark skin to treat bacterial infections because bacteria rarely grows on sharks? I did, thanks to spending the entire week camped in front of the TV, learning about sharks and all the different ways that they are awesome.
One of my most useful life mottos is "live every week like it's Shark Week." It sounds profound, but what does that mean, exactly? It means that you should be a total badass, you should completely immerse yourself in whatever you're interested in learning about, and that you should binge watch all of the old Shark Weeks on Netflix.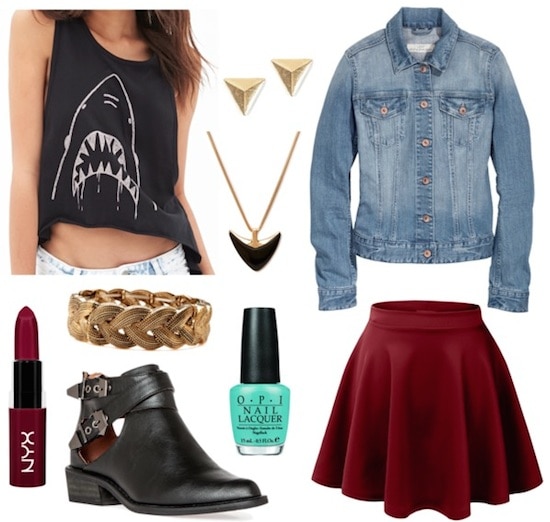 Product Info: Tank, Earrings, Jacket, Necklace, Lipstick, Bracelet, Booties, Nail Polish, Skirt
In honor of this joyous occasion, I had to create an edgy and adorable Shark Week-inspired look that will have everyone around you in a fashion frenzy (too cheesy?)!
Start with a shark graphic tank tucked into an oxblood skater skirt. Grab a faded jean jacket to make this outfit a little more fall-friendly. Slip on a pair of faux leather booties, which are not only trendy for fall, but channel sharks' badass spirits.
Accessorize with edgy tarnished gold jewelry and dark red lipstick. Finish with few coats of a sea green nail polish to add a fun pop of color to this adorable outfit.
Your thoughts?
What do you think of these looks? Did we miss any amazing outfits from the past week of TV? Which shows do you think deserve a spot on the next TV Fashion Recap post? Leave a comment below and tell us what you think!