TV Fashion Recap is a biweekly column featuring the best of TV fashion. Every other week, we recreate our favorite outfits from the most recent episodes of all of the hottest shows. Stay tuned; we may feature your favorite show next!

Every other week, I break down the best of TV fashion, featuring my favorite looks from the last two weeks. This week, I was inspired by Pretty Little Liars and Modern Family. Read on to check out the outfits!
1. Pretty Little Liars (Season 3, Episode 21): Hanna's Studded Hi-Low Blouse and Coated Jeans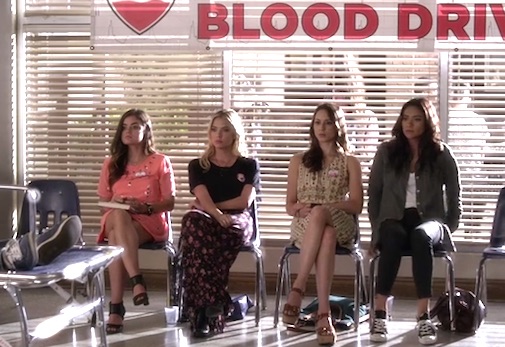 (Photo Credit – Screenshot)
It's no secret that I'm obsessed with ABC Family's Pretty Little Liars (see here and here for more PPL inspired recaps), but last night's episode was one of the most intense episodes yet. I don't think I can handle another cliffhanger. What do you guys think about Toby? Is he dead or alive? (I'm hoping alive – he was one of my favorite characters, and I still cling to the hope that we'll see him shirtless again.) Leave a comment below so we can share theories!
Hanna, one of my favorite liars, looked amazing in this episode (as usual). She always has the perfect mix of feminine and edgy pieces in her wardrobe, and she always looks flawless and on-trend.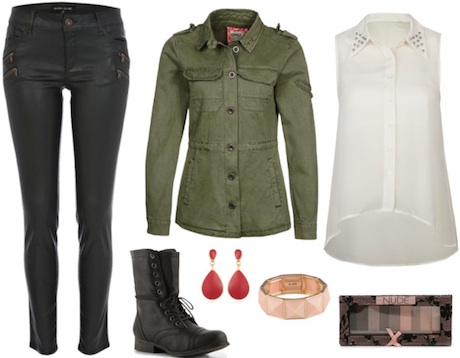 (Product Information: Jeans – River Island, Jacket – Zalando, Blouse – Tilly's, Shoes – DSW, Earrings – Charm & Chain, Bracelet – Aldo, Nude Eye Palette – Drugstore.com)
To recreate Hanna's military-inspired look, start with a sheer white hi-low blouse with a studded collar. Pair it with an unbuttoned olive green jacket and coated jeans. Slip on a pair of dark leather boots.
Now it's time for the finishing touches. To create an interesting contrast to the edgy clothing, add a pair of large, girly earrings — Hanna's signature — for a pop of color, and slip on a feminine bracelet or two. To finish off the look, create a grey smokey eye like Hanna's.
2. Modern Family (Season 4, Episode 17): Haley's Printed Dress and Basic Blazer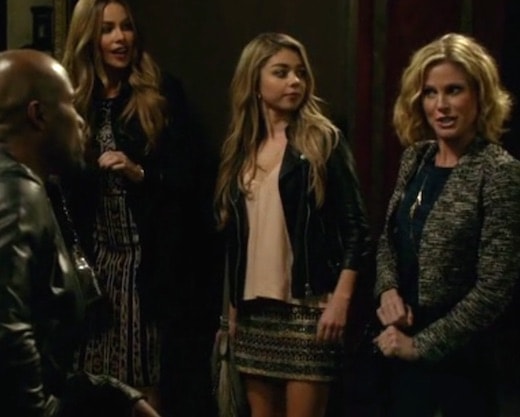 (Photo Credit – Screenshot)
ABC's Modern Family seems to get funnier every episode, which is impressive, considering the show is in its fourth season. I love it, and have featured it before, but Haley's sophisticated, yet bohemian look in this episode made me swoon. (And how cute was the mother-daughter bonding in this episode? Every girl who has reconnected with her mom post-HS could relate!)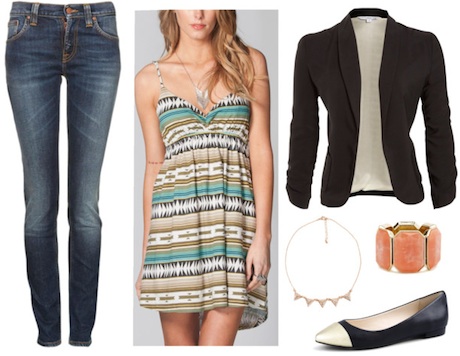 (Product Information: Jeans – Van Mildert, Dress – Tilly's, Blazer – New Look, Necklace – Forever 21, Bracelet – Charlotte Russe, Shoes – C. Wonder)
Haley's outfit would be great for a cooler spring day on campus. To recreate this look, start with a loose geometricprint dress. Slip on a pair of medium wash jeans and a dark fitted blazer to add structure to the outfit. Don't forget to wear a cute triangle-studded gold necklace like Haley's, and put on a chunky stone bracelet to add color to the outfit. Finish off with a cute pair of flats; these cap toe ones are cute and polished, but the metallic gold still goes well with the bohemian vibe of the dress and jewelry.
Your thoughts?
What do you think of these looks? Did we miss any amazing outfits from the past week of TV? Which shows do you think deserve a spot on the next TV Fashion Recap post? Leave a comment below and tell us what you think!