TV Fashion Recap is a biweekly column featuring the best of TV fashion. Every other week, we recreate our favorite outfits from the most recent episodes of all of the hottest shows. Stay tuned; we may feature your favorite show next!

One of the best shows and casts in TV history. | Photo Credit
Every other week, I break down the best of TV fashion, featuring my favorite looks from the last two weeks. This week, I was inspired by Parks and Recreation's phenomenal series finale.
Can we have a moment of silence to mourn the ending of one of my favorite comedy series of all time, Parks and Recreation? It's seven seasons of hilarity, strong female characters, and of course, Ron Swanson, who gave us such wisdom as "There's only one thing I hate more than lying: skim milk. Which is water that's lying about being milk" and "History began July 4th, 1776. Anything before that was a mistake." God, I'm going to miss him.
This is one of those shows that has me perpetually cracking up and trying not to cry at the same time. That sounds odd and slightly frightening, but the show is just so incredibly heartwarming and witty. I cried throughout the series finale, and afterward, I needed to have a Treat Yo' Self day. (If you haven't heard of this phenomenal holiday, you need to watch this clip and then treat yo' self to some serious Parks and Rec marathoning, cupcakes, and online shopping.)
Read on to see both of these Parks and Rec-inspired looks:
April's Printed Tank and Cobalt Cardigan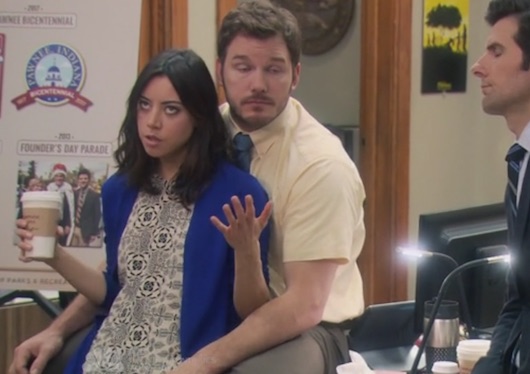 Classic April face. | Photo Credit
April is sarcastic, anti-social, and a little dark. She's also my spirit animal. She says extremely relatable things like, "I hate talking to people about things" and "I don't want to do things. I want to not do things," which I think to myself every time I do Calculus homework. She also has a soft spot for animals, so we could hang out, hold puppies, and make fun of Jerry, the Parks character who's a punchline unto himself.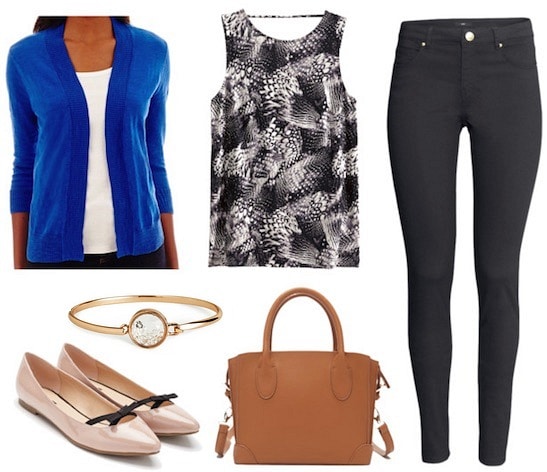 Cardigan, Tank, Pants, Flats, Bracelet, Purse
To recreate April's casual and sophisticated outfit, start with a black-and-white printed tank paired with a bright blue cardigan for a fun pop of color. Slip on a pair of dark wash or black skinny jeans to keep the focus on the cobalt sweater and the light-colored accessories.
Wear neutral flats – this pair has a bow detailing that we know April would love. Well, she'd roll her eyes and insult them, which is April's equivalent to gushing. Accessorize with a large, tan bag; crossbody bags are one of her wardrobe staples. I assume that's where she keeps her eyeliner and alcohol (two of her favorite things). Finish off with a small, sparkly bangle to add subtle dose of glam to the outfit.
Lucy's Skater Dress and Statement Necklace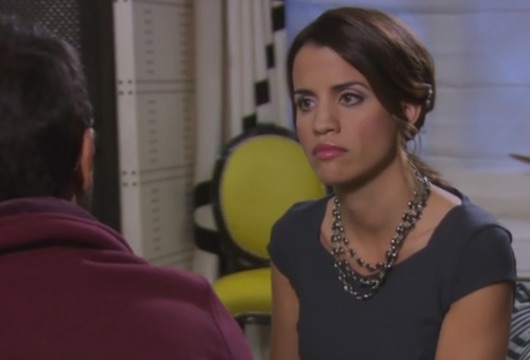 Lucy's also mastered the 'April face' | Photo Credit
Lucy is one of Tom Haverford's love interests, and I can see why. She's gorgeous, smart, and witty. She also shares wise life advice, such as "My father told me that a limp handshake was for weak men and communists. He hated both." She's got Ron Swanson's stamp of approval, which means she has mine, too.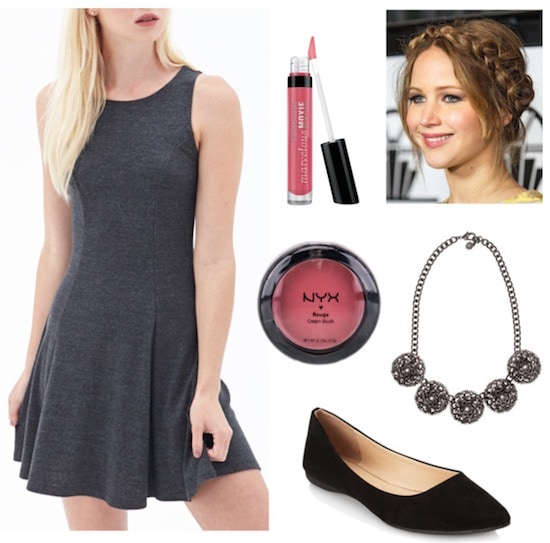 Dress, Lipgloss, Blush, Necklace, Flats | Hair Photo: ELLE
Lucy's look is perfect for a date or girl's night – it's glamorous and most importantly, super-easy to recreate. Start with a gray skater dress and a gray or black statement necklace. Slip on a pair of black flats – the black and gray color palette will make the romantic pink makeup stand out more.
Swipe on a few coats of a coral pink lipgloss, then apply a cream blush in a similar shade. Cream blush looks dewier than its powder counterpart, so it'll help give you Lucy's radiant glow.
Lucy finished off her look with a gorgeous braided updo, so for bonus points, try something like this, or if you are like me and can't even manage a ponytail half the time, get one of your friends (or a confused and tortured-looking boyfriend – thanks, honey!) to help.
Your thoughts?
Did you watch the Parks and Rec series finale? What do you think of these looks? Did we miss any amazing outfits from the past week of TV? Which shows do you think deserve a spot on the next TV Fashion Recap post? Leave a comment below and tell us what you think!