TV Fashion Recap is a biweekly column featuring the best of TV fashion. Every other week, we recreate our favorite outfits from the most recent episodes of all of the hottest shows. Stay tuned; we may feature your favorite show next!

Every other week, I break down the best of TV fashion, featuring my favorite looks from the last two weeks. This week, I was inspired by Parks and Recreation and Marvel's Agent Carter. Read on to see both looks:
1. Parks and Recreation (Season 7, Episode 6): April's Cardigan and Red Skater Skirt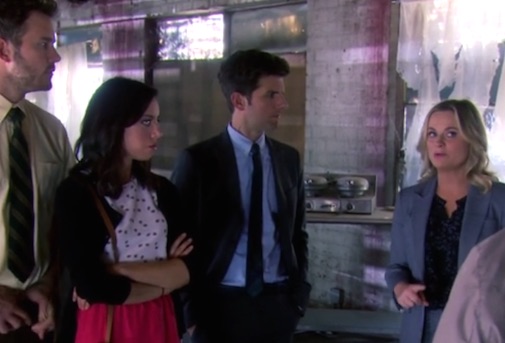 Photo Credit – Screenshot
When I heard that the final season of Parks and Recreation was going to be set several years into the future without Rashida Jones or Rob Lowe, I was afraid that my beloved comedy was headed downhill quickly. Shame on me for doubting the talented cast and crew. I'm loving this season; in fact, I might even say that it's one of my new favorites. It's fresh and fun, without sacrificing the goofy, dorky vibe I fell in love with.
If you haven't tuned in, I'd highly recommend toughing out the first season, or at least skipping through it. It's nowhere near as good as the following seasons and it isn't representative of how hilarious and amazing the show and cast are.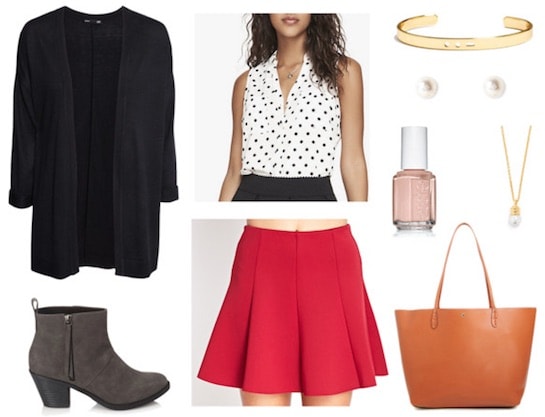 Cardigan, Top, Bracelet, Earrings, Nail Polish, Necklace, Boots, Skirt, Purse
I love the way April's style has evolved throughout the years. She leans more toward preppy and classic pieces now, but she always adds a youthful, fun element to her outfits. Though if you ever referred to anything about her as "fun" or "youthful," she'd probably murder you.
To recreate the look, start with a dotted button-up blouse and a long, loose-fitting black cardigan. Add an unexpected pop of color with a brightly-colored skater skirt, which also gives the outfit more shape.
I recommend keeping the accessories small and classic because of the printed top and the splash of vibrant color. Delicate gold jewelry and a pair of dainty earrings spice up the look without overpowering it. Slip on a pair of gray booties and carry a light cognac bag to polish off the outfit.
2. Marvel's Agent Carter (Season 1, Episode 4): Peggy's Fitted Suit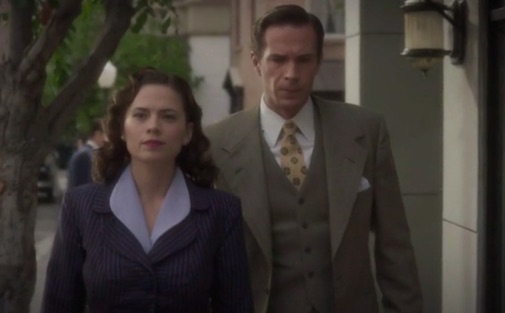 Photo Credit – Screenshot
I love comic books and superheroes, but I also love good representations of women in the media. This often makes things difficult for me because so often in this genre, women are eye-rollingly helpless, rely on batted eyelashes and cleavage rather than intelligence, and/or wear skin-tight leather outfits that would be absolutely impossible to move in, let alone fight in and do backflips off of buildings.
Marvel's Agent Carter, however, is doing a pretty good job of straying away from that stereotype, and I love it. I'd highly recommend the show, primarily because of Peggy, the main character. She's the epitome of a professional, confident badass. Her suit isn't bikini-sized or made of studded leather – it's a smart tailored blazer and pencil skirt. And she rocks it.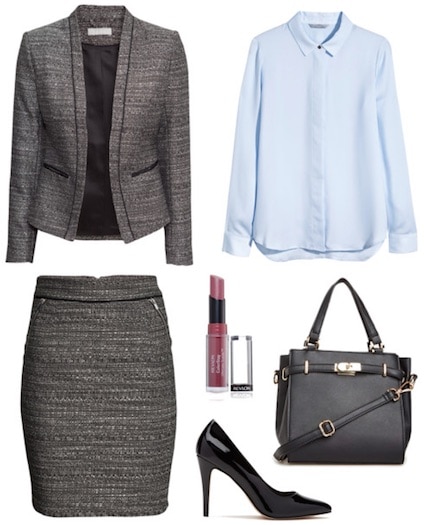 Jacket, Blouse, Skirt, Shoes, Lipstick, Purse
To recreate this look, which is ideal for a formal workplace or an interview, start with a fitted blazer and pencil skirt. Peggy looks so amazing because A) she's played by the beautiful Hayley Attwell, and B) her suit is perfectly fitted. The blazer has a drawn-in waist and a slightly peplum shape, and the pencil skirt is high-waisted and subtly striped.
A light-colored blouse peeking through the blazer's lapels lightens up this interview-ready outfit. I remember reading somewhere that job interviewees should wear blue because it suggests honesty and trustworthiness, so I'd suggest a blue blouse like Peggy's. Bonus: blue is also a universally flattering color.
Add patent leather pumps (or flats, if you're like me and have had traumatic experiences while teetering wildly in high heels) and a structured black bag. Peggy rocks a slightly darker berry lip, which adds some color to the outfit without looking unprofessional. The most important accessory Peggy wears, as cheesy as it is, is confidence. Stand up straight and tell yourself that you're amazing and confident – it'll show and you'll look so much more like the capable, well-dressed badass you are.
Your thoughts?
What do you think of these looks? Did we miss any amazing outfits from the past week of TV? Which shows do you think deserve a spot on the next TV Fashion Recap post? Leave a comment below and tell us what you think!