TV Fashion Recap is a biweekly column featuring the best of TV fashion. Every other week, we recreate our favorite outfits from the most recent episodes of all of the hottest shows. Stay tuned; we may feature your favorite show next!

Every other week, I break down the best of TV fashion, featuring my favorite looks from the last two weeks. This week, I was inspired by Once Upon a Time and The Walking Dead.Read on to check out the outfits!
1. Once Upon a Time (Season 2, Episode 4)
ABC's Once Upon a Time is one of my favorite shows. The plot is a bit complex (click the link for a full synopsis), but suffice to say, it focuses on fairy tale characters living in the modern world… except they don't know their true storybook identities. Overall, it's a great show with beautiful special effects and a truly unique storyline.
1. Ruby's Leather Pants and Edgy Jewelry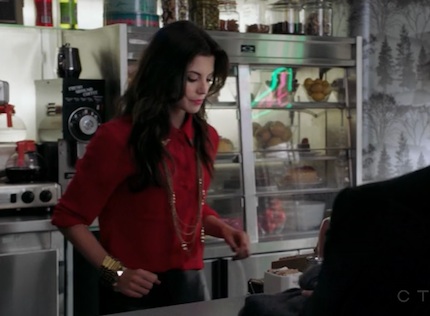 (Photo Credit – Screenshot)
Ruby is a waitress at the local diner. She's tough and restless, though she befriends everyone and cares about the town. She has recently remembered her fairy tale roots; she's Little Red Riding Hood, but there's a twist to the story–she's also the Big Bad Wolf.
Though she started out wearing midriff-baring halter tops, Ruby has recently become quite a fashion maven. She usually leans towards edgy clothing and, obviously, the color red.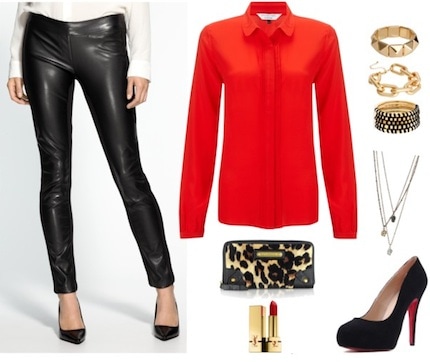 (Product Information: Leather pants – Piperlime, Shirt – John Lewis, Studded Bracelet – ASOS, Chain Bracelet – ASOS, Bangles – Mango, Necklace – Topshop, Clutch – Forzieri, Lipstick – Yves Saint Laurent, Shoes – SheInside)
To recreate Ruby's trendy look, start with a red button-up shirt and a pair of skinny leather pants. Next, add a layered chain necklace and slip a few edgy bracelets on one hand. Slip on a pair of black heels, like these classic yet sexy faux Loubs, and grab a leopard print clutch to add visual interest. Finish up by swiping on a coat of red lipstick — it's Ruby's signature.
2. Belle's Blue Dress and Red Heels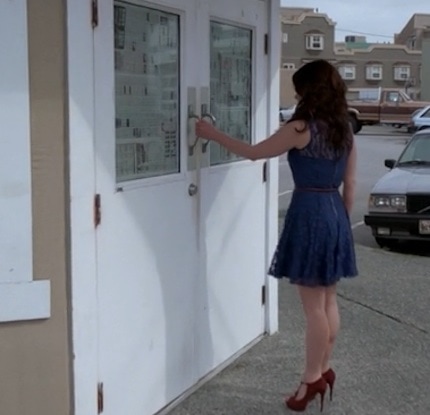 (Photo Credit – Screenshot)
Belle is definitely one of my favorite OUAT characters. Though she was cruelly locked away for almost thirty years, she's now free and finding her way in a brand new world. As the new town librarian, she couldn't be happier sitting in the back of the library and reading by herself, but is nonetheless, she is always dressed to impress.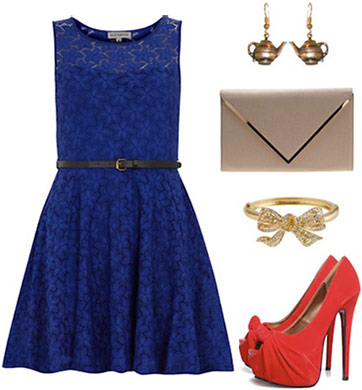 (Product Information: Dress – Dorothy Perkins, Earrings – Girl Props, Clutch – Style Tread, Bracelet – JCrew, Shoes – AX Paris)
To recreate Belle's flirty and fun look, start with a lacy blue dress; this belted one from Dorothy Perkins is very similar to hers. Next, slip on a pair of bright red platform heels for a pop of color. For the accessories, keep it simple: A nude envelope clutch is classic and polished, while a bow bracelet adds a flirty vibe to the outfit. For the final touch, put on a pair of teapot earrings to pay hommage to her character's Beauty and the Beast past!
2. The Walking Dead (Season 3, Episode 2): Maggie's Loose Top and Leather Boots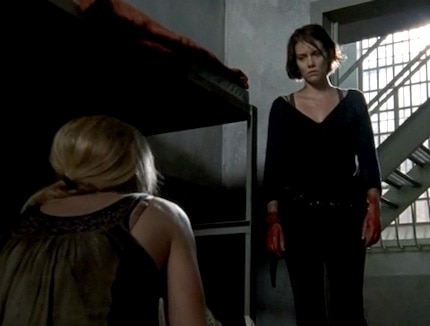 (Photo Credit – Screenshot)
AMC's The Walking Dead depicts the aftermath of a zombie apocalypse. Based on a comic series of the same name, it follows the struggles of a group of survivors in a world filled with zombie "walkers." They persevere through losing group members, facing moral struggles, and a host of other problems. Though it's a little gory, this show is totally fascinating and addictive.
Maggie is a group member who excels at killing the walkers. She guards her heart carefully, though she slowly develops a relationship with her fellow survivor, Glenn. Their relationship is a little rocky; their affection for each other gets in the way of their ability to kill the zombies — you know, typical relationship issues. Her style is all about comfort and efficiency, though she always looks adorable!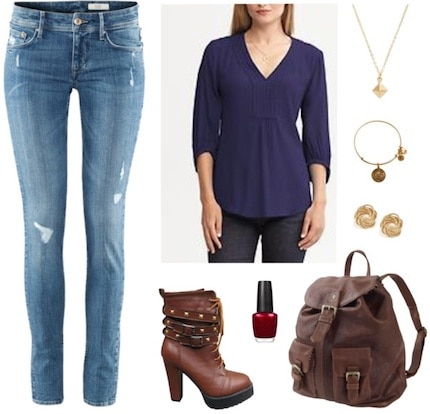 (Product Information: Jeans – H&M, Top – Banana Republic, Necklace – Modcloth, Bracelet – Alex and Ani, Earrings – Windsor, Boots – Udobuy, Nail polish – OPI, Backpack – Fatface)
To recreate Maggie's cool, casual look, start with a loose v-neck tee and some faded skinny jeans. Next, slip on a pair of boots; these high-heeled ones might not be practical for fighting zombies, but Maggie would approve of the studded straps. A large leather backpack is super stylish and roomy enough for books, while a studded necklace contrasts nicely with a feminine bracelet and earrings. Finish off with some dark red nail polish.
Your thoughts?
What do you think of these looks? Which one is your favorite? Did we miss any amazing outfits from the past week of TV? Which shows do you think deserve a spot on the next TV Fashion Recap post? Leave a comment below and tell us what you think!